Lake Menteith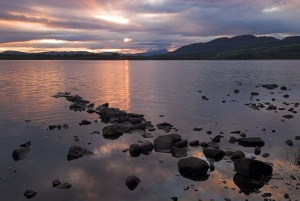 The answer to many a trivia question, Menteith is the only lake in Scotland (as opposed to 'loch'). Curiously, the designation as a 'lake' is a fairly recent invention; it appears that until Victorian times at least, Menteith was as much 'loch' as all the other similar bodies of water in Scotland! The lake is only 1.5 miles long and 1 mile wide.
The easiest access is via the A81 between Aberfoyle and Thornhill. In the centre of Port of Menteith the B8034 branches off the A81, and winds through lovely forest along the shores of the loch ... sorry ... lake. After only a few hundred yards you come to a Historic Scotland parking area and pier.
This is the ferry to Inchmahome Priory, the remains of a 13th-century priory on an island in the middle of the lake. The priory was founded by Sir Walter Stewart, first Earl of Menteith. Robert the Bruce visited here, and Mary, Queen of Scots stayed here for several weeks when she was a child. On a nearby island are the ruins of a castle built by the Stewart earls.
Lake Menteith is a popular fishing destination, and boats can be rented at Port of Menteith for this purpose. Any fine day - and quite a few not-so-fine days - sees boats dotting the waters of the lake. Grey herons hide in the reeds along the water's edge, and ducks and geese nest in abundance.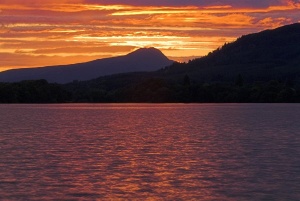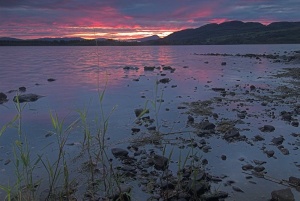 Best of Britain Express Art Prints