Scottish Borders Travel Guide
The lovely rolling hills and valleys just north of the English border feature some of the most beautiful countryside in Britain. The River Tweed is at the heart of the county. Famous as an angling river, the Tweed passes historic abbeys and stately homes as it wends its way to the sea. Here you will find the abbeys of Melrose, Kelso, and Dryburgh, where the tomb of novelist Sir Walter Scott lies in the shadow of the medieval walls.
Visit Scott's View, high on the hill above the abbey ruins; here Scott would look out over the countryside that he loved so well. On the banks of the Tweed is Floors Castle, built for the first Duke of Roxburghe by William Adam. In the grounds of the castle a holly tree marks the spot where King James II died in 1460 when a cannon exploded during his siege of the old castle.
The Borders is close to Edinburgh if you have a mind to visit the delights of the city, but the real attraction here is the gentle landscape, and the profusion of historic sites to visit within a relatively small area. There are castles galore, such as Neidpath Castle, perched above the River Tweed just west of Peebles. Or follow in the footsteps (or in this case the hoofbeats) of Mary Queen of Scots and make the trip to remote Hermitage Castle, where Mary made an ill-advised visit to her lover, Boswell, a move that helped turn the tide of public opinion against her.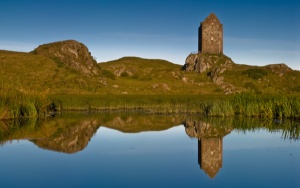 There are stately homes, such as Scott's beloved home of Abbotsford House, where his library is just as he left it. Or visit Manderston, the gorgeous Edwardian home of Lord and Lady Palmerston. Then there's Mellerstain, set in wonderful parkland, and Traquair, possibly the oldest continuously inhabited house in all of Scotland.
Our Top 5:
Wow! This is a hard choice! But out of all the places we've visited in the Borders region, these are our own personal top 5 - in no particular order:
Top Heritage Rated attractions in Borders:
Aside from the attractions mentioned above, these historic sites have also been awarded
or

in our Heritage Rating scheme for attractions.
ABBEYS
Jedburgh Abbey
HISTORIC HOUSES
Bowhill
Paxton House
Thirlestane Castle
PREHISTORIC
Glebe Stone
Yarrow Stone
Neighbouring regions:
More Photos
Best of Britain Express Art Prints