Trossachs Travel Guide
The traditional definition of The Trossachs takes in a small area roughly bounded by the peaks of Ben Aa'n and Ben Venue, and the Lochs of Katrine and Lomond. However, in popular usage, the term has come to mean practically the entire area from Callander to Loch Lomond.
Travel west and north from Stirling and you enter the Trossachs, a land of lochs and glens, deep valleys and striking peaks. This is Rob Roy country, the home of the 18th-century outlaw who defied English and Scottish authorities alike.
Rob Roy MacGregor's tomb is in the churchyard of the old ruined kirk at Balquhidder, but reminders of his life and exploits are to be found everywhere in these hills; from Factor's Island in Loch Katrine, where he hid a captured factor of the Duke of Argyll, to Rob Roy's View, overlooking Loch Lomond at the far western end of the Trossachs. Much of the region is contained within the Queen Elizabeth Forest Park, and walking trails abound.
Heritage Highlights
Scenic Highlights
There's no need to stick to dry land; take the steamship Sir Walter Scott for a journey down isolated Loch Katrine, or take a power launch from Port Menteith to Inchmahome Abbey, situated on an island in the middle of Lake Menteith - the only 'lake' in Scotland. Here the young Mary, Queen of Scots was brought for protection in 1547.
Visit Callander, the largest town in the southern Trossachs, and a centre for outdoor activity, or Killin, the northern gateway to the region, where the picturesque town is built around the Falls of Dochart. On an island in the middle of the river is the ancient burial ground of Clan MacNab. There is so much more to see, but everywhere you look, it seems, you will find the ghost of Rob Roy MacGregor, for this is his country.
Major Trossachs towns and villages:
Aberfoyle
The western gateway to the Trossachs, and one of the most popular destinations for visitors. Aberfoyle boasts several attractions, but it is its proximity to some of the finest scenery and walking trails that bring many visitors here.
Balquihidder
Little more than a village, yet Balquhidder draws visitors from across the world for its association with Rob Roy. The intrepid outlaw is buried in the churchyard, under the crumbling ruins of the old medieval church.
Callander
The largest community in the Trossachs, and a centre for outdoor activities and shopping. The major attraction is The Rob Roy Centre, situated on the High Street.
Killin
The northern gateway to the Trossachs, Killin is a popular visitor destination in its own right. It is easy to see why; the village is situated astride the River Dochart, and the Falls of Dochart run through the centre of the village.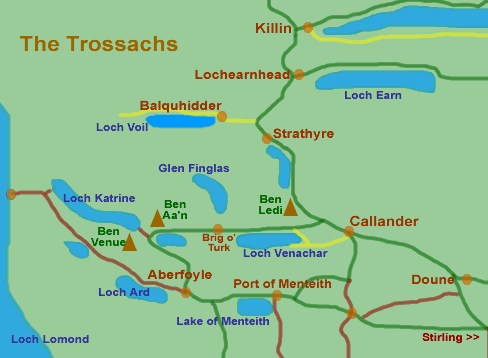 More Photos
Best of Britain Express Art Prints