Historic Kent
Chiddingstone, Kent
---
It seems every travel guide is required to mention that Kent is known as "The Garden of England". There, consider it mentioned. For all that the phrase is overused and time-worn, there is truth to the saying. Kent is a county of delightful gardens, farmland, and orchards, attractive despite its proximity to London and the bustle of traffic heading south to the Channel ferry ports.
There are indeed so many outstanding gardens in Kent that it is difficult to know where to begin. How about Sissinghurst Castle, the wonderful creation of popular garden writer Vita Sackville-West? Sissinghurst was planted as a series of separate gardens within the larger garden around a Tudor tower house.
Or what about Beech Court, where the woodland garden surrounds a medieval farmhouse? At romantic Scotney Castle the superb picturesque gardens tumble down the hillside to the ruins of a 14th-century moated manor, while the informal Emmet's Gardens at Idle Hill give wonderful views across the Weald of Kent.
A picturesque oast house in Newenden
---
There is, of course, more to Kent than gardens. The county is home to more country houses and buildings of historic interest per square mile than just about any place else in England, from the informal, like Smallhythe, where actress Ellen Terry occupied a delightful half-timbered Tudor cottage, to the grandiose, like Leeds Castle, which seems to float like a romantic lily-pad upon its lake.
Penshurst Place near Tonbridge is perhaps the finest late-medieval stately home in the country. Within Penshurst is the superb 14th century Baron's Hall, boasting a wooden beamed roof which soars fully 60 feet above the hall floor. Squerryes Court is a Jacobean manor in 10 acres of beautiful formal gardens, while Knole is an opulent treasure house, little altered since the 18th century when the Sackville family filled it with fine art and furniture.
Hever Castle was the childhood home of Anne Boleyn, and the moated manor is surrounded by beautiful Italianate gardens and a popular hedge maze. Chartwell, at Westerham, was the home of Winston Churchill, and the house has been left as it was during the great statesman's lifetime.
Chiddingstone Castle is a romantic vision in the picturesque style, yet it is a true castle, with roots going back to the Tudor era. It is just as well to stop this listing of historic houses here, and mention a few of the other delights of Kent - but there are scores more examples of wonderfully enjoyable houses to visit.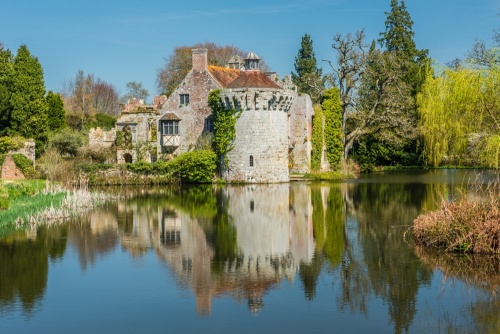 Scotney Castle
---
One of the most popular destinations in Kent is Dover; while the town itself suffers from urban growth, the grim Norman castle holds much historical interest. It was begun by Henry II as part of England's ongoing attempts to discourage French invasions. Beneath the castle is a maze of tunnels constructed to house Allied headquarters during WWII. A series of special exhibits and living history displays help bring that dark time to life.
Take the North Downs Way long-distance path inland from Dover and you come at last to Canterbury, the magnet that has drawn pilgrims to it for over 800 years. Canterbury Cathedral, scene of the martyrdom of Thomas a Becket, is the prime attraction, but the city itself is an attractive mix of new and old.
The first church here was founded by St. Augustine in 597, but the present building is primarily the product of the 12th century, with notable later additions. The precise spot where Becket was killed by four knights of Henry II is known, and cathedral guides recount the tale with suitable gusto to visitors.
Kent has something for everyone, from beautiful countryside and attractive villages, to grand houses and castles. Then, there are all those gardens.
More Photos
Best of Britain Express Art Prints