Clayton and Bell
---
The London firm of Clayton and Bell was probably the most successful and prestigious stained glass window makers of the Victorian era (see our biography of CE Kempe for another contender). The company was founded in 1856 and finally closed its doors in 1993.
History
The firm takes its name from the two founders, John Richard Clayton (1827-1913), and Alfred Bell (1832-95). John Clayton was a London native. He became an illustrator and friends of several Pre-Raphaelite artists, most notably Dante Gabriel Rosetti. Alfred Bell, by contrast, was born in Devon, the son of a lowly farm worker.
This 'odd couple' owed their partnership to the eminent Victorian architect Sir George Gilbert Scott, the designer of the Albert Memorial, but also famous for his ecclesiastical restorations. Scott saw some of Bell's drawings in the 1840s and was so impressed that he hired him, and trained him in the then-popular Gothic Revival style.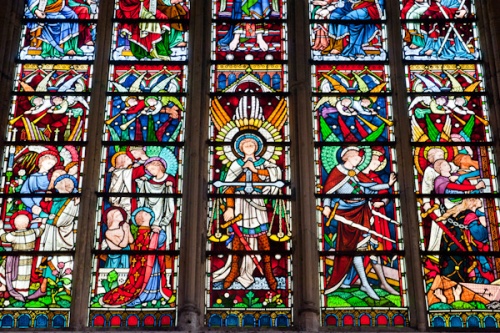 ---
John Clayton trained as a sculptor under the architect Sir Charles Barry and created the sculpture of St George on top of the Westminster School war memorial opposite the west door of Westminster Abbey.
Bell initially formed a partnership with Nathaniel Lavers before joining forces with John Clayton and starting a new company in 1855. The two men were firm friends and according to tradition were only known to have argued once - when each man wanted the other's name to be first in the company name. Bell must have won the argument, for the new company became 'Clayton and Bell'.
Most start-ups struggle, but in this case, Sir George Gilbert Scott gave them several commissions, and they never looked back.
---
Their timing was perfect; the mid-Victorian period saw a revitalisation of the Church of England. after centuries of decay, many medieval churches were restored and rebuilt, and there was a growing market for high-quality stained glass windows.
Clayton and Bell initially shared premises with Heaton & Butler. They produced the designs but Heaton & Butler actually manufactured the glass. The partners must have learned a lot about making glass, for just three years later in 1861 they moved into spacious new premises on Regent Street, where they began to produce their own glass to their own designs.
The company's growth was staggering; by the time they moved into their Regent Street premises Clayton and Bell were employing 300 workmen. Within a few years, the firm had become the largest and most prolific manufacturers and designers of stained glass windows in England. In order to keep up with demand the company had to start working night shifts.
---
So successful were they that Clayton and Bell expanded from merely designing and manufacturing stained glass windows and began designing church murals and entire decorative schemes.
The company's growth came at a cost; as they moved into high production some critics accused them of sacrificing the quality of their artwork. Even Sir George Gilbert Scott, the man responsible for launching Clayton and Bell's careers, was critical, saying, 'No real art can stand against a constant high-pressure and working against time'. Essentially, he accused them of selling out their artistic talents for profit.
Alfred Bell and John Clayton retired from active participation in company affairs by the 1880s. The company was run by a succession of Bell's heirs; John Clement Bell (1860–1944) was succeeded by Reginald Otto Bell (1884–1950) and then by Michael Farrar-Bell (1911–1993). The company moved from London to Buckinghamshire after WWII and ceased operating after Farrar-Bell's death in 1993.
---
Among Clayton and Bell's most famous stained glass commissions in Britain were the West Window of King's College Chapel, Cambridge (1878) and windows for Exeter Cathedral (1873-76), Rochester Cathedral (1871-76), Bangor Cathedral (1870), and Pershore Abbey (1864 and 1869-73). They designed several windows in Westminster Abbey and St Margaret's Church in Westminster.
Their most famous design, however, wasn't for a stained glass window at all. Sir George Gilbert Scott gave them the commission to design the mosaics that decorate the sides and dome of the Albert Memorial in Kensington Gardens, London. Perhaps that is why Queen Victoria awarded Clayton and Bell a royal warrant in 1883. The royal warrant is a mark of recognition given to companies or individuals who supply the royal court with goods or services. This gave Clayton and Bell the right to use a royal badge in their advertising and correspondence, lending the company more prestige.
It is almost impossible to explore more than a few historic churches in England without running into beautiful stained glass windows made by Clayton and Bell. Their work was so ubiquitous during the Victorian period that it is almost more surprising to find a church that doesn't feature their work.
What characterises Clayton and Bell Designs?
In a few words, luminosity, rich colouring and great detail.
---
In their early years the partners established a reputation for beautifully detailed lines that few could equal. As the company grew more popular and production increased those fine details were often lost, but the richly-coloured designs remained. They used basic, primary colours (red, yellow, blue, and green) and added tertiary colours like russet, mustard, and purple.
Unlike some competitors, they realised that a good stained glass design wasn't just a well-drawn cartoon, but must be designed with the awareness of how it would look with light streaming through it.
Their designs are known for 'gold star' decoration; small golden stars arranged at the corners of glass pieces so that they caught the viewer's eye and made the leading between pieces seem to fade into the background
Clayton and Bell were also great storytellers. They drew on medieval designs but also on the art of the Pre-Raphaelite Brotherhood to create scenes that come alive; dramatic moments like Christ emerging from the tomb, or the dead being called forth on the Day of Judgement. Their figures often stand beneath colourful canopies.
Selected Work
Attraction search