Cotswold Wool Churches
During the medieval period, the Cotswold area underwent a transition from small scale agriculture to large scale wool production. This shift, most noticeable by the 15th century, enabled wool merchants to realize tremendous profits with the aid of the "Golden Fleece" produced by Cotswold sheep.
The gold, in this case, refers not to the colour of the fleece itself but the tremendous economic value it possessed. The prosperous wool merchants put back some of the money they earned into their local communities, often by building manors for themselves, but just as frequently by endowing their parish churches.
The "wool churches" of the Cotswolds are among the most elaborate and architecturally attractive in the entire country due to the largesse of successful wool merchants. Many of these magnificent buildings are like mini-cathedrals, complete with fanciful carvings, elaborate ornamentation and funereal monuments inside the church. Taken as a whole, the parish churches of the Cotswold area constitute a superb collection of architecturally important historic buildings. And to those who enjoy medieval architecture, the Cotswold churches offer an unparalleled experience.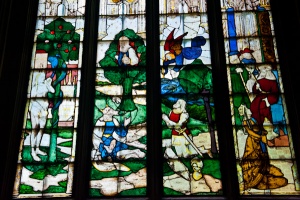 It is perhaps dangerous to single out just a few Cotswold wool churches for special mention, as so many deserve a leisurely visit, but mention should be made of a few personal favourites. The church of St. Peter and St. Paul at Northleach is one of the finest wool churches in England, with the lavishly carved south porch worthy of special note.
As with most wool churches, the magnificence of Northleach can be traced to the endowments of a few wealthy patrons. In this case, the donors were Thomas Fortey (d. 1447 ) and his son John (d. 1458). With its decorated parapets and soaring pinnacles, Northleach is reminiscent of a fairy tale castle as much as a parish church.
My other favourite would have to be St. Peter at Winchcombe. Not as fanciful or striking as Northleach, Winchcombe is of slightly later date and has suffered at the hands of Victorian restorers. Yet despite this, the church has a peculiar charm, due in part to the survival of a profusion of gargoyles populating the parapets. These gargoyles, both in human and animal form, provide a wonderfully whimsical touch amid the architectural beauty wrought by generations of craftsmen.
Most photos are available for licensing, please contact Britain Express image library.
Best of Britain Express Art Prints