Heart of Neolithic Orkney World Heritage Site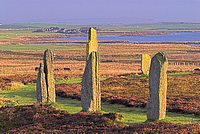 In December 1999 UNESCO, the United Nations Education and Organization, proclaimed the Heart of Neolithic
Orkney
World Heritage Site. The designation amounts to a recognition of the value to world heritage of the Neolithic sites on Mainland, Orkney. Included within the designated area are:
The Watchstone
Ring of Bookan
and - a bit further away - the stone village of
Skara Brae
.
MAP OF THE WORLD HERITAGE SITE

About World Heritage Sites
An international panel designated by UNESCO reasoned that "The monuments of Orkney, dating back to 3000-2000 BC, are outstanding testimony to the cultural achievements of the Neolithic peoples of northern Europe."
More about
Unesco World Heritage Sites
Best of Britain Express Art Prints
Attraction search