Orkney Travel - Getting Around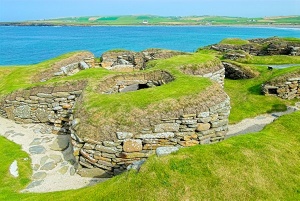 Its easier to get to Orkney than you might think. Yes, it takes a bit of driving to make it to the northern tip of Scotland, but its a lovely drive along Scotland's north east coast. And once you've arrived you have your choice of ferries to get to the islands. Of course you could take the easy way out and opt to fly to the islands on one of the regularly scheduled flights from major Scottish airports. We've outlined a few of your options here.
Getting to Orkney
By Air
British Aiways
Regular flights to Kirkwall operated under license by
LoganAir
. Flying from Aberdeen, Edinburgh, Glasgow and Inverness.
Kirkwall Airport
Operated by Highlands and Island Airports Limited
By Ferry
This is the most common way to reach Orkney. There are regular ferry services from Gils Bay, near John O' Groats, and Scrabster, near Thurso (links below). Ferry sailing times vary from 1 to 1 1/2 hours. The Gils Bay service is quicker, but the Thurso to Stromness service passes the spectacular sea stack of The Old Man of Hoy, so for sheer scenic beauty it gets the nod. In addition to these sailings there is a regular Aberdeen to Kirkwall sailing offered by Northlink Ferries (link below). Sailing time approximately 6 hours.
The John O'Groats ferry (link below) offers passenger service only, with summer sailings.
Book Ahead
A cautionary tale is in order. Our Britain Express family spent a wonderful week on Orkney and reluctantly left on a Saturday morning. Being the type of 'typical male' who doesn't even like to ask for directions, and would never think of prebooking any regularly scheduled transportation, I scoffed at the idea of calling ahead to book our place on the ferry south. "It's Saturday at 7am," I reasoned. "Every sensible person is sleeping in. I'll save the price of a phone call."
Well, it turns out, Orcadians who work during the week take their shopping trips to the Scottish mainland on Saturdays, and other tourists who stay at self catering cottages will also be leaving on Saturday mornings. We were lucky and got the last ticket but one. If we had been 5 minutes later we would have missed the sailing. So the moral of the tale is: With all ferry services listed here, be advised that booking ahead is
very wise
.
Ferries
Gills Bay Ferry
Regular vehicle service from Gills Bay, just west of John O' Groats, to St Margaret's Hope on South Ronaldsay.
NorthLink Orkney and Shetland Ferries
Regular service from Scrabster to Stromness andAberdeen to Kirkwall and on to Shetland.
John O' Groats Ferries
Regular ferry service for vehicles and foot passengers,also day toursand wildlife cruises during the summer months.
---
Getting around Orkney
Ferries
Orkney Ferries
Operates regular service connecting 13 of the smaller Orkney islands.
Car rental and taxi service
J and V Coaches Orkney Coach Hire
A husband and wife team operating 'the only coach hire company in the islands operated by Orcadians'
Orkney Car Hire
Car and minibus hire.
WR Tullock
Airport car hire from Kirkwall airport.
Drive Orkney
Car Hire.
CD Taxis
Offering taxi service, limo hire, and tours of Orkney.
Air
Logan Air
Inter island service from Kirkwall to 6 of the smaller islands. Also the world's shortest regular flight - Westray to Papa Westray. Special fares are regularly available for visiting 3 islands at one low discounted price.
Tours
Tour Operators
A listing of tour operators specialising in Orkney. Most are local Orcadian businesses, with that special combination of local knowledge and personal attention that make for a memorable holiday!
Best of Britain Express Art Prints
Attraction search