Holyhead Mountain Heritage Coast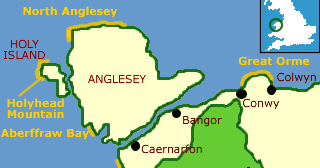 Description:

This heritage coast runs for 8 miles up the wesern shore of Holy Island from the bathing beaches of Trearddur Bay to the dramatic cliffs at North Stack.
The cliffs and RSPB birdwatching station near the lighthouse at Ellins Tower near South Stack draw ornithologists like a magnet. Up to 4,000 pairs of seabirds mate at South Stack every year, including colonies of puffins, guillemots, razorbills, choughs, and peregrins. There is also a sizeable grey seal population. There is an interpretive centre at Ellins Tower.
The spectacular South Stack Lighthouse was built in 1809 to warn ships of the treacherous reefsat this most westerly point of Holy Island. Visitors may now descend over 400 steps to the lighthouse, which has been restored after a long period of closure. Clifftop paths make for excellent walking, but visitors are warned to stay on the marked trails.
Nearby, the Iron Age hillfort and prehistoric hut circles on Holyhead Mountain itself are impressive reminders of this remote island's ancient past. Those energetic enough to climb 718 feet to the top of the mountain will be rewarded with clear views across the Irish sea to the Irish mainland and equaly fine views to Snowdonia on the Welsh side.
Area Countryside attractions:
Anglesey AONB

This Area of Outstanding Natural Beauty takes in almost the entire coastline of the Isle of Anglesey. Steep limestone cliffs and sandy beaches on the island's east shore contrast with rolling sand dunes in the southwest.
Holyhead Breakwater Country Park
A disused quarry just outside Holyhead has been transformed into a walker's paradise of nature trails, with a large seabird population and an interpretive centre for visitors.
Attractions in North Wales
Contacts
For birdwatching, contact the RSPB at
Ellin's Tower Seabird Centre
South Stack, Holyhead
The centre is open from Easter to mid September from 11am - 5pm seven days a week and admission is free. For further information phone 01407 764973
South Stack Lighthouse visitor information:
Department of Leisure and Heritage,
Isle of Anglesey County Council
Tel: 01248 724444
E-mail here
The lighthouse is open Easter to the end of September, 11.00 a.m to 5.00 p.m each day.
Best of Britain Express Art Prints
Attraction search