Thames Path National Trail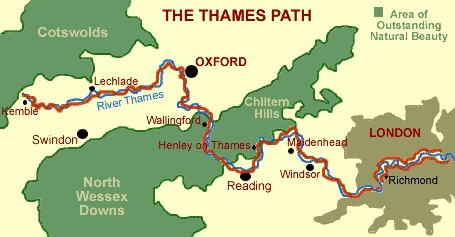 Thames Head, Glos, to Thames Barrier, London
A splendid riverside trail pioneered by David Sharp and the Rambler's Association. The path leads from the origin of the Thames in the foothills of the Cotswolds to the capital, passing through a wealth of fascinating riverside scenery and towns such as Oxford, Henley, and Windsor.
For much of it 160 mile length, the Thames Path closely follows the .. well, yes, the Thames River. The river itself has been called "liquid history", but quite apart from its historical associations - which are many - the Thames valley provides generally easy walking through water meadows and lovely riverside villages. Due to the challenges of obtaining rights of way, the path is forced to cross the river numerous times.
The first half of the path, as far as Oxford, wanders through quiet, open countryside, and you may find there are more cows keeping you company than there are fellow walkers. After Oxford, the villages get more numerous, and larger, until you reach the sprawl of Greater London.
The path spilts in two at London, with a branch on each bank of the river, and both branches carry on through the city as far as the Thames Barrier near Greenwich.
---
Highlights
The Cotswold countryside
Oxford - the historic "city of dreaming spires"
Henley-on-Thames - home to the world's premier regetta
Runnymede - where the Magna Carta was signed
Windsor - home to the royal residence at Windsor Castle
Hampton Court Palace


---
Contacts
Managers of the Thames Path
National Trails Office
Countryside Access
Signal Court
Old Station Way
Eynsham
Oxford
OX29 4TL
Tel: 01865 810224
Email:
national.trails@oxfordshire.gov.uk
Web:
Thames Path
Ramblers Association
2nd Floor, Camelford House
87-90 Albert Embankment
London, SE1 7TW
Tel: 0171 339 8500
Fax: 0171 339 8501
Web:
www.ramblers.org.uk/
Best of Britain Express Art Prints
Attraction search