Cleveland Way National Trail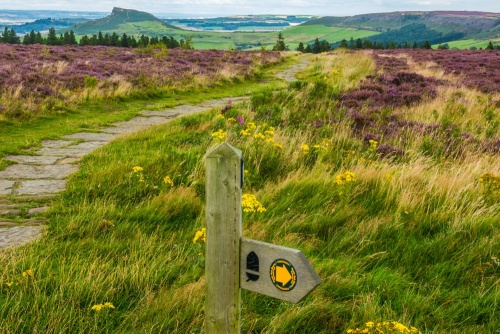 ---
The Cleveland Way is a walk of contrasts. For most of its route it runs through the wild beauty of the North York Moors National Park. Reminders of a colourful past abound along the trail, from the remains of the marvellous Cistercian abbey at Rievaulx to the ruins of Roman signalling stations that dot the coastline.
More recently this region was home to explorer Captain James Cook, who grew up near Roseberry Topping. The moors are a place of wild beauty, lush with purple heather in summer, and home to red grouse and curlew.
---
At the edge of the moors you'll find grasslands and scattered woodland, with sheltering displays of bluebells in the spring, and the occasional wild garlic. If you want a break from walking, take a ride on the North York Moors Railway.
The rugged coastline, from Saltburn-by-the-Sea to Filey, is a place of craggy beauty and isolated fishing villages, such as Staithes and Robin Hoods Bay. Captain Cook first set out to sea from the port at Whitby, and his ships were built there.
There are links from the Cleveland Way to two more Long Distance Paths: the Wolds Way and the Coast to Coast Walk.
Highlights:
North York Moors National Park
heather on the moors in summer
rugged coastline
Rievaulx Abbey
Helmsley Castle
Bronze Age burial sites on the moors
Youth Hostels:
Boggle Hole, Helmsley, Osmotherley, Scarborough, Whitby.
YHA camping barns: Kildale Barn, Farndale barn.
Maps
Ordnance Survey maps covering the Cleveland Way:
Explorer OS maps (Scale: 4cm = 1 km / 1: 25000) - best for walking
EX026 North York Moors - Western Area
EX027 North York Moors - Eastern Area
Landranger OS maps (Scale: 2cm = 1km / 1: 50000)
LR093 MIDDLESBROUGH,DARLINGTON & HARTLEPOOL
LR094 WHITBY
LR099 NORTHALLERTON & RIPON, PATELEY BRIDGE/LAYBURN
LR100 MALTON, PICKERING
LR101 SCARBOROUGH/BRIDLINGTON
Both laminated and plain paper maps are available - in association with Aqua3.com
Guidebooks & Accommodation
National Trail Guide: Cleveland Way, by Ian Simpson, Aurum Press, £9.99
Cleveland Way Information and Accommodation Guide, 50p from North York Moors National Park Authority (see contact info below)
Walking the Cleveland Way and the Missing Link, by Malcolm Boyes, Cicerone Press, £5.99
The Cleveland Way Companion, by Paul Hannon, Hillside Publications, £5.99
Stillwell's National Trail Companion by Tim Stillwell and Dean Conway, Stillwell Publications, £7.96 - lists accommodation on and near national trails throughout the UK and Ireland
The Rambler's Yearbook and Accommodation Guide published by the Rambler's Association - lists accommodation and walking resources.
Useful Contacts
Official website: Cleveland Way National Trail
Cleveland Way on Facebook
Sherpa Van Project - baggage carrier service for the Cleveland Way
Ramblers Association
2nd Floor, Camelford House
87-90 Albert Embankment
London, SE1 7TW
Tel: 0171 339 8500
Web: http://www.ramblers.org.uk/
Best of Britain Express Art Prints