Dartmoor National Park Attractions
---
The landscape of Dartmoor is extraordinary; tall granite "tors" stand out atop two high plateaus split by the valley of the River Dart. On those plateaus, the famous Dartmoor ponies still graze. Dartmoor is also blessed with an abundance of prehistoric remains. Standing stones, hut circles and hill forts dot the landscape of the moor.
More modern remains of tin mining are still visible in some places, notably around Mary Tavy. Dartmoor's soil is notorious for bogs, which is not surprising when you consider that in some places the peat is 12 ft. deep.
The worst of the bogs are located in the isolated northern section of the moor. Mist and fog are a constant threat everywhere. Despite these inconveniences, Dartmoor remains a favourite walking centre. There are numerous paths on the High Moor and in the valleys.
Dartmoor is bestrewn with prehistoric remains. Bronze Age stone circles, enclosures, cairns, and isolated standing stones abound. There are remains of settlements at Grimspound and Standon Down, and several varieties of stone rows and circles near Merrivale. The moor is also famous for its "clapper bridges", with the best at Dartmeet and Postbridge.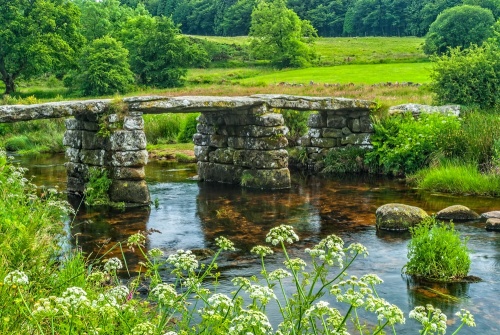 ---
Dartmoor Photo Gallery - take a tour around the best of Dartmoor in pictures.
17 Beautiful Photos of Dartmoor - our favourite photos from several family trips to Dartmoor
---
Dartmoor Attractions
Brentor Church - The tiny 12th-century church of St Michael de Rupe - one of the smallest in England - stands on the top of a ridge offering wonderful views east over Dartmoor. The church was built by the Giffard family in thanks for being delivered from a storm at sea.
Bellever Forest & Clapper Bridge - A conifer plantation with two nature trails that lead up to an exposed rocky summit. Bellever Tor is popular with rock climbers.
Buckfast Abbey - A late-Victorian Benedictine monastery re-founded on the site of an 11th-century monastery on the edge of Dartmoor. Superb architecture incorporating medieval buildings.
Canonteign Falls - One of the highest waterfalls in England at 220 feet high, created in 1890 by Lady Exmouth to offer employment for local miners who were out of work. Below the falls is a restored Victorian fernery.
Castle Drogo - Victorian "castle" on a high bluff over River Teign. There are walks along the river and through open parkland.
Cranbrook Castle - an Iron Age hillfort above Fingle Bridge, offering panoramic views over Dartmoor and the Teign Gorge
Dartmeet Clapper Bridge - one of the easiest clapper bridges to access on Dartmoor, directly beside the road bridge over the East Dart River at Dartmeet.
Drizzlecombe Stone Rows - a ceremonial landscape of ancient sites near Sheepstor, including standing stones, stone rows, burial mounds, hut circles and prehistoric settlements.
Dunsford - a lovely village in the north-east corner of the National Park, with a wealth of thatched cottages and a nature reserve known for wild daffodils in spring.
Finch Foundry - one of the last water-powered forges in England, located on the River Taw. The forge boasts three historic waterwheels and there is an old Quaker burial site in the grounds.
Fingle Bridge - A 17th-century packhorse bridge and celebrated beauty spot on the River Teign. Trails lead from the bridge to Castle Drogo and up the hill to Cranbrook Castle Iron Age hillfort
Grey Wethers Stone Circles - a pair of Bronze Age stone circles stand on moorland beneath Sittaford Tor. The stone circles are said to resemble a flock of sheep grazing ('wether' is another word for sheep).
Grimspound - Bronze Age settlement with other prehistoric monuments nearby
Hembury Castle Hillfort - Within the National Trust's Hembury Woods stands an Iron Age hillfort, and within the earthwork banks of the hillfort stands a Norman motte and bailey fortification.
Hound Tor Deserted Medieval Village - under the shadow of Hound Tor lies the remains of a medieval village abandoned sometime in the late 14th or early 15th century.
Lustleigh - a small village near Moretonhampstead, known as the 'prettiest village in Dartmoor'. Thatched cottages ring the small triangular village green. The medieval parish church of St John boasts a 6th-century carved stone and an ornately carved Tudor screen.

Lydford Castle - Lydford is an attractive village on the western edge of the National Park. The village is perhaps best known for its medieval castle, which became a notorious prison.
Lydford Gorge - outside the village of Lydford the River Lyd tumbles down a steep-sided gorge, now preserved by the National Trust. Nature trails run down both sides of the Gorge and take in the Devil's Cauldron, where the river runs through a circular bowl in the stone and creates a swirling whirlpool
Manaton - a pretty village between Moretonhampstead and Bovey Tracey, with thatched cottages around a long, narrow green. A footpath leads to Bowerman's Nose, a peculiar rock formation named after a legendary bowman. The medieval parish church of St Winifred boasts a beautiful 16th-century screen and a medieval churchyard cross.

Merrivale Prehistoric Site - this astonishing prehistoric monument includes the remains of a Bronze Age settlement, two stone rows, solitary standing stones, burial cairns, and a stone circle.
Nine Maidens Stone Circle - This small stone circle may be the remains of a kerb cairn. Despite the name, there are 16 stones, said to have been maidens turned to stone for daring to dance on the Sabbath
Parke - this historic estate on the edge of Dartmoor centres around Park House, built in 1825 on the site of a medieval manor house. Riverside walks lead past a medieval weir and leat, and there is a restored walled garden and orchard.

Postbridge - this small village in the centre of the National Park is famous for its medieval clapper bridge, built in the 12th century and spanning over 40 feet.
Princetown - The village is known as the location for Dartmoor Prison, begun in 1806. The parish church of St Michael was built by French prisoners of war during the Napoleonic period and completed by American prisoners of war captured during the War of 1812.
Scorhill Stone Circle - arguably Dartmoor's most impressive stone circle, 34 stones remain of a circle that once had 70 standing stones
Shovel Down Stone Rows - on the slope of Shovel Down stands a remarkable ceremonial complex of Bronze Age sites including several stone rows, stone circles, cairns and standing stones
Spinsters' Rock Burial Chamber - A Neolithic dolmen (cromlech) in a farm field. The dolmen was said to have been erected by three spinsters (wool spinners) before breakfast (or, alternatively, by Noah and his three sons).
Teign Valley Woods - oak and beech woodland lines the river Teign, complete with a nature trail
Tolmen Stone - this holed stone on the bank of the North Teign River was traditional the focus for healing and fertility ritual.
Widecombe-in-the-Moor - this pretty village is the subject of a traditional West Country song, relating the exploits of Uncle Tom Cobley and his friends who were going to the annual fair in Widecombe - which is still held. The parish church of St Pancras is known as the Cathedral of the Moors and the former medieval church house is now owned by the National Trust and used as the local village hall.
Wistman's Wood - this amazing nature reserve near Two Bridges features an oak woodland where the trees are covered in thick green layers of moss and lichens, creating otherworldly shapes.
In addition to these wonderful places to explore, there are several historic market towns on Dartmoor, such as Moretonhampstead and Chagford, an ancient stannary town. Other historic towns lie just outside the National Park, such as Bovey Tracey, Tavistock, and Yelverton.
And then there are the tors, which act as a magnet for visitors. The easiest tor to climb is Haytor (also known as Haytor Rocks). The tor is easily accessed from the National Park visitor centre on the B3387 a few miles east of Widecombe-in-the-Moor. There are several pay and display parking areas along the road, each with a very clear and obvious route to the top of Haytor beginning just across the road.
Dartmoor is the sort of place you'll want to go back to again and again.
---
Ordnance Survey map covering Dartmoor:
Explorer OS maps (1: 25000) - best for walking
EX028 Dartmoor
Landranger OS maps (1: 50000)
LR202 TORBAY & S. DARTMOOR,TOTNES & SALCOMBE - LR191 OKEHAMPTON & N/DARTMOOR
Contact
Dartmoor National Park Authority
Parke
Bovey Tracey
Newton Abbot
Devon
TQ13 9JQ
email: hq@dartmoor.gov.uk
Web: www.dartmoor-npa.gov.uk
Related
Devon Travel Guide
Best of Britain Express Art Prints