South West Coast Path National Trail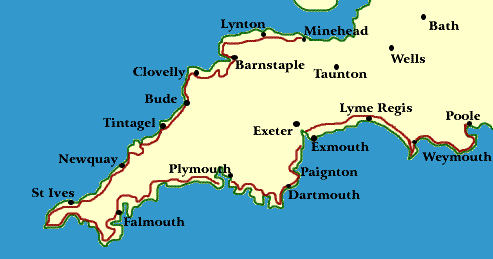 The South West Coast Path was voted 'Britain's Greatest Walk' by readers of Country Walking magazine.
Minehead to Poole
The South West Coast Path is easily the longest and, in places, the most arduous, of England's National Trails. The path is actually the amalgamation of four paths; the Somerset & North Devon, Cornwall, South Devon, and Dorset Coastal paths. The route is quite popular, and it can be crowded in the summer months, though there are always long stretches where your only company will be a chorus of sea birds.
The trail can be windy - the prevailing wind is from the southwest, and numerous river estuaries along the way require ferry crossings. This means that a good guidebook with tide and ferry timetables is essential equipment for walkers.
The path has an interesting history; it is based on a footpath established by Coastguards who patrolled the entire length of the South West Peninsula - on foot, every day - watching for smugglers. This sentry activity was carried on right up until 1856, and the length of the path is dotted with coastguard cottages at convenient intervals.
---
Because the coastguards needed to be able to investigate every cove and inlet along the way, the path hugs the coast closely. This allows today's walkers superb views, but it also means that there are frequent changes in elevation.
The path is best enjoyed in May, for then the wildflowers are in full bloom. In full summer it may be difficult to find accommodation, so from that perspective the spring and autumn months are preferable. If you are willing to put up with the crowds, walking in the summer allows you to go swimming in the warmed water of the sea!
Highlights:
Durdle Door, Dorset - a huge arched passage in the sea cliffs
innumerable sandy beaches and rocky coves
Sea birds and coastal flowers
Coastal waterfalls between Heartland Point (Devon) and Bude (Cornwall)
The "Granite Coast" near Land's End - strange castellated rock formations
Exmoor National Park
---
Maps
Ordnance Survey maps covering the South West Coast Path National Trail:
Explorer OS maps (Scale: 4cm = 1 km / 1: 25000) - best for walking
009, 015, 020, 102, 103, 104, 105, 106, 107, 108, 109, 110, 111, 115, 116, 126, 139
Landranger OS maps (Scale: 2cm = 1km / 1: 50000)
180, 181, 190, 192, 193, 194, 195, 200, 201, 202, 203, 204
All OS maps are available at 10% off retail price, by special arrangement if you order through Britain Express. Both laminated waterproof and plain paper maps are available.
---
Best of Britain Express Art Prints