Lincolnshire Aviation Heritage Centre
History, tourist information, and nearby accommodation
HERITAGE RATING:

---
Lincolnshire Aviation Heritage Centre is an outstanding aviation museum built as a memorial to Bomber Command and based at the former RAF East Kirkby airfield in Lincolnshire. The museum was established by the brothers Harold and Fred Panton as a tribute to their brother Christopher Panton, who died in the 'Black Friday' attack on Nuremberg in 1944.
History
Christopher Panton was aboard Handley Page Halifax HX272 on the 30/31 March 1944 raid of the German city of Nuremberg. The Halifax bomber was just one of 782 taking part in the raid. Losses were exceptionally high; 108 aircraft were lost, and 821 British airmen were dead or wounded in the attack, which became known as Black Friday.
Almost 30 years later Christopher's younger brothers Harold and Fred decided to pay tribute to their elder brother and got an option to purchase an Avro Lancaster Mk VII, NX611, which was then based at RAF Scampton. They could only buy the aircraft on condition that it remain at Scampton until 1983.
In 1981 the Pantons bought part of the former RAF airbase at East Kirkby to be the Lancaster's new home. The aircraft was moved to East Kirkby in 1987 and is now the focal point of the museum's large collection of aeroplanes and Bomber Command memorabilia.
---
The Historic Collection
The Lancaster is dubbed 'Just Jane'. It makes regular taxi runs, which help raise money to restore the craft and one day make it airworthy once again.
Other highlight aircraft include a Percival Proctor, Mosquito NF11 HJ711, and a Handley Page Hampden, all of which are undergoing restoration. You can also see a DC3 Dakota, the cockpit of an English Electric Canberra WH957 and the wreckage of Supermarine Spitfire BL655, which crashed in 1943, killing its pilot.
As well as the historic aircraft the Centre houses a collection of a dozen WWII RAF ground vehicles and an example of the famous Barnes Wallis Bouncing Bomb. Ground vehicles include a Ford WOT1 Crew Bus and Fire Tender, a Fordson Jeep, David Brown Tractors, a Ford 8 car, a 1931 Bedford Civilian Bus, a BSA M20 500cc motorcycle, an AEC Fuel Bowser, a 1942 Mobile Canteen/Naafi Wagon, a Bedford MW Water Bowser, a Bedford OX Tractor Unit and Queen Mary Trailer, and a Norman Nippy moped. Each vehicle has a very useful information panel giving its history and technical specifications.
You can also see an ANT 18 Link Trainer, an early example of a flight simulator. Link Trainers were used at every flying station and were harder than real flying. The unit was invented by Edwin Link, who wanted to fly but couldn't afford lessons. He built the simulator with air operated bellows used in his family's piano and organ business, and it was so successful that 10,000 trainers were made during WWII.
---
About RAF East Kirkby
The airfield was built in 1943 as a Bomber Command Station. From 1943 until the end of WWII it was home to No. 57 Squadron and No. 630 Squadron RAF. After the war, it was used by the US Air Force Air Rescue for 4 years. The airfield was decommissioned in 1958 and sold in 1964. Most of the WWII runway is still intact.
Airfield Highlights
There is much more to see at the Aviation Centre than just the historic aircraft and WWII vehicle collection. Many of the original RAF East Kirkby buildings have been preserved. Some of these act as exhibition areas for displays on aspects of aviation history, others are maintained to show what life would have been like for the men and women stationed here during the war.
Briefing Hut
This hut is set up to depict a briefing of the 57 and 630 Sqn crews for an attack on Berlin. At the east end of the hut is a large map showing the route, with flak concentration areas and turning points, and a Met report showing predicted weather patterns with icing levels. This hut was used for general briefings. after this was finished crews would split up into gunners, navigators and bomb aimers, each of which would get a separate, detailed briefing.
---
Billet Hut
This was where the airmen and the ground crew made their home, with carefully made beds and small shelves for personal items. Seven of the beds have been left empty to reflect the reality that not all the aircrews would return from their missions.
Home Front Exhibition
This area depicts life in Britain during the war years. Agricultural equipment occupies the ground floor and you can see a typical blacksmith shop where machinery was repaired. Upstairs are exhibits covering the harsh realities of rationing, evacuation, gas attacks and uniform-making. see an Anderson Shelter, a collection of WWII gas masks, and everyday household items at use on the Home Front.
Memorial Chapel
The chapel is home to a Roll of Honour commemorating the 848 air and ground crew who died while serving at RAF East Kirkby from August 1943-VE Day.
---
Control Tower
Also known as the Watch Tower, this was whee flights in and out of the airfield were directed. As you explore the Tower you will hear a recording made using wartime equipment and scripted by personnel from the Lancaster bomber crews from their own experiences. Part of the recording follows a WAAF team as they guide a damaged aircraft back to base.
One historic highlight is easy to miss. Look for the windsock in Signal Square. If you look closely you can see a bullet hole about 2/3 the way up. The hole was caused by a German night fighter attack when the sock was in use at RAF Spilsby.
Meridian Line
The Greenwich 0 Longitude line passes right through East Kirkby airfield. The line is marked with a stone memorial dedicated to 'All those who crossed the Meridian for our freedom of body and spirit. May their effort never be wasted'.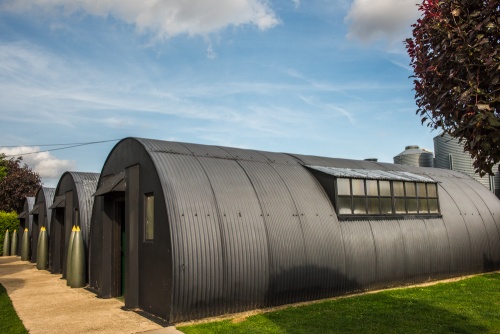 ---
Escape Museum
One of the most intriguing areas of the museum is an exhibit of wartime escapes, including stories of the dangerous role played by Resistance fighters in France and Holland. See the escape kit carried by each member of an air crew, including secret knives and compasses.
Displays cover the Caterpillar and Goldfish 'Clubs' for airmen who were forced to parachute over land and sea respectively. This is a very poignant and moving exhibit. See a POW coat from a concentration camp, forged money and documents made by POWs, and a scale model of the Colditz escape glider.
Explore the Radio Room, with its display of vintage airborne and ground radio equipment, such as the RAF Type R1224A, made by the Ferguson Radio Company and often used by runway caravans to monitor operational frequencies.
Lincolnshire Aircraft Recovery Group
The LARG is a group of volunteer enthusiasts who find and recover historical aircraft that crashed in Lincolnshire during the war years. They trace the historical record of known crashes and then use metal detection and meticulous research to unearth and preserve pieces of wreckage around the county.
Many of their finds are on display in the hangar at East Kirkby airfield. Each recovery exhibit comes with information panels telling the story of the plane, its crew, and the circumstances that led to its crash. The result is an utterly absorbing display of a very human side of aviation history.
I absolutely loved the Lincolnshire Aviation Heritage Centre. Though I'm not very knowledgable about aircraft, the museum did a wonderful job of making the history of the airfield and the men and women who served here really come alive. The exhibit on the recovery of crashed aircraft was exceptional, as was the Escape Museum. This is a place you could linger for a long, long time.
NEARBY HISTORIC ATTRACTIONS
Heritage Rated from 1- 5 (low to exceptional) on historic interest
Bolingbroke Castle - 1.8 miles (Castle)

Revesby, St Lawrence Church - 2.5 miles (Historic Church)

Spilsby, St James' Church - 4.5 miles (Historic Church)
Scrivelsby, St Benedict's Church - 5 miles (Historic Church)
Haltham-on-Bain, St Benedict's Church - 5.8 miles (Historic Church)
Great Steeping, All Saints Church - 6.2 miles (Historic Church)
Horncastle, St Mary's Church - 6.7 miles (Historic Church)
Monksthorpe Chapel - 6.8 miles (Historic Church)

Nearest Holiday Cottages to Lincolnshire Aviation Heritage Centre:
More self catering near Lincolnshire Aviation Heritage Centre