Dover-Folkestone Heritage Coast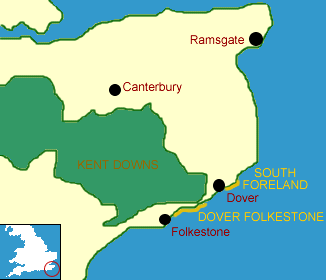 Description
The heritage coast covers the area of the White Cliffs of Dover, renown of song and calendar photos. Jackdaws and swallows are abundant, and orchids grow along the cliff-tops.
The chalk is actually soft white limestone composed of calcium carbonate impregnated with small shells of microscopic organisms called Foraminifera. The chalk breaks along sharp planes to create the almost sheer cliffs that are so prevalent along this coast.
Area Countryside Attractions:
South Foreland Lighthouse
St Margaret's Bay - A Victorian lighthouse used by Marconi for the very first radio contact. The lighthouse sits on top of the cliffs and retains the original light mechanism. Excellent views can be had from the top.
North Downs Way
This national trail begins in the chalk hills of the Surrey Hills AONB and passes through the Kent Downs AONB before ending quite close to the White Cliffs at Dover.
The Kent Downs AONB provides superb views over open countryside split by sunken lanes and dotted with small villages.
The White Cliffs Countryside Project (contact details below), which is responsible for administering the heritage coast, also runs several family programs aimed at helping people enjoy the coastline and area of the Cliffs. Included are programs of guided walks, cycle rides, and family activities during school holidays. They also publish "White Cliffs Countryside Volunteers", a leaflet detailing conservation activities and volunteer opportunities.
Maps
Get an Ordnance Survey map covering Dover - direct from the OS online shop.
Travel Guides
Kent
CONTACT
White Cliffs Countryside Partnership
c/o Dover District Council
White Cliffs Business Park
Dover
Kent
CT16 3PJ
Web site
Best of Britain Express Art Prints