Great Orme Heritage Coast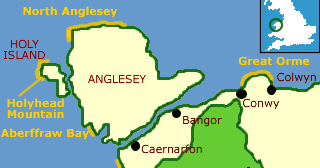 Description:
Great Orme is one of the shorter heritage coasts at only four miles in length. It wraps around the finger of Orme Head, which defines the eastern shore of Conwy Bay. At the base of the peninsula is the Victorian resort town of Llandudno.
The Great Orme peninsula is managed as a country park and the park visitor centre has exhibits which highlight the natural history and wildlife of the peninsula. That wildlife includes over 20 unique species of butterflies and 100 species of birds. The grasslands above the cliffs support a wide variety of wildflowers.
The western shore of the coast is largely composed of a broad, sweeping expanse of sandy beach, beloved of the spade and bucket brigade. The northern shore is rugged, cliff-lined coast. A minor road follows the line of the cliffs and provides excellent views and easy access.
For a different view of the coast you can take the Great Orme tramway, a cable car journey which starts in the centre of Llandudno and travels for a full mile through the country park to the top of Great Orme Head.
Great Orme was once at the bottom of the sea, and the area is abundant in fossil remains. More recently the headland was home to Neolithic settlers, and there are numerous prehistoric remains to be seen. The best-preserved is probably the burial chamber of Great Orme Cromlech, and there are several stone circles at Pen y Dinas.
---
Area Countryside attractions
Anglesey AONB
This Area of Outstanding Natural Beauty takes in almost the entire coastline of the Isle of Anglesey. Steep limestone cliffs and sandy beaches on the island's east shore contrast with rolling sand dunes in the southwest.
Snowdonia National Park
A superb climbing area, this mountainous region of northern Wales has served as a training base for Mount Everest Expeditions, but don't be intimidated by that; there is plenty here for the less ambitious walker and climber. The drama of Snowdonia is provided by its high peaks and steep, plunging valleys, but there is also an abundance of open moorland and miles of sandy beaches along the coast. More ...
Maps: OS Landranger series #115
Best of Britain Express Art Prints