Lleyn Heritage Coast
Description
The long, low Lleyn Peninsula is a largely unspoilt country refuge warmed by the Gulf Stream. The coast is varied, with steep, jagged cliffs near Aberdaron contrasting with sand dunes and fine bathing beaches in other areas (notably Porth Neigwl). Most of the heritage coast is included in the Lleyn Area of Outstanding Natural Beauty (AONB).
The 55 miles of the heritage coast takes in Bardsey Island, off the westernmost tip of the peninsula. Bardsey is a seabird sanctuary and wildlife refuge famous for its large population of grey seals. Bardsey was regarded as a sacred isle by the Welsh, and the island is reputedly the burial place of 20,000 saints!
In the Middle Ages Bardsey was a popular destination for pilgrims, which did no harm to the economy of Aberdaron, the nearest town. The best views of Bardsey Island can be had by following the National Trust path from Aberdaron, which runs for 2 miles to the wild headland of Uwchmynydd.
A marked trail near the port of Trevor leads to the Iron Age encampment of Tre'r Ceiri (the Town of the Giants), which offers superb panoramic views. Other coastal trails worth exploring are at Abersoch, Llanbedrog and Pwllheli (among others).
The landscape of Lleyn inland from the coast is one of hedgerowed fields and small white-washed farms. Some areas of ancient open common land remain. The small 16th-century manor house at Plas yn Rhiw, near Pwllheli, is open to the public under the care of the National Trust.
The south coast of Lleyn is a popular sailing and water-sports area, with diving, windsurfing, and waterskiing some of the activities on offer.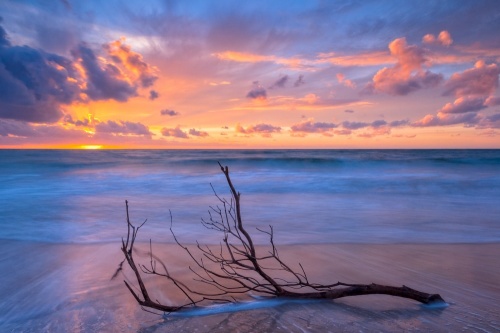 ---
Area Countryside attractions:
Anglesey AONB
This Area of Outstanding Natural Beauty takes in almost the entire coastline of the Isle of Anglesey. Steep limestone cliffs and sandy beaches on the island's east shore contrast with rolling sand dunes in the southwest.
Snowdonia National Park
A superb climbing area, this mountainous region of northern Wales has served as a training base for Mount Everest Expeditions, but don't be intimidated by that; there is plenty here for the less ambitious walker and climber. The drama of Snowdonia is provided by its high peaks and steep, plunging valleys, but there is also an abundance of open moorland and miles of sandy beaches along the coast. More ...
Maps:
Ordnance Survey Landranger map #123
Ordnance Survey Explorer maps #013, 014
Best of Britain Express Art Prints