Suffolk Heritage Coast
Description
The Suffolk coast is one of low marshes and reed beds interspersed with beaches of sand and shingle. Several long estuaries serve to keep the major roads well inland and preserve a sense of unhurried calm along the coast.
There are RSPB nature reserves at Aldeburgh, Orford, and Minsmere, where you will see avocet, bitterns, and marsh harriers, in addition to numerous butterflies and wildflowers.
Nowhere is the effect of sea erosion more noticeable than at Dunwich. The town was once one of the leading ports on the east coast, but the sea crept in, and much of the village, including 6 churches, a monastery, and 3 chapels, is now underwater. Legend has it that if you listen carefully you can hear the sound of the church bells ringing under the waves.
Nearby Dunwich Heath is an expanse of 215 acres of sandy cliffs and beach owned by the National Trust.
Orford is another town that has seen changing fortunes due to its seaside location. In the 12th century, Henry II built a castle here, in recognition of its strategic importance as a port. The long shingle of Orford Ness gradually cut off the town from the sea, and today it survives as a small fishing village and holiday centre on the River Alde. The castle keep houses an exhibition of arms and armour.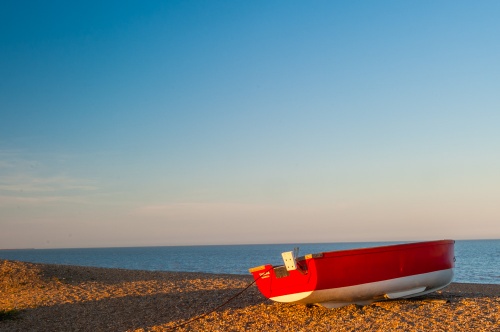 ---
The attractive fishing and sailing centre of Southwold boasts more excellent bathing beaches, and close by is Walberswick nature reserve, overlooking the estuary of the River Blyth.
Aldeburgh is most famous for its international music festival, but the town has more to offer than music. The most northerly of the Martello Towers built to protect this coast during the Napoleonic era squats heavily on the shore to the south of the town, and fishermen sell fresh fish from their boats drawn up on the beach.
Area Countryside attractions
Norfolk Broads National Park
The Norfolk Broads is best known as a boating centre, and rightly so. They are made up of a multitude of broad, shallow lakes lying along five major rivers. More ...
Suffolk Coast Path
This long-distance path follows the coast for 50 miles from Lowestoft to Felixstowe through a seaside delight of sand, shingle, broads, marshes, and dunes. The path is blessed with an abundance of birdlife and wildflowers.
Resources:
Suffolk Coast and Heaths
Maps:
OS Landranger series #156, 168, 169
Best of Britain Express Art Prints