Beatrix Potter's Lake District
ARCHIVED ARTICLE
by Terry & Doris Michaud
Without a doubt the number one destination for Britons headed out on holiday would be the Lake District in the North. It includes parts of Cumberland, Westmorland and Lancashire and is highlighted by beautiful mountains, valleys, dark woods and great stretches of water including Lake Windermere, the longest lake in all of England.
One of the great experiences is to take a ride up the lake on one of four steamers operated by British Rail that travel the lake on a regular schedule. One of the ports of call is at Bowness.
Once a small fishing village, it is now one of the primary tourist centers in the Lake District and a charming place to headquarter your stay in the area. Just up the hill from Bowness is the town of Windermere, and the two towns offer several antique shops and centers to explore.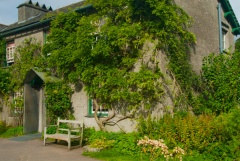 Another stop on the lake is Ambleside, and just up the road is the village of Grasmere, where William Wordsworth and his wife Mary are buried in the churchyard. This renowned poet spent his entire life here and was inspired by the beauty surrounding him to produce his greatest works. A Wordsworth Museum is located in nearby Grasmere.
As you make your way through the delightful villages, you will discover the shops are filled with collectibles and gifts in the distinctive style of the characters made famous by British authoress Beatrix Potter.
Her charming cottage and home are located at Hill Top, near the village of Sawrey at the North end of Lake Windermere. For the serious Beatrix Potter collector, a visit to this historic sight is an absolute must. It can be very crowded during opening times in the spring and summer months, so allow plenty of time for your visit to both Hill Top and shopping time in the village.
Beatrix Potter (1866 -1943) purchased this little farm with the earnings from her first book "The Tale of Peter Rabbit", and as one overlooks the garden adjacent to the cottage, you almost anticipate Peter Rabbit popping up from behind a shrub! Beatrix Potter spent as much time as she could at Hill Top, furnishing it with her favourite things and being inspired to create many of her best-loved childrens' stories.
The illustrations she painted from the classic tales of Tom Kitten, Jemima Puddle-Duck, and Samuel Whiskers all contain views of Hill Top and scenes from Sawrey and the immediate area. On her marriage in 1913, Beatrix Potter moved to a nearby home and kept her beloved Hill Top as a studio.
She was famed as a childrens' author, but recognized locally as a sheep farmer and devoted much of her time to that occupation. Over a 30 year period, she built up an estate of 14 farms, mostly within a 10-mile radius of Sawrey.
She worked closely with the National Trust, and when she died in 1943 she bequeathed her farms to the trust, including her beloved Hill Top. She included in her will the condition that Hill Top never be lived in again and that the rooms and furnishings should remain as they had been during her lifetime.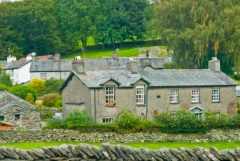 Because of her foresight in preserving this cottage and its contents, it enables visitors to almost literally step back in time and experience the warmth and charm present in every room. The facility is very small and space is limited, so a strict limitation is placed on the number of visitors at any given time.
While the use of cameras or video recorders is restricted, a good selection of postcard views of the rooms can be obtained in the gift shop at the entrance to Hill Top.
You can also purchase reprints of her books and a grand selection of collectable figurines, china and other items adorned with her beloved characters.
You will also want to spend some time in the village of Sawrey, where many shops offer additional collectables in the Beatrix Potter theme. Information on the Lake District can be obtained from any British Tourist Authority office.
HELPFUL HINTS
When planning your visit allow time to enjoy lunch in one of the pubs or restaurants, and be sure to order Sticky Toffee Pudding! It is a regional dish that rates at the top of our list of reasons to visit the Lake District!
You will be well advised to have your Beatrix Potter collectables shipped back home by the shop where you make your purchase. It will be carefully packed and will help to limit the number of things you have to carry in your luggage. It is well worth the small added expense, as suitcases tend to gain weight dramatically with each passing day!
Britain for Collectors is written by Terry & Doris Michaud, internationally known in the world of teddy bear collectors. They have authored 5 books on collecting and regularly write features for magazines in the U.S. and abroad. In a partnership with Bill & Rosemary Hayes, they conduct annual collector's tours to Great Britain.
Best of Britain Express Art Prints