North Anglesey Heritage Coast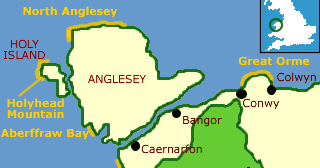 Description
The North Anglesey Heritage Coast runs for 18 miles along the northern shore of the Isle of Anglesey from Church Bay in the west to Dulas Bay in the east.
The coast is rugged and rocky, but there are oases of calm in the sandy beaches at Cemaes Bay, Church Bay, and Bull Bay. Near Cemaes, a long spit of land has created an inland lagoon, which harbours a large colony of terns. The area is now a nature reserve, and there is a footpath along the cliffs and through the reserve.
The largest centre along the coast is the port of Amlwch, once home to the largest copper mine in the world. The golden days of the mine at Parys Mountain (Mynydd Parys) were in the 19th century, but there is evidence of mining here as early as the Bronze Age. Parys Mountain is now a Site of Special Scientific Interest (SSSI).
A more ancient heritage is preserved at Llanbadrig (Patrick's Church). Local legend says that the first Christian church here was built by St. Patrick, who was shipwrecked on the islet of Ynys Badrig while on his way to convert the Irish to Christianity around the year 440 AD.
He made his way to the shore, where he sheltered in the caves at Ogof Badrig, and built a simple wooden church in gratitude for his deliverance. The church you can see today - which is likely the only one in Wales dedicated to the patron saint of Ireland - is largely 14th century with Victorian additions.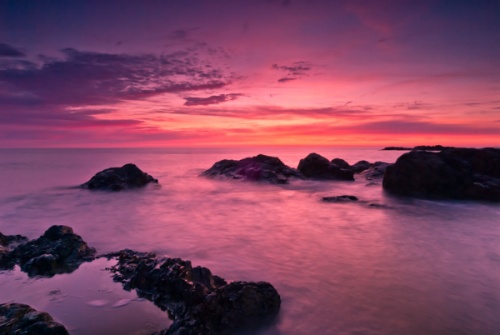 ---
Area Countryside attractions
Anglesey AONB
This Area of Outstanding Natural Beauty takes in almost the entire coastline of the Isle of Anglesey. Steep limestone cliffs and sandy beaches on the island's east shore contrast with rolling sand dunes in the southwest.
Aberffraw Heritage Coast
Aberffraw was once an important port, but the estuary gradually silted up, leaving the present coastline of sand dunes. The dunes range as high as 30 feet and more. The sculptured sand is stabilised by marram grass near the sea, and patches of sea holly can be found in autumn. More ...
Maps:
Get an Ordnance Survey map covering the Cemaes area - and get 10% off paper maps! (opens new window)
Best of Britain Express Art Prints