Flamborough Headland Heritage Coast
Description
One of the most impressive areas of chalk cliffs in England, Flamborough Headland rises to a height of some 400 feet. The white chalk is overlaid by clay, creating an unusual variety of plant and wildlife species.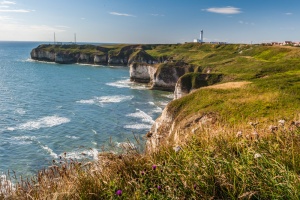 As well, the cliffs are home to Britain's only mainland colony of gannets. There is an RSPB bird sanctuary near Buckton, on the northern shore of Flamborough Head.
A visitor centre at Flamborough organises a program of regular walks and lectures. The area is also a popular boating centre, and there are fine sandy beaches both to the north and south of the Heritage Coast.
At Flamborough Head stands not one but two historic lighthouses. The oldest, and the oldest in Britain still standing, was built in 1674. Closer to the head stands an early Victorian lighthouse, now open for tours in the summer months. Paths lead along the coast in both directions from the Head, south and west towards South Landing and Bridlington, and north and west to North Landing and Bempton Cliffs RSPB nature reserve, home to the largest seabird population in the UK.
Just inland is Flamborough itself, with the ruins of a post-medieval castle and a Norman church to explore. Flamborough Headland is a wonderful area to visit, a mecca for walkers, photographers, and anyone who enjoys coastal scenery and the bracing sea air!
Area Countryside attractions:
The Wolds Way
This long-distance path begins at Filey, to the north of Flamborough, and curves inland following the escarpment of the Yorkshire Wolds through open countryside to Kingston-upon-Hull. More ...
Spurn Head
South along the coast from Flamborough is Spurn Head Heritage Coast, a long, narrow hook of sand and shingle at the mouth of the Humber River.
Cleveland Way
The Cleveland Way National Trail is a walk of contrasts. For most of its route, it runs through the wild beauty of the North York Moors National Park. Reminders of a colourful past abound along the trail, from the remains of the marvellous Cistercian abbey at Rievaulx to the ruins of Roman signalling stations that dot the coastline. More ...
Contact
Heritage Coast Officer
4-6 Victoria Road
Bridlington, North Humberside
Y015 2BW
Best of Britain Express Art Prints