Isle of Skye Travel Guide - Getting There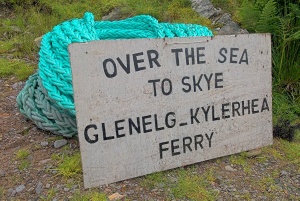 Skye Bridge
The much-maligned Skye Bridge crosses from Kyle of Lochalsh on the mainland to Kyleakin on Skye. The bridge, which replaced an earlier ferry, was for many years the subject of hot debate, due to the excessive tolls charged by the company who administered it. Those tolls have since been removed, and the crossing is now free.
The bridge does not span the entire channel between Skye and the mainland, but consists of two spans. The first swoops down onto a small island in the channel. Here, the noted author and naturalist Gavin Maxwell, author of The Ring of Bright Water, used to live. The second span arches over the inner passage from the island to Kyleakin.
Mallaig Ferry
This is the traditional 'Road to the Isles' route, departing Mallaig on the mainland, and arriving at Armadale, on Skye's Sleat peninsula; the so-called "Garden of Skye". The ferry journey takes only 45 minutes, and there are frequent sailings, particularly during the summer months. Ferries are operated by Caledonian-Macbrayne, 'Cal-Mac' for short.
Glenelg Ferry
Skye Ferry operates a small boat service running from Glenelg to Kylerhea on Skye. The service is seasonal, operating between March and October, and the ferry boat only holds 6 cars, plus standing space for foot passengers, but the very 'homely' nature of the service makes it an appealing alternative to the more heavily travelled routes. A minor road turns off the A87 near Shiel Bridge (signposted Glenelg Ferry) and the ferry terminal is about 10 miles from the junction.
Best of Britain Express Art Prints