Sandycombe Lodge (Turner's House)
History, tourist information, and nearby accommodation
HERITAGE RATING:
HERITAGE HIGHLIGHTS: Home of JMW Turner, who designed the house
---
Sandycombe Lodge is an early 18th-century house built by artist JMW Turner as a country home for himself and his father. Turner lived designed the house himself and lived here from 1814-1826. The house has been restored to the way it looked in Turner's day, and is just a short walk to the River Thames.
History
In 1807 a young and rising London artist named Joseph Mallord William Turner bought two parcels of land near Marble Hill, which was at that time a rural area well to the west of London between Twickenham and Richmond Bridge. Turner wanted to build a country retreat, a place to escape from the pressure of London life and a quiet place to paint. He was also drawn to the Twickenham area because it was already home to several other artists and literary friends such as Alexander Pope and Horace Walpole.
Turner knew the area well. He had gone to school in Brentford and rented houses at Isleworth and Hammersmith before deciding to build his own house.
Turner had always been fascinated by architecture, and once remarked to a friend that 'if he could have his life again, he would have been an architect'. Now he had the chance to indulge that passion for architecture. For the next six years, he filled sketchbooks with house designs, toying with the idea of a tower to make the most of views along the nearby River Thames. These drawings form part of the Turner Bequest at Tate Britain.
---
In the end, Turner settled for a fairly simple design; a two-storey central block with rounded extensions on either side. The style might be called mildly Italianate, with vague Tuscan influence.
Curiously, the new house did not contain a studio. It was intended purely as a residence, and Turner retained his house and study on Queen Anne Street in Marylebone.
The house was built in 1813 and Turner moved into the house in 1814 with his father, William Turner, more often called simply Old Dad. William kept house for his son, minded the garden, cooked and cleaned. That left JMW Turner free to paint, to walk along the Thames and to enjoy fishing with a few close companions such as the fashionable architect Sir John Soane. Turner and Soane shared similar views on architecture and Soane almost certainly had some influence on the decoration of Sandycombe Lodge (which was originally called Solus Lodge).
When it was built the house sat amid farm fields, with a dirt lane running past the front door and views of Marble Hill House and the River Thames. It may be hard to imagine the sense of rural calm that Turner enjoyed when you see the house today, for it sits on a street of modern houses in a suburban environment far removed from the countryside idyll that Turner enjoyed.
---
Turner lived at Sandycombe Lodge until 1826. By that time his father was in failing health, but perhaps just as importantly, Turner wanted to enjoy travelling and painting on the continent.
After Turner sold the house it passed through several hands and was greatly enlarged. The real change came in the 1840s when the railway arrived in Twickenham, and the once idyllic rural area became a busy suburban development. It is remarkable that Sandycombe Lodge survived amidst the mushrooming housing estates that overwhelmed the area.
During WWII the house served as a factory making RAF goggles. After the war, it was purchased by Professor Harold Livermore. Professor Livermore and his wife created a charitable trust to preserve the house in 2005. When Livermore died in 2010 he left the house to the Turner's House Trust.
The Trust was able to restore the house and remove the Victorian additions, returning it to the way it looked in Turner's lifetime.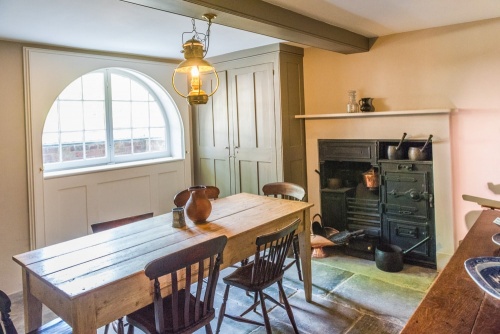 ---
What to See
Sandcombe Lodge is made of brick which was later painted white but has now been stripped of paint and render, returning the house to its original state. There is a balcony extending over the front porch and another small balcony to the rear. The entrance porch leads to a hall running the width of the building. Ahead is the parlour and to one side is a sitting room and to the other a small dining room.
Spiral stairs lead up to a master bedroom and a second, smaller bedroom now used as an exhibition area. The stairwell is illuminated by a beautifully simple oval skylight. In the exhibition area, you will see changing exhibits of artwork by Turner. When we visited the exhibition showcased miniatures - etchings made from Turner's works. The same spiral stair that leads up to the first-floor bedrooms also leads down to the kitchen. This was 'Old Dad's' domain.
Though none of the furniture on display was original to the house, it is of the same period and helps recreate the same atmosphere that Turner would have known. Prints by Turner adorn the walls. Some of these prints were part of Professor Livermore's collection.
---
The ground-floor walls are covered with wallpaper cleverly painted to look like marble. The master bedroom has wallpaper recreated from a fragment of the original design discovered inside the wall. There are glass display cases showing off objects found during restoration of the house.
Behind the house is a small garden area. The gardens were originally very large and included a pond where Turner enjoyed fishing, but the garden area was sold off over the years and nothing now remains. The garden has been planted with plants referred to by an owner of Sandycombe Lodge shortly after Turner's time, so though the planting scheme that Turner used is unknown, there is a reasonable chance that some of the same plants would have been growing here during his lifetime.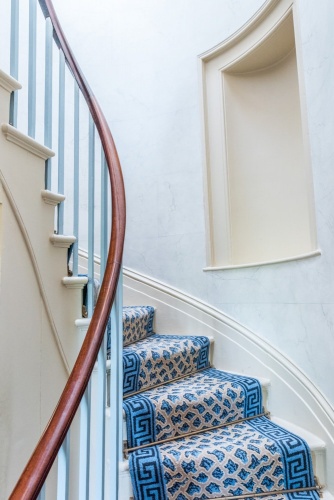 ---
What's in a name?
When we were visiting Sandycombe Lodge we overheard a conversation between an elderly visitor and a volunteer guide. The visitor was complaining that she'd had difficulty finding the house because there are two Sandycombe Roads in Richmond, one with only one 'o' (Sandycombe Road near Kew Gardens) and one with an extra 'o' (Sandycoombe Road, the one that Turner's House is on, on the south-west bank of the River Thames near Marble Hill Park).
Just to confuse matters more, Turner's House is spelt with one 'o' (Sandycombe Lodge) but it is found on Sandycoombe Road (two o's). Apparently the road near Marble Hill Park had an 'o' added a few decades ago to avoid confusion between the two Sandycombe Roads, but since Turner's House had been called Sandycombe Lodge for over a century it retained its name with the original spelling. Nothing could be clearer.
So, let's just sum all that up, shall we? Turner's House is called Sandycombe Lodge with one o, and it stands on Sandycoombe Road with two o's.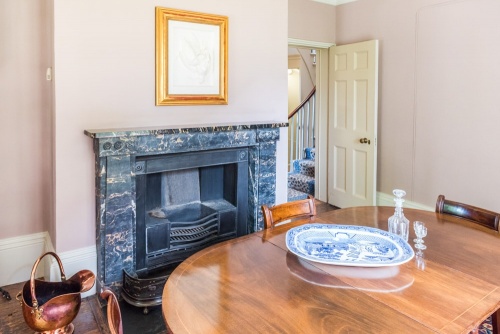 ---
Getting There
The closest underground station is Richmond, at the end of the District Line. From the station entrance turn left on The Quad, continue straight on across The Square and straight down George Street. Turn left onto Hill Street and immediately right onto Bridge Street. Go over Richmond Bridge and carry on straight ahead onto St Margarets Road. The first left will be Sandycoombe Road and Turner's house is immediately ahead on your left. This is the shortest route and will take roughly 20 minutes (1 mile).
Alternatively, if you'd prefer a lovely riverside walk, begin as above but when you cross Richmond Bridge turn left onto the path that runs along the Thames. This path is simply beautiful and offers wonderful views across the river, though it will take slightly longer than the more direct route above. When you reach Marble Hill Park turn right into the park and aim for Marble Hill House. Head north past the House and across the park to Richmond Road. Cross the road and you will find yourself at the southern end of Sandycoombe Road. Turner's House is at the north end of the road on your right.
If you prefer to travel by National Rail, St Margaret's station is about 10-12 minutes walk from the house - the station is on a direct line from Waterloo Station.
There is just one disabled parking spot at the Lodge. We highly recommend using public transport.
We had a wonderful time visiting Sandycombe Lodge. Our tour guide was knowledgeable and informative and the house, though small, has been beautifully restored and helps give a real feeling for what it must have been like when Turner and his father made it their home.
About Sandycombe Lodge (Turner's House)
Address: 40 Sandycoombe Road, London, Greater London, England, TW1 2LR
Attraction Type: Historic Building
Location: Between St Margarets Road and Richmond Road, just north of Marble Hil Park
Website: Sandycombe Lodge (Turner's House)
Email: info@turnershouse.org
Location map
OS: TQ170741
Photo Credit: David Ross and Britain Express
Nearest station:

Richmond - 0.9 miles (straight line) - Zone: 4
NEARBY HISTORIC ATTRACTIONS
Heritage Rated from 1- 5 (low to exceptional) on historic interest
Marble Hill House - 0.2 miles (Historic House)
Orleans House Gallery - 0.5 miles (Museum)

Ham House - 0.6 miles (Historic House)
World Rugby Museum - 1 miles (Museum)
Strawberry Hill House - 1.4 miles (Historic House)
Syon Park - 1.6 miles (Historic House)
Richmond Park - 1.7 miles (Countryside)

Kew Palace - 2.4 miles (Historic House)
Nearest Holiday Cottages to Sandycombe Lodge (Turner's House):

More self catering near Sandycombe Lodge (Turner's House)