The Best Historic Tithe Barns to Visit in England
Exploring England, Scotland, and Wales
During the medieval period, farmers in England were required by law to give one-tenth of their yearly harvest to the church. The income from this produce was used to support the parish, and to enhance the wealth of the church. To store this agricultural produce, the church built barns, known as tithe barns.
A remarkable number of these tithe barns survive, and they are amongst the most impressive architectural achievements of medieval England. Some of these barns rival cathedrals in the size and complexity of their structures. They are a testament to medieval architecture, and to the power and prestige of the established church.
---
Some of these tithe barns were built by remote monasteries as granges, storing the produce of their farms. The word grange comes from the Latin 'granarium', literally meaning 'grain'.
Many of these medieval barns are aisled; that is, they have a central section flanked by outer aisles, in similar fashion to a medieval church or cathedral. Intricate timber framing was used to create aisles and to support the huge and heavy tiled roofs which put enormous strain on the barn walls and foundations.
Up to 200 of these medieval tithe barns survive across England, many of them in the care of English Heritage and the National Trust.
Are they actually tithe barns?
We're using the term 'tithe barn' loosely in this post. If you want to be pedantic, few of these barns were used to store church tithes; some were purely for monastic use or used to store the produce of an estate, not necessarily to give to the church. According to English Heritage, none of the largest surviving medieval barns in England was used to store church tithes, though they are often incorrectly dubbed 'tithe barns'!
Technicalities aside, these are some of the most amazing medieval buildings in England. This is not meant to be an exhaustive list; these are purely medieval barns that we have visited and enjoyed in person! The barns are listed alphabetically (though, as you will see, there are four historic barns listed under one number).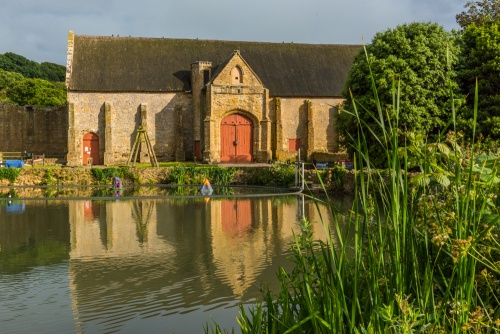 ---
Also known as Abbotsbury Great Barn, this is the largest thatched building in the world at 272 feet long by 31 feet wide. The barn was built around the year 1400 and stands in a picturesque location looking over the abbey fishponds. It now serves as a children's play centre.
---
This huge tithe barn stands in an idyllic rural location near the River Severn and a stone's throw from the medieval parish church. It was begun in 1481 by the monks of Bristol Abbey, who owned the Ashleworth manor. It stands ten bays long and is topped by a slate roof. The barn is now in the care of the National Trust.
---
There are two historic barns at Aylesford Priory, the North Barn, built in the 17th century, and the five-bay West Barn, dating to the Tudor period and now serving as the priory gift shop and tea room. Unusually, the barn has a thatch roof, supported on queen-post timbers and trusses. The walls are a mix of timber framing and weatherboard siding.
The barn is just one of a complex of historic buildings that make up the restored priory.
---
Most people come to Avebury to visit the famous Neolithic stone circle, but there are a wealth of other historic buildings in this pretty Wiltshire village including a Tudor manor and this impressive 17th-century barn, now a multi-use display space in the care of the National Trust. The barn is nine bays long, with cartways inserted in bays two and eight. The thatched roof is supported on tie-beam trusses.
---
This 14th-century building is one of the finest surviving examples of a monastic tithe barn in England. It stands in an idyllic setting beside the River Avon just outside the Wiltshire village of Bradford-on-Avon.
The barn was built by Shaftesbury Abbey as part of a monastic grange, to hold the harvest from its estates, which were brought to storage across a packhorse bridge over the Avon. The barn features massive cruck-frame timbers supporting a roof weighing 100 tons. It stretches 168 feet in length and is divided internally into 14 bays.
---
This imposing nine-bay barn was built around 1350 by the Bishop of Winchester, who owned the manor of Bredon. Despite the name, it was never a tithe barn, but served the estate as a threshing barn. The broad, aisled interior gives it the air of a large church. Bredon Barn has remained almost completely unaltered since it was built.
---
Unlike most of the barns on this list, Bourton House Barn was not built for a church estate or to collect and store tithes; it was built in 1570 for the owner of Bourton House, Richard Palmer, whose initials appear on a datestone over the main entrance.
The barn is built of locally quarried limestone and has a limestone slate roof. It stretches to seven bays and retains its original roof timbers. It also features two central porches opposite each other. The barn now serves as a cafe for Bourton House Gardens.
---
This 14th-century building makes up part of an exceptional collection of medieval structures begun by the Archbishops of Canterbury in the 11th century and arranged around a courtyard in the Kent village of Charing.
The 'barn' once served as the Great Hall of the archbishops' residence and was only used as a barn after the property was sold into private hands. It seems likely that the barn building was built by John Stratford, who served as Archbishop of Canterbury from 1333 to 1348.
There are four historic barns at this wonderful open-air museum. They have been saved from destruction by being carefully taken apart, transported to the museum site, and reassembled. The barns are:
---
9a. Northolt Barn - built as an open hay barn (that it is, the sides were not enclosed) it bears the date 1595 inscribed on a doorway. It was built in Northolt, Middlesex to store hay for sale in London. There are no opposing entrances because the barn was used to store hay, not for threshing. It is built of oak timbers set upon a brick plinth.
---
9b. Arborfield Barn - this thatched barn probably dates to sometime around 1500and came here from Carters Hill Farm, near Arborfield, Reading. The barn is built with cruck-frame construction and was used to store produce and possibly as a livestock stable. The barn was used in the film Mary, Queen of Scots, as the setting for a meeting place between Queen Mary and Elizabeth I of England.
---
9c. Skippings Barn - This 18th-century barn comes from Skippings Farm, Chalfont St Peter, Buckinghamshire, and was used for many years as an education centre by the Hawk and Owl Trust. It was used as a threshing barn, though later a hayloft and stable were added. It is built with an oak frame and is one of the smaller barns on this list, with just three internal bays.
---
9d. Hill Farm Barn - part of the museum's 'Historic Chilterns Farm' display, this 19th-century thatched barn came from the Chalfont St Giles area and was used as a threshing barn. It now houses the museum's restored threshing machine. The historic Chilterns Farm has been used as a setting for several TV and film productions including Downton Abbey.
Book your Large Group Holiday Cottage in Cornwall Today
Perfect for family reunions!
The Cressing Temple estate was the first rural estate in England established by the Knights Templar. Here you will find not one, but two exceptional 13th-century barns, used by the military order of monks to store grain from their huge estate, which eventually stretched to over 2,000 acres.
---
The oldest of the two barns is Barley Barn, begun around 1205. It is 118 feet long and 45 feet wide, with ten full bays and an extra half bay at each end. In the 16th century the roof was rebuilt in a crown-post design. Intriguingly, it is possible that the barn was disassembled from its original location elsewhere on the Cressing Temple estate and re-erected in its present location after the upheaval of the Peasant's Revolt in 1381.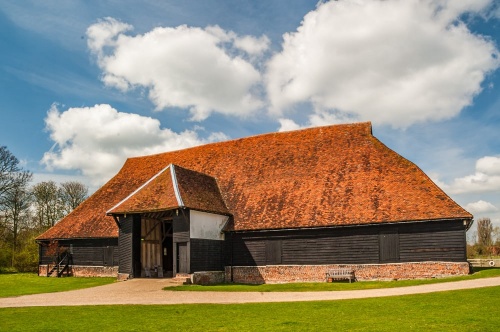 ---
The second 14th-century barn at Cressing is Wheat Barn, built between 1257- and 1280. A porch was added to the west wall in the 15th century. The walls were originally weatherboarded, but were infilled with brick in the Tudor period.
---
Grange Barn is one of the oldest surviving timber-framed buildings in Europe, built for the Cistercian abbey of Coggeshall. Tree-ring dating originally placed construction between 1140 and 1220, but more recent analysis suggests a date between 1237 and 1270.
The barn is 130 feet long and 45 feet wide, with a roof of handmade red tiles supported on an elaborate system of timber posts and beams. The barn interior is divided into six aisled bays and there are two pairs of porches.
The barn is now in the care of the National Trust and houses a collection of historic farm tools and equipment including woodworking tools and traditional farm wagons.
---
Just one of a wealth of historic buildings in this delightful Somerset village. According to the village charity that restored and operates it as an event venue, it dates to the 14th century, but the official English Heritage listing suggests a 16th-century date. The barn is built to a cruciform plan with large double doors in the centre of the east wall and a steeply pitched slate roof.
---
East Riddlesden Hall is a picturesque 17th-century mansion in the care of the National Trust, built on the foundations of an earlier medieval hall house. In the grounds stands the Great Barn, a cruck-framed 17th-century barn used to store corn, hay, and livestock.
The barn stretches 120 feet and has a stunning roof of oak timbers supported on massive aisle posts. There are opposing entrances in each long wall, built large enough to admit a pair of oxen pulling a cart in tandem.
---
This is one of the longest and best-preserved medieval barns in England. It was begun before 1300, and the impressive roof was rebuilt in 1525. It is 186 feet long, with 13 bays. Unlike other barns in this list, it is still, as of this writing, in use as a working farm building. It is not a tithe barn, but was built by the monks of St Peter's Abbey in Gloucester (now Gloucester Cathedral) to store grain produced by the Frocester estate.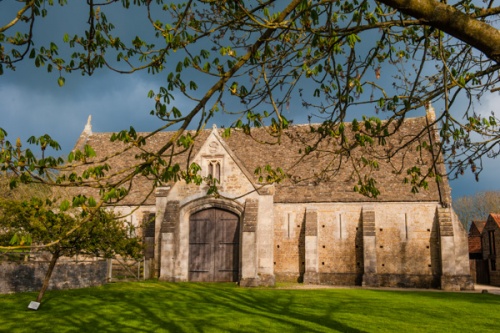 ---
Now home to the Somerset Rural Life Museum, this large 14th-century barn stands just outside the boundary wall of Glastonbury Abbey. It served to store crops from the abbey's home farm.
The barn is built of local limestone, with a stone slate roof supported on two tiers of cruck beams strengthened with arch braces. It is roughly 100 feet long, with the interior divided into seven bays, and has a very large set of double doors in its long side.
---
Called by William Morris the most beautiful building in England, this 13th-century barn was built by the monks of Beaulieu Abbey in Hampshire, who owned the Great Coxwell estate. It is 144 feet long and 38 feet wide, with a slate roof of Cotswold stone supported by a timber frame of extraordinary complexity. Over the east door is a dovecote -- an unusual feature for a medieval barn.
The monks of Beaulieu didn't trust their threshing workers; they left detailed instructions that all workers were to have their pockets and even their shoes carefully checked to make sure they were not stealing small amounts of grain.
Great Coxwell Barn is now in the care of the National Trust.
---
Most people visit the Great Dixter estate to see the exceptional Arts and Crafts style gardens that surround the 15th-century hall house, but a stone's throw from the historic house is the Great Barn, built in the middle of the 15th century to hold produce from the manor farm.
It is smaller than many of the barns on this list at 88 feet long and 26 feet wide. It features a timber frame made from locally felled oak trees with wattle and daub infill. The barn stands beside a picturesque oast house with three kilns.
---
Here's another medieval 'tithe barn' that has nothing to do with tithes. This 14th-century building was built by the monks of St Peter's Abbey in Gloucester, who owned the Hartpury estate. It is among the longest surviving medieval barns in England at 161 feet. It is 11 bays long internally, with a pair of porches on the south side. Matching doorways on the north side have been blocked up.
The east and west gables have beautifully carved finials. On the west gable, looking towards Wales, is a lion, the symbol of England, and on the east gable, looking towards England, is a winged dragon, the symbol of Wales.
The barn is just one of several historic buildings clustered around Hartpury's medieval parish church. It is in private hands but is so close to two roads that it is extremely easy to get a good look at the building exterior.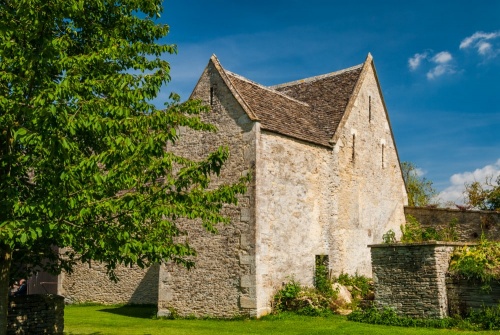 ---
There are an absurd number of historic barns in the Oxfordshire village of Kelmscott. I count eleven barns listed Grade II by English Heritage for their historical interest. One deserves special mention; it stands at the entrance to the grounds of Kelmscott Manor, the 16th-century manor house that was once the home of William Morris. The barn now houses an exhibition on Morris's life and career.
The barn is, unusually, laid out on an L-plan, with a short two-storey wing. It dates to the late 17th century and is made of limestone rubble and a stone slate roof. The main section of the barn is divided into four bays and has a triple-purlin collar and tie-beam roof.
---
The entire Wiltshire village of Lacock is owned by the National Trust. It is rare to find a medieval barn in the heart of the village, but that is the case here. This 14th-century barn was built by the Augustinian nuns of neighbouring Lacock Abbey to store grain from their estate and tithe payments of crops and wool fleeces from their tenants.
The barn is divided internally into eight bays, with a cruck-frame supporting a roof of heavy slate tiles. Some of the timber beams bear symbols meant to ward off evil. In the 18th century a small cell was built onto the northern end of the barn to serve as the town lock-up.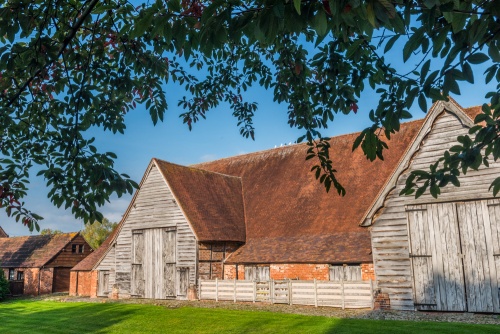 ---
This magnificent example of medieval architecture is the largest and most impressive cruck-framed building in England. It was built in the 14th century for the monks of nearby Pershore Abbey. It stands 140 feet long and 34 feet wide, with two gabled porches in the south wall.
The tiled roof is supported on 18 cruck timbers, or blades, which divide the interior into ten bays. Radiocarbon dating suggests that the timbers used to build the barn were felled in 1344. A section of the original wattle and daub walling has been exposed in the north wall.
---
This 17th-century barn stands within the moated site of Michelham Priory, a rare fortified monastery founded in 1229. It features a tie-beam roof braced with queen posts. The exterior features tarred weatherboarding. There are a pair of wagon entrances giving access to an aisleless interior.
It is well worth visiting the Priory to see not just the barn, but an Elizabethan farmhouse, incorporating parts of the original medieval monastery, a restored mill, a forge, and reconstructed physic and cloister gardens.
---
This Grade I listed barn, now in the care of the National Trust, was built for the monks of Evesham Abbey sometime around 1250. It is built of blue lias stone dressed with Cotswold limestone and stands 130 feet long and 42 feet wide.
It originally had two gabled porches but only one survives. The roof is supported on raised crucks, with the cruck timbers standing on short stone walls rather than directly on the ground.
To one side of the barn is n old cider-press building. The Middle Littleton area has a long tradition of fruit growing, so it seems likely that villagers would have paid their tithes in fruit such as apples or pears.
---
This weatherboarded barn was built between 1417 and 1442 (though this may be a rebuilding of an earlier 14th-century barn). It was probably built by New College, Oxford, which was given the estate by its founder, William of Wykeham, Bishop of Winchester.
The barn is 124 feet long and 38 feet wide with a hipped roof. That roof is supported on a crown-post frame that divides the interior into eight bays. Each door has a cat door built into it, as cats were an essential defence against mice that might eat the grain. There is also an owl hole at the gable peak for the same reason.
English Heritage, which looks after the site, calls the interior of Priors Hall barn 'breathtaking', and I'd have to agree with that description.
---
This 14th-century barn was built for Tewkesbury Abbey and stands near the parish church and the Jacobean mansion of Stanway House. Unlike some barns on this list that are labelled as a tithe barn, Stanway Tithe Barn was actually built to hold tithes. It is built of locally quarried Cotswold stone under a stone tiled roof supported by raised-cruck trusses. It is divided internally into seven bays. There is a single gabled porch on the north side, away from the church.
The barn is part of the Stanway House estate and is used as an event venue but you can visit it as part of the admission to see Stanway House and its famous water fountain.
---
Like Prior's Hall Barn, mentioned above, Swalcliffe Barn was built by William of Wykeham for New College, Oxford, around the year 1400. Wykeham's family and their descendants lived in the Oxfordshire village of Swalcliffe for centuries following the barn's construction and their tombs are in the parish church.
The barn is remarkably unchanged, with over half the cruck-framing being original. It is 128 feet long internally and is divided into ten bays. The ironstone rubble walls are three feet thick and there are two gabled entrance porches.
The barn is home to a local heritage museum featuring a large collection of traditional Oxfordshire farm wagons. One of the exhibits displays a Roman mosaic found at Swalcliffe Lea.
---
Torre Abbey, in Torquay, is a remarkable complex of historical buildings that include a 12th-century Premonstratensian monastery and a luxurious Georgian mansion built from the monastic ruins. Around the year 1200 the canons of Torre Abbey built a barn to store tithe payments. It is divided internally into a remarkable 16 bays, with a central pair of opposing porches.
The unusual moniker 'Spanish Barn' relates to an episode in 1588 when the barn was used to detain prisoners of war from the Spanish Armada. Some 397 crewmen of Nuestra Senora del Rosario were held in the barn, making it the only surviving Armada prison in England. Indeed, the barn is said to be haunted by the ghosts of Spanish soldiers.
---
Again, this is not intended to be a comprehensive list; these are just historic barns that we have visited in person. We'll update the list as we continue to explore historic sites!
Best of Britain Express Art Prints