River Ivel Navigation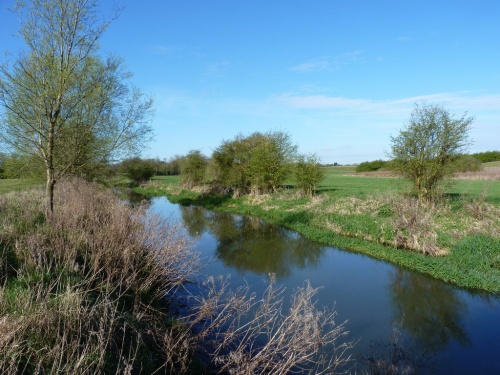 The River Ivel Navigation was a product of the first great "Canal Age" of the mid-1700s. The first proposal to make the river navigable was made in 1755 when it was hoped to cut the cost of shipping coal to Hitchin (Hertfordshire) by up to half with a series of locks and cuts stretching from the confluence of the Ivel with the Great Ouse at Tempsford.
In 1757 a Parliamentary license was granted for a less ambitious plan covering the river from Tempsford to Biggleswade.
This first system of four brick-lined locks (at Tempsford, Blunham, South Mills and Sandy) was later augmented by a fifth lock at Biggleswade North, lined with turf. This navigation covered 8 miles and was opened in 1758.
The waterway carried primarily coal, which travelled down the east coast to the mouth of the Great Ouse at King's Lynn, then inland to the start of the navigation at Tempsford. Traffic was light at first, and it took the canal's promoters over 20 years to recoup their £6,000 investment.
Several subsequent plans to link the River Ivel Navigation with other regional waterways came to nothing until 1821, when a controversial extension from Biggleswade to Shefford, on a tributary of the Ivel, was begun. This was finished in 1823 (at a considerable cost overrun) and added five locks over only five miles.
It's a Navvie's Life

The extension to the River Ivel Navigation was built by labourers from Bristol, who were paid 3.5d per cubic yard of earth removed.
The navigation proved profitable, and also had several unexpected side-effects; it helped control flooding, and great numbers of eels were captured in traps at the canal staunches. These eels graced many local tables and became extremely popular as a regional dish.
Then came the railways - in 1850 the Great Northern, and in 1857 the Midland Railway was built through the region -- and the navigation gradually fell into disuse. By 1870 trade on the canal ceased and the locks were soon sold to local mills to pay off company debts.
The Navigator's Way
A circular walk following the historic River Ivel Navigation Channel for 7 miles between Shefford and Stanford. Beginning at the junction of the rivers Flit and Hit in Shefford, the trail crosses the canal at Stanford Lock, and returns via Southill Park. Cockshoot Hill provides excellent views across the Ivel Valley.
Related:
Waterways Links
Best of Britain Express Art Prints