Chedworth Roman Villa
History, tourist information, and nearby accommodation
HERITAGE RATING:

HERITAGE HIGHLIGHTS: Wonderful mosaic flooring
Chedworth Roman Villa
---
Summary
Chedworth Villa is a Romano-British villa in a lovely valley setting. The complex of buildings boasts two bath suites with intricate mosaics and a museum of local artefacts found during excavation.
Chedworth is one of the most extensive and complete Roman villas in England. The site is in a deeply wooded valley, approached by narrow lanes. There is almost a mile of intact Roman wall, and excavations have revealed two bath-houses, some excellent mosaics, a hypocaust, and a latrine in quite good working order! A short walk from the villa brings you to the site of a Roman temple beside the River Coln.
History
Chedworth villa was occupied from the late 2nd century to the mid-4th century (approximately 180 - 350 AD). The site was unknown until the mid-Victorian period when a gamekeeper stumbled upon a fragment of mosaic. Excavations began in 1868 under the patronage of the Earl of Eldon, who owned the estate. The Earl provided money to roof over important rooms uncovered in the excavation, and funded a new purpose-built museum building to house artefacts found on the site.
And what exactly did the investigators find?
What to See
The Mosaics
What's impressive about Chedworth is that the mosaics are not only in very good condition but still in situ; exactly where they were laid. Walkways allow you to pass directly over the mosaics and get an extremely good closeup view.
There are several mosaics worth mentioning; one is a figure of Winter, in the dining room, which is the best-preserved chamber. The dining room floor also has a lovely geometric pattern, without any human figures. Elsewhere is a figure of a semi-naked female goddess, foliage designs, and birds.
The overall quality of the mosaics is exceptional, and what is even more interesting is that new mosaics are constantly being found. Within the last 2 years, a whole new area of mosaics has been uncovered and is now available to view.
The Nymphaeum
In one corner of the site (beyond the mosaics) is a circular cistern, or pool, set into the ground. This is a Nymphaeum, or water shrine. People came here to make offerings to the Goddess of the spring. The modern custom of throwing cos into a fountain or pool derives from the Roman custom of making an offering at a water shrine like this one.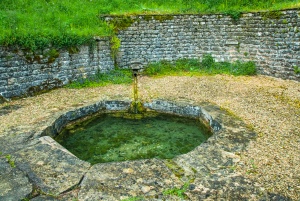 The Museum
On a terrace below the villa is a Victorian building housing finds from the villa. Among these are figurines, jewellery, carved stones, pottery, coins, and tools. One interesting tool is an oyster opener, looking rather like a modern butterknife. There are several horseshoes and pieces of a lock - even a saw blade.
Other highlights include a Roman hypocaust, or underfloor heating system, and original latrines. You can also take a short walk across the fields to the site of a shrine.
Visiting
I've been to Chedworth on at least 3 occasions (it helps to live just 10 miles away), and each time I see something new. The setting is simply wonderful; the site is in a deep combe, or wooded valley, surrounded by steep-sided hills. There is a modern visitor centre with all the usual amenities, which leads directly to the excavated buildings.
At the top of the site are several buildings protected by modern roofs and linked by a walkway. This gives you very good views of the mosaics, which are simply amazing. The most famous mosaic, depicting Winter, is very easy to see and is in wonderful condition.
There is a lot more to the site than the mosaics. I was especially struck by the Nymphaeum. Its size and the space that was left around it gives a good idea of just how important this shrine was to the people who lived here. From the Nymphaeum, it is a short walk to the exposed hypocaust, or underfloor heating system, which is in extremely good condition and very easy to see close up.
The National Trust try very hard to involve families and school groups at Chedworth. They are constantly holding family-oriented events aimed at getting children to experience life in Roman Britain and give them a better understanding of the era.
We've been to a few of these events, both as a family and as part of a school group, and on the whole, I think they do rather a good job of it. Our daughter was able to enjoy creating a Roman mosaic and dressing up in Roman robes.
The museum is quite interesting as well, though when we visited the exhibits did look as if they hadn't been updated in quite some time. On the whole, though, I think the Trust does a very good job at Chedworth.
It is easy to get a sense of how the villa was laid out, and how people lived here, and the mosaics are simply wonderful. I'd call Chedworth one of the real highlights of Roman Britain; it is not as stunning as, say, Fishbourne Palace, but then, that's a palace, and Chedworth is a villa!
NEARBY HISTORIC ATTRACTIONS
Heritage Rated from 1- 5 (low to exceptional) on historic interest
Chedworth, St Andrews - 0.8 miles (Historic Church)

Yanworth, St Michael's Church - 1.6 miles (Historic Church)

Withington, St Michael's Church - 1.9 miles (Historic Church)

Compton Abdale, St Oswald - 2 miles (Historic Church)

Stowell, St Leonard's Church - 2.2 miles (Historic Church)
Coln St Dennis Church - 2.6 miles (Historic Church)

Rendcomb, St Peter - 3.2 miles (Historic Church)

Coln Rogers Saxon Church - 3.2 miles (Historic Church)

Nearest Holiday Cottages to Chedworth Roman Villa:
Shrove, Chedworth - 1.8 miles
Chedworth, Gloucestershire
Sleeps:
2
Stay from:
£347.00 - 1297.00
More self catering near Chedworth Roman Villa