Surrey Heritage Guide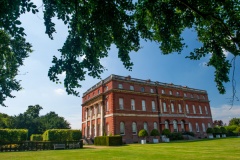 Surrey is largely overrun with London commuters and the urban spillover from the sprawl of Greater London, but for all that there are quiet oases of calm that most definitely are worth your while to explore. One such oasis is Wisley Garden, where the Royal Horticultural Society maintains over 240 acres of plants and the world's largest gardening bookstore. Another notable Surrey garden is the lovely Painshill Landscape Garden, a engaging 18th century park of ever-changing vistas including classical temples, mock-ruins, grottoes, and even a Turkish tent!
Not to be outdone is Claremont Landscape Garden, one of the earliest experiments in the 18th century English landscape gardening movement. Famous designers such as Sir John Vanbrugh, Charles Bridgman, Capability Brown and William Kent have all had a hand in Claremont.
Polesden Lacey is a lovely Regency villa in a magnificent landscaped park. The interior is stocked with superb paintings, furniture, and silver, while the grounds provide beautiful walks through clipped lawns and a walled rose garden.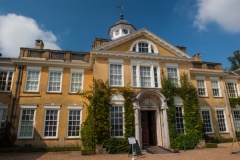 Two more prime examples of the English country house lie just a few miles apart near the attractive county town of Guildford. Hatchlands Park is a lovely classical house built to a design by Robert Adam. Within the house is the Cobbe Collection of early musical instruments, including examples associated with famous composers such as Chopin, Elgar, JC Bach (and Marie Antoinette, who may have composed her own demise, but little else of note).
Near neighbour to Hatchlands is Clandon Park, a Palladian mansion by Leoni, renown for its imposing two story marble hall and 18th century textile, porcelain, and fine art collections. Within the house is the Museum of the Queen's Royal Surrey Regiment.
Though it is best thought of as part of the Greater London tourist scene, Hampton Court Palace actually lies within the boundaries of Surrey. Begun by Cardinal Wolsey, who found it expedient to offer it to Henry VIII, this magnificent red-brick Tudor Palace is set in extensive formal and informal gardens beside the Thames. Visit the popular hedge maze, and the state apartments, with work by Christopher Wren and carvings by Grinling Gibbons. See if you can spot the ghost of Catherine Howard, Henry's fifth wife, who is said to haunt the palace.

Another "London" attraction that actually lies in Surrey is Kew Gardens, three hundred acres of botanical delights in what was once a royal park. The Palm House is a wonder of glass, and other Victorian greenhouses are home to a vast variety of exotic plants from around the world.

If your tastes run to equine adventure, you won't want to miss a visit to Epsom Downs Racecourse, which has offered horse-races since 1780. The premier event at Epsom is the Derby, where high society gathers each year in early June to see and be seen, and, oh yes, watch the race.


Best of Britain Express Art Prints
Attraction search