Admiralty Arch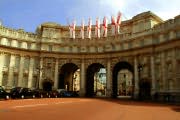 Leading from the southwest corner of Trafalgar Square into The Mall, this quintuple arched ceremonial gateway is one of London's most famous landmarks. The Admiralty Arch takes its name from the nearby Royal Navy headquarters, though the Arch itself has no naval association.
Admiralty Arch was designed in 1910 by Sir Aston Webb (who also worked on Buckingham Palace and the Victoria and Albert Museum) to provide an elegant ceremonial passage from the hectic Trafalgar Square towards Buckingham Palace. Note that traffic does not pass through the massive central arch - that is only opened for state occasions. The small outer arches are for pedestrian traffic, and the remaining central arches for vehicles.
The Arch was originally commissioned by King Edward VII in memory of his mother, Queen Victoria, though Edward did not live to see the work completed. A Latin inscription on the underside of the Arch denotes this memorial connection.
As part of the same development scheme that saw the Admiralty Arch built, Sir Aston Webb also widened The Mall (the old Mall, which dates from the time of Charles II, still exists beside the current thoroughfare), and provided the gilt statue of Victoria in front of Buckingham Palace, that provides such a striking counterpoint to the Admiralty Arch at the other end of The Mall.
Location
Admiralty Arch
The Mall
SW1A 2WH
London


Charing Cross
Location map