Iffley Church
History, tourist information, and nearby accommodation
HERITAGE RATING:
HERITAGE HIGHLIGHTS: One of the finest examples of 12th-century Norman church architecture in England
Iffley, St Mary's Church
---
The church of St Mary the Virgin, Iffley, is one of the finest unaltered Norman churches in England, a triumph of Romanesque style. The church was built around 1170 by the Norman lord of the manor, Robert de St Remy, and his wife.
Remy would not have been able to afford the cost of such a superb building on his own, but he married well; his wife was a member of the powerful Clinton family and it was probably her money that provided the necessary funds for Iffley church.
The church stands on high ground above the River Thames, south of Oxford. Today the urban sprawl of Oxford has engulfed Iffley, but in the 12th century this would have been a quiet riverside estate, far from the bustle of the city.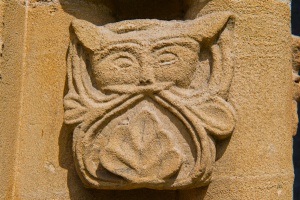 The West End
This is perhaps the finest west front of any medieval parish church in England; a marvel of Norman Romanesque design. At ground level is the magnificent west doorway, flanked by blind arches. The doorway is unusual, in a continental European style rarely seen in England. The innermost section has several rows of chevron mouldings, followed by two orders of beakhead carvings.
Like the chevron, beakheads are a typical Norman feature. They were first used in Britain at Reading Abbey, then copied throughout the region, notably in Oxfordshire and Berkshire. The outer ring of carving is quite special; it is a linked chain of symbols, several representing signs of the Zodiac, others the symbols of the Evangelists.
Above this wonderful doorway is a striking circular window, surrounded by more orders of chevrons. I'm tempted to call it a rose window, but technically it is not, for it has no internal tracery. Thus it is what we call an 'occulus' or Eye of God design. This is not the original Norman window, but a Victorian restoration which replaced a 15th-century Perpendicular Gothic window. It does, however, replicate the style of the original Norman design.

Above the occulus is another row of three arched windows in an arcade, separated by columns. Still higher is a small blind arch to top off the facade. Taken as a whole, the west front at Iffley is one of the best examples of Norman architectural style I've ever seen in an English parish church. For comparison, see the delightful church at Barfreston, Kent.
The South Door
That's the west front, and if that was all there was to see at Iffley then it would still be worth a trip, but there's much more. The north door is a beautifully carved design, but that is overshadowed by the magnificent south doorway. It is hard to make comparisons between two beautifully carved examples of a mason's art, but I'd be tempted to put the south door at Iffley close to the celebrated south door at Kilpeck, Herefordshire.
Perhaps the decoration is not quite as detailed here, nor as well preserved, but it is still quite wonderfully carved, better even than the west doorway, leading one to wonder if perhaps the south door was the work of a master mason while the west door was the work of lesser-skilled helpers.
With the south door, you enter a world of fantasy, a world of dragons, serpents, lions, centaurs, fabulous birds and beasts, a Green Man, and a Sphinx. It is interesting that the carvings have nothing even remotely [overtly] religious about them; they are a throwback to Saxon or Celtic animal carvings. There are several figures of humans, including a knight on horseback and a king's head (perhaps Henry II).
The carvings are in noticeably better condition than the west doorway carvings. This is probably because for many years a porch stood outside the door, and this would have protected the carvings from the worst of the wind and rain. They are also carved of hard Taynton stone, whereas the west front was carved of softer stone.
The Building
The bulk of the church is of rubble quarried locally. Though excellent for strong walls, the Iffley stone was not suited to carving. Harder stone from Whatley was used for carved decoration on the west face and the interior arches. The exquisitely formed carvings on the north and south doorway arches required an even harder stone, and this was probably brought down river from the quarry at Taynton.
The style of St Mary's is striking; the church is high, narrow and long, divided into distinct squares and rectangles in a design based upon a mathematical proportion of one to the square root of two. This proportion may have been used to express religious ideas of harmony and perfection in heaven, or simply because it worked from a practical construction viewpoint.
Starting from the west door, the first chamber is a baptistry, where the massive square bulk of the font stands, rather overshadowed by the even bulkier organ. The huge font is of marble from Tournai, in Flanders.
The baptistry gives way to the nave, again using the same proportions. The nave windows were added in the 15th century by John de la Pole, the lord of Donnington manor, and there is a section of medieval stained glass depicting the De la Pole arms. The beautifully carved nave arch leads to the central tower opening. This arch is supported with black marble pillars from Tournai; the earliest known use of marble pillars in an English parish church.
English masons soon found a more economical alternative to Tournai marble with the quarrying of Purbeck marble in Dorset. The nave arch is carved with a band of flowers and fruit decoration. Compare this rather sedate theme with the very pagan-looking themes on the south doorway! On the walls are four round painted shapes, all that is left of a dozen original medieval crosses.
From the tower, you proceed through another marvellously carved arch to the choir. This is the smallest of the original chambers and served as the original chancel. In the 13th century, a new chancel was created at the east end, accessed through yet another magnificently carved arch. If you are counting, that's three beautifully carved arches inside the church, where most Norman churches would have had a single carved arch.
The chancel is obviously of a later style, but the quadripartite (four piece) vaulting ribs are wonderfully carved, and lead to a central boss showing a serpent shedding its skin, surrounded by four human faces. There is a 13th-century sedilia against the south wall and a piscina of the same date.
The 13th-century chancel may have been built by an anchoress named Annora. Documentary evidence shows that Annora lived at Iffley from 1232-1241. A blocked door in the north wall may have led to the anchoress's cell, and a 13th century grave outside the chancel may mark Annora's burial place.
The Anchoress of Iffley
Annora, Anchoress of Iffley was born in 1179 to William de Braose, a powerful baron with large estates near the Welsh border. The de Braose family had 16 children, but only 6 survived to adulthood. One brother became Bishop of Hereford, and one sister became Countess of Leicester. Annora herself married Roger Mortimer, another powerful Norman baron, but they had no children.
In 1207 her father supported King John but later quarrelled with John. The enraged king outlawed de Braose and put his wife and son in prison to starve to death. Annora was imprisoned in Bristol Castle with four of her nephews and was only freed in 1214. Her husband died in 1227.
One sister became a religious recluse, and Annora decided to follow her lead and applied to become an anchoress at Iffley. Perhaps she was prompted by the hardships facing a widowed woman, or perhaps she simply wanted a life of contemplation after the turmoil of her earlier life.
What is an anchoress/anchorite?
There are several differences between an anchorite and what we might generically call a hermit. Though both lived simple, often reclusive lives, an anchoress had to actually apply to their bishop for permission to enter a life of contemplation.
In what amounted to a form of licensing, the bishop had to assure himself that the applicant had sufficient financial means to support themselves, and, naturally, that they were suited for the commitment required. And it was a serious commitment, because unlike a hermit, who could wander wherever they pleased, an anchoress committed to stay in a single cell, alone, never leaving.
Cells might be of wood or stone, and most anchorite cells were joined to the body of a church, with an opening in the cell wall to allow the anchorite to view the high altar. There would have been a small window to allow communication with the outside world, though with a curtain to retain some privacy and allow the anchoress to concentrate on her contemplations. Within the simple cell would be an altar for prayer, and, often, a stone grave slab in the floor to remind the anchorite of their mortal nature.
Though a difficult life, the anchoress was not 'roughing it' as much as you might expect. There would have been a small chamber beside the cell, where a maid or servant lived, and this servant would look after the mundane tasks like cooking meals, fetching water, and generally doing everything necessary so that the anchoress could concentrate on her religious purpose.
The anchorite would never leave the cell and was expected to live a life devoted to contemplation and prayer, but she might read books of a spiritual nature, and have access to writing material. Obviously, it was a life that required great commitment and was not something one entered into lightly, and it was also one that only someone fairly well off to start with could seriously consider.
As for Annora, she seems to have taken to the role of anchoress well. It may have been her money that paid for the new chancel, extending the church eastward from its original format. We know from court records that Henry III thought highly of her, for he sent regular gifts of firewood, food, grain, and clothing.
After nine years as an anchoress, records of gifts from Henry ceased, and nothing more is heard of Annora. We are left to suppose that around 1241 Annora died and was possibly laid to rest beneath the grave slab that was set in the floor of her cell. This may well be the 13th-century grave that we can see today between the chancel wall and the old yew tree in the churchyard.
Taken as a whole, Iffley church is a magnificent example of Norman architecture and style, largely unaltered by later generations. It is well worth a visit.
Note: I owe a debt of gratitude to the excellent church guide by Ruth Nineham for the information about Annora and the history of anchoresses in medieval Britain.
About Iffley
Address: Church Way, Iffley, Oxfordshire, England, OX4 4EJ
Attraction Type: Historic Church
Location: On Church Way, in the centre of Iffley. Limited on road parking. Open most days.
Website: Iffley
Location map
OS: SP526036
Photo Credit: David Ross and Britain Express
---
HERITAGE
We've 'tagged' this attraction information to help you find related historic attractions and learn more about major time periods mentioned.
Find other attractions tagged with:
12th century (Time Period) - 13th century (Time Period) - 15th century (Time Period) - Norman (Architecture) -
NEARBY HISTORIC ATTRACTIONS
Heritage Rated from 1- 5 (low to exceptional) on historic interest
Bate Collection of Musical Instruments - 1.6 miles (Museum)
Oxford Botanic Garden - 1.6 miles (Garden)

Magdalen College, Oxford - 1.6 miles (Historic Building)
Oxford, Christ Church Cathedral - 1.7 miles (Cathedral)
Christ Church Picture Gallery - 1.7 miles (Museum)

Christ Church College, Oxford - 1.7 miles (Historic Building)
Merton College, Oxford - 1.7 miles (Historic Building)

Oxford, Corpus Christi College - 1.7 miles (Historic Building)

Nearest Holiday Cottages to Iffley:


More self catering near Iffley