Worcestershire Heritage Guide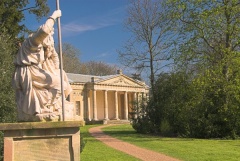 For a county long associated with manufacturing, Worcestershire contains surprising pockets of peaceful countryside. The manufacturing areas are mostly confined to the north and east, including the famous (or infamous, depending on your point of view) Black Country - so named for the pall of black smoke which hung over its factories in Victorian times.
But beyond the residue of industrialization, Worcestershire enjoys some fine countryside, centred on the river valleys of the Severn, Teme, and Avon. The Severn falls from the highlands around the Welsh border and passes through quiet farmland on its way to the cathedral city of Worcester. Worcester contains a fine collection of medieval and Tudor buildings including
The Commandery
, a maze of half-timbered buildings that served as the Royalist headquarters for the Battle of Worcester in 1651. The Commandery now houses exhibitions on the long and colourful history of the city.
The Guildhall
, which still houses the civic administration, is a later building by Thomas White, a protégé of Christopher Wren.
The
cathedral
is the city's pride, however. Though much of the exterior is Victorian, the interior is Norman, and the foundations older still. King John - he of evil repute - lies buried within the Norman crypt. The cathedral is home to the world-renown Worcester Boys Choir, and every three years it hosts the
Three Choirs Festival
of choral music.
Worcester itself is famous for three things; gloves, Royal Worcester porcelain, and Worcestershire sauce. The
Royal Worcester
china works can be toured, and visitors can pick up a bargain at the works shop.
The Teme Valley is agricultural Worcester at its prettiest, with fields of hops and orchards lining the banks of the river, and half-timbered farmhouses abound. The River Avon ("Shakespeare's Avon", as the tourist guides insist on calling it), moves slowly through flat countryside past
Evesham
, with its ruined medieval abbey, where Simon de Montfort's defeat ended the Baron's War in 1265.
At
Pershore
another Benedictine Abbey now forms part of the parish church, and river flows further to the foot of
Bredon Hill
, of which it is said that on a clear day you can see 10 counties from the summit. There is an Iron-Age fort near the top of Bredon Hill, from which you can look across the a gentle plain to the
Malvern Hills
, on the county border with Herefordshire.
Malvern
itself (more properly called Great Malvern), was a popular Victorian spa town, and now hosts an annual drama festival.
Broadway
is the most popular of the Cotswold villages in the county, and its wide main street is lined with attractive stone cottages - and more than one tour bus in summer! Above the town 18th century Broadway Tower stands in an attractive county park.
Best of Britain Express Art Prints
Attraction search