Avoncroft Museum of Historic Buildings
History, tourist information, and nearby accommodation
HERITAGE RATING:
---
The Avoncroft Museum of Historic Buildings is a "time machine" of historic buildings and crafts from long ago. Over seven centuries of historic buildings have been rescued from neglect and brought to this site just outside Bromsgrove. From a timber-framed medieval hall to the national collection of telephone kiosks (including Dr Who's Tardis), there's something for everyone here!
There's a series of traditional farm buildings including a working windmill, a Victorian gaol, church, and toll cottage, a 19th-century workshop, and an ongoing programme of special events and skills demonstrations.
For example, as this is written you can learn blacksmithing skills on an authentic 100-year-old forge. The buildings at Avoncroft are all authentic, not models, and give a wonderful sense of what life was like at various stages of British history.
There are over 30 historic buildings at Avoncroft, but that doesn't tell the whole story; the charitable foundation that operates the museum tries to preserve and maintain historic buildings in their original locations. It is only as a last resort that buildings are carefully taken down and reassembled on the museum site. Many more historic properties are preserved at their original location.
Highlights
National Telephone Kiosk Collection
Immediately inside the museum entrance, next to the timber-framed cafe, is this fascinating collection of call boxes, from BT boxes to AA and RAC emergency phones, and the ever-popular 'Tardis' police call box made famous by Dr Who.
There is also a UAX13 telephone exchange building, and we had a wonderful tour of the exchange with a retired telephone company worker who showed us how the exchange worked and gave us a chance to place calls using old handsets.
The telephone kiosks are set up so that you can place a call directly to any other box. For example, we called our daughter, who was relaxing out of the heat in the Tardis police box, from a handset inside the telephone exchange.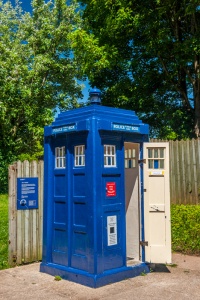 Gueston Hall Roof
Gueston Hall was built in 1330 by Wulstan de Bransford, Prior of Worcester, and later Bishop. As his name suggests, de Bransford was born in the Worcestershire village of Bransford. He died in 1349 of the Black Death at the Bishop's Palace in Hartlebury.
The hall stood near Worcester Priory chapter house and was used to entertain important guests, among then Edward III and Henry V. After the Dissolution of the Monasteries the Hall was subdivided into service areas, with internal floors and room partitions.
In 1862 the Hall was torn down, but the great 14th-century roof was saved and installed in Holy Trinity church in Shrubhill, Worcester. The roof had to be cut down to fit the dimensions of the church. Then in 1969 Holy Trinity was demolished.
The roof was once again saved from destruction and was brought to Avoncroft. It took 18 years, but in 1987 a new Guesten Hall was erected and the roof, now restored to its original width, was installed over the new building.
Mission Church
This 'prefab' church was erected in 1891 to serve the residents of Bringsty Common, Whitbourne, Herefordshire. It was bought from a catalogue published by the JC Humphries Company, at a cost of 70 pounds.
The entire building came as a prefabricated kit which was bolted together on-site to provide a place of worship for 100 people. The impetus for the new church came when the Church of England became concerned that locals were attending the nearby Methodist Chapel.
Wealthy local benefactors contributed the money to purchase the church, which became known locally as the Tin Church, or the Iron Church. It was declared redundant in 1988 and moved to Avoncroft in 1996, where it was rededicated in the presence of the Bishop of Hereford and Worcester. The interior is complete and original, with the font, pews, lectern, pulpit, and vestments.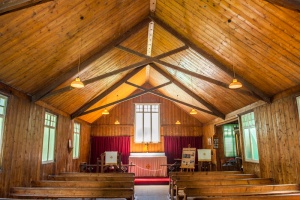 Airing Court Shelter
This unusual open-air shelter was made for the Barnsley Hall Hospital in Bromsgrove. The hospital was built in 1907 as a lunatic asylum. The hospital grounds were divided into 6 areas called 'airing courts', where inmates could take exercise and enjoy the outdoors.
This shelter was used in the male epileptics airing court. The hospital closed in 2000 and the shelter was in danger of destruction from vandals, so it was moved to Avoncroft in 2007.
Threshing Barn
Threshing grain was an essential part of the agricultural year. The threshing barn has storage areas either side of two large doors located opposite each other midway along the walls. Stalks of oats, barley, or wheat were stuck with a flail, separating the chaff from the usable grain. When both doors were opened, air would rush through the gap, carrying away the chaff.
The Threshing Barn dates to the 16th century and is of cruck construction. Unusually, the large cruck timbers were cut from poplar rather than the usual oak. The walls are made with wattle panels of split oak, a traditional method of construction in the Worcestershire area.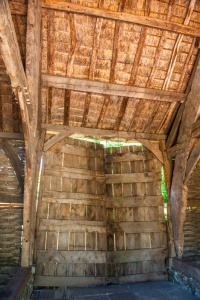 Granary
This late 18th-century building comes from Temple Broughton. It has a ground floor for storing farm carts, with an upper chamber, reached by an external stair, where grain was kept. The open-air ground floor allowed air to circulate and keep the grain dry.
The pillars supporting the upper floor have projecting stone rings, preventing vermin from accessing the grain. Kennels for dogs were set under the steps in another attempt to deter vermin. The end walls are infilled with brick, but the side walls are lath and plaster construction.
Windmill
This striking building comes from Danzey Green, Tamworth-in-Arden. It is typical of a West Midlands post mill, with 4 sails, and a wooden upper structure which pivots around a central post. The sails are 18m wide and turn the millstones through a system of gears and pulleys.
The mill was built by Robert Summers around 1830, using timber from the Umberslade Estate. Summers could not find a post large enough so he purchased one from another mill that had fallen out of use. The post timber has been dated to 1784.
The mill remained in operation until 1874 when it was damaged in a storm. It was dismantled in 1969 and re-erected at Avoncroft. The mill is fully functional, and volunteer millers give demonstrations of how the mill functions.
Wagon Shed
Built around 1736 at Becks Fram, Hanbury, part of the Hanbury Hall estate. It could hold 4 carts and timber from the farm's sawmill. It is made of oak with weatherboarded planks of elm, with a combination of king-post and queen-post design internally to support the roof.
Stable
Standing beside the wagon shed is the attractive timber-framed stable building, originally at Ridgeway Court Farm in Wychbold. It was built in the late 18th century, with bricks filling in gaps in the timber-frame, which supports a tiled roof. There is an upper floor for hay storage, reached by an internal ladder. Hay was pushed directly down into feeding racks in the stalls below.
Perry Mill
This small brick building comes from Hunt End, Redditch, and was built between 1890-1910. The earliest owner we know of was William White, a farmer and grocer, who owned the mill in 1840. The mill would have been used for only a few weeks each year when the fruit was at the right stage of ripeness.
The most interesting part of the mill is a large pulping contraption shaped like a large stone bowl, with an upright stone attached to a yoke. A small horse or donkey was harnessed to the yoke and pushed the crushing stone around the mill to crush the pears into pulp.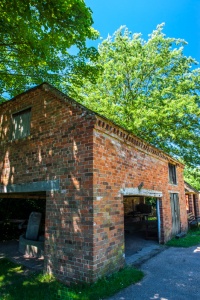 Chainshop
Formerly the Scotia Works, standing at Colley Lane in Cradley, Staffordshire, this elongated rectangular workshop was used to forge nails but was later adapted to make chains. We don't know exactly when it was built, but some time around 1850 seems likely. The Scotia Works was begun by Joseph and William Rock, nail makers.
When the nail industry went into decline many manufacturers converted their works to make chains. By 1867 the firm was known as Joseph and Lloyd and they made a large number of iron products, including chains.
The company provided chains for the military in the 1930s, as well as selling to the railways and fishing trades. The company went out of business in 1969 and the chain works were rebuilt at Avoncroft in 1970. Two hearths are complete, as they would have been when in production, and there are examples of different styles of chain to examine.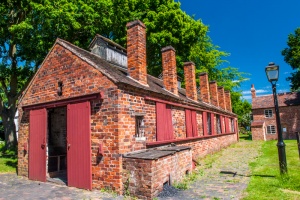 Chimneys
Beside the chain works is a group of beautifully made brick chimneys, with extraordinary curved and spiral bricks.
Medieval town house
Perhaps the 'signature building' at Avoncroft, this lovely 15th-century timber-framed stood at the corner of Worcester Street and Station Street in Bromsgrove. It is typical of townhouses in the late medieval period, with a central hall and several smaller family rooms. It originally had another block with a pantry and buttery.
There was no kitchen; this would have been located in another building to minimise fire risk. The house was occupied as a family home for over 400 years. Sometime in the 16th century, a second storey was inserted and glass installed in the windows. Then in 1896, it was split into 3 cottages and the family's solar wing was used as a shop.
The house was due to be demolished in 1962 to allow for road widening. A local charitable group intervened and were give just 2 weeks to completely dismantle the building. As a result of the time constraints, some original features were lost, including a set of Elizabethan wall paintings.
Little Malvern Tollhouse
This attractive little whitewashed building was erected by the Upton upon Severn Turnpike Trust in 1822 at a road junction which is now the meeting of the A449 and A4104. The Trust rented out the Tollbooth to tenants who collected - and kept - the tolls.
The Tolbooth cost 50 pounds to build and was 2 storeys high, with a kitchen/parlour on the ground floor and a bedroom on the first floor, reached by an internal stair. The walls are angled to give the tollkeeper a view of the roads in both directions.
Tong Castle Icehouse
Around 1765 Capability Brown built a new Gothic mansion at Tong, Shropshire, to replace a medieval fortress that had stood since the 12th century. Brown was also responsible for laying out the parkland surrounding the house and creating the ice house that helped keep perishable goods cool throughout the year.
Brown created a pair of pools in the landscaped park, and these were used as a supply of ice during the winter months. The mansion at Tong castle was tor down in 1954 but the ice house was preserved and eventually brought to Avoncroft and rebuilt. It is remarkable to look down into the domed interior of the pit and see just how deep it is.
Bridgnorth Cockpit
This late 18th-century building of brick and timber stood behind the Crown Hotel and was one of three busy cockpits in Bridgnorth. Cockfighting was an extremely popular form of entertainment at all levels of society, so it is not surprising that a market town like Bridgnorth could support several cockpits.
The building was converted into a theatre in 1811, then became a coach house, and later a garage. Two famous names to appear in the Cockpit Theatre were the Shakesperian actor Edmund Kean and Junius Booth, a relative of John Wilkes booth, the actor who assassinated US President Abraham Lincoln.
The building was demolished in 1972 and the roof timbers brought to Avoncroft. A new structure was built with bricks salvaged from a building demolition in Redditch. What makes the Cockpit so exceptional is the clear roof span of 11.7m (38'6"), one of the widest spans of any historic building in England.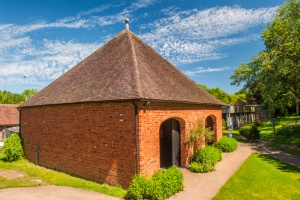 Showman's wagon
This exceptional example of a showman's wagon was built for Tom Clarke by the Orton and Spooner company of Burton on Trent in 1910. It cost £1000 to make and is exceptionally luxurious inside, with leather seats and furniture of Spanish mahogany.
Clarke operated a fairground ride of galloping horses and travelled to fairs in Worcestershire, Warwickshire, and beyond. His family lived in the wagon, which served as a combination business office and home.
The wagon has no means of propulsion; it was made to be hauled by a traction engine. The year following the wagon's construction Clarke bought a pair of engines, named King George V and Queen Mary. The wagon was used as living quarters until 1977.
Plas Cadwgan
The only building in the museum to come from Wales, Plas Cadwgan stood at Esclusham, near Wrexham. This 14th-century hall house was one of the best examples of its kind in Wales. We do not know who built it, but by the middle of the 16th century Plas Cadwgan was owned by Edward Jones, tailor to Mary I and Master of the Wardrobe to Elizabeth I.
Edward's son, another Edward Jones, was executed for his involvement in the Babington Plot to put Mary, Queen of Scots on the English throne, and Plas Cadwgan was seized by the crown and given by Elizabeth to Edward de Vere, Earl of Oxford.
What makes the hall unusual is that a second floor was never inserted, so it remained in its original 14th-century form, open to the rafters. The hall was owned by the Myddelton family of Chirk Castle from the 17th century until the mid-19th century. it was rescued from destruction in 1967 and partially reassembled at Avoncroft.
Court Cell Block
Erected in the 1870s in Ledbury, Herefordshire, this brick building was attached to the Magistrate's Court. It was used to hold people accused of petty crimes such as poaching, arson, or begging before they could be brought to trial.
There are two cells, with a toilet chamber between them. It was rescued from demolition in 1986 and moved to Avoncroft. Though the original lead pipes and toilet cisterns were lost, the cells, window bars, beds, and toilets are original.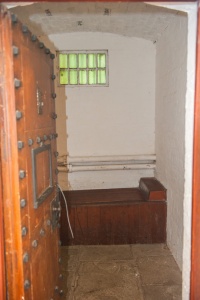 St Paul's Spire
Set in a copse of trees is the striking spire of St Paul's Church, Smethwick. The church was built by public subscription in 1857. The church was made of white brick from Stourbridge and was known as the Smethwick Working Mans Church. By 1959 the timber frame of the church spire had rotted and needed to be replaced. The cheapest option was to create a new fibreglass spire and lower it into place with the aid of a crane.
In 1963 the church burned down, but the tower and spire were saved, so the spire was used again for a new church, built in 1966. St Paul's was declared redundant in 1992 and the spire was given to Avoncroft by the Diocese of Birmingham. The spire was built in 2 sections by Brylan Plastics of London and stands 17m tall. You can enter the stone base and stare up into the fibreglass interior.
1940s Prefab House
Another highlight is a 1940s prefab house from Moat Lane, Yardley, Birmingham. The prefab was one of 157,000 built between 1945 and 1949 to provide cheap, quick housing in the postwar period. The Emergency Housing Programme put out a very simple design brief for the project; houses had to last 10 years, be made of cheap and readily available materials, avoid using bricks, be easy to transport by road, and be quick and easy to assemble.
There were 13 designs created, and the one on show here is the Arcon Mark V. It comes complete with a fitted kitchen, sitting room, bathroom, loo, and two bedrooms. It is built on a steel frame with prefabricated asbestos panels. It was occupied from 1946-1981, and given by Birmingham City Council to Avoncroft in 1983.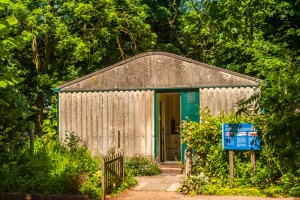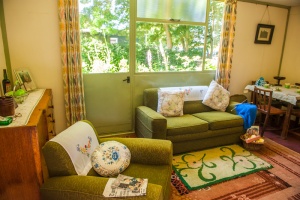 Beside the Prefab house is an Anderson Shelter, the ubiquitous WWII air raid shelter named after Sir John Anderson, Lord Privy Seal, who initiated the adoption of simple corrugated shelters in 1938. The shelter is made of 6 prefabricated panels bolted together, with steel plates at either end.
Whew! This list doesn't even include all the historic buildings at Avoncroft, but it should give you a taste of the remarkable variety of buildings you can see. The museum really does provide a fascinating glimpse into our heritage.
Most photos are available for licensing, please contact Britain Express image library.
About Avoncroft Museum
Address: Stoke Heath, Bromsgrove, Worcestershire, England, B60 4JR
Attraction Type: Museum
Location: Well signposted off the A38. Turn onto Buntsford Hill and at the top of the hill there is a turning to the right into the museum parking area.
Website: Avoncroft Museum
Location map
OS: SO952 685
Photo Credit: David Ross and Britain Express
---
HERITAGE
We've 'tagged' this attraction information to help you find related historic attractions and learn more about major time periods mentioned.
Historic Time Periods:
Find other attractions tagged with:
15th century (Time Period) - 19th century (Time Period) - Medieval (Time Period) - Victorian (Time Period) -
NEARBY HISTORIC ATTRACTIONS
Heritage Rated from 1- 5 (low to exceptional) on historic interest
Hanbury, St Mary's Church - 2.6 miles (Historic Church)

Hanbury Hall - 3 miles (Historic House)
Rosedene - 3.1 miles (Historic Building)

Chaddesley Corbett, St Cassian's Church - 4.9 miles (Historic Church)
Forge Mill Needle Museum - 5.8 miles (Museum)

Bordesley Abbey - 5.8 miles (Abbey)

Harvington Hall - 5.9 miles (Historic House)
Hagley Hall - 7.8 miles (Historic House)
Nearest Accommodation to Avoncroft Museum:
Nearest Self Catering Cottages
More self catering near Avoncroft Museum

Nearest Hotels
More Hotels near Avoncroft Museum

Nearest Bed and Breakfasts