Caithness Travel and Heritage Guide
Keiss Castle
---
Caithness occupies the north eastern corner of mainland Scotland, forming a roughly triangular shape, bounded to the south and west by Sutherland, and to the north by the Pentland Firth.
In contrast to the often dramatic, mountainous landscape of Sutherland, Caithness is relatively flat, though there are notable mountains in the south west corner, including Morven, the highest peak in the region.
As for the rest, it is essentially a low-lying plain, filled with bracken-covered hills and thousands of small inland lochs. Almost all settlement is along the coast, with the major towns being Wick, on the North Sea coast, and Thurso, in the north.
If Wick and Thurso are the most populous towns, probably the best-known settlement in Caithness is John o'Groats, a small, scattered hamlet in the far north east. John o'Groats is the traditional starting (or ending) point for intrepid long-distance travellers undertaking the long trek to Land's End in Cornwall.
Despite its notoriety, John o'Groats is not actually the most northerly point in Scotland, nor indeed the furthest point from Land's End. That distinction goes to Dunscanby Head, a few miles to the north east. On the headland at Dunscany stands a lighthouse built by the famous Stephenson family of engineers, and a walk along the cliffs brings you to a pair of striking triangular sea stacks rising up out of the waves like a pair of sharpened sword points.
Caithness is a delight if you enjoy exploring ancient sites. There are stone rows, Neolithic cairns, burial mounds, and brochs. In fact, Caithness has more brochs than any other area in Scotland. You can learn about these Iron Age structures at the Scottish Broch Centre at Nybster, than take a path to the shore to visit the striking ruins of Nybster Broch, a few hundred yards away.
If you prefer something a bit older, try the famous stone rows at
Hill o' Many Stanes
, near Mid Clyth, where the stones form a fan shape down a sloping hillside, or the curious U-shaped stone rows at Achavanich. At
Camster
are a pair of well-preserved cairns where you can crawl into the central burial chamber, but if you prefer not to get your knees dirty you can visit the Cairn of Get, near Ulbster, where the burial chamber is exposed to view. There are more ancient cairns at
Cnoc Freiceadain
, near Thurso, not far from the 12th century
St Mary's Chapel
at Crosskirk, perhaps the oldest church in Caithness.
There are several excellent heritage centres in Caithness, including
Caithness Horizons
in Thurso, where you can see several Pictish cross slabs, dating from at least the 8th century.
Wick Heritage Centre
is housed in buildings designed by Thomas Telford when he helped create a new harbour at Wick to serve as a base for the flourishing herring fishery. The Heritage Centre is a treasure trove of history, and includes a vast collection of historic photographs which offer a fascinating glimpse into the history of the region.
If you want to learn more about traditional culture in the north eat corner of Scotland, try a visit to the
Laidhay Croft Museum
near Dunbeath, where you can explore a restored thatched 18th century longhouse, where the people shared space with their animals. Mary Ann's Cottage, near Dunnet, is another traditional crofting cottage, preserved just as it was when the last resident left.
Caithness is well supplied with historic castles. The most famous is
Castle of Mey
, the favoured retreat of the late Queen Mother. Just north of Wick stands Castle Sinclair Girnigoe, a fabulously scenic clifftop castle, and further north along the coast is Keiss Castle, where a medieval tower stands in a precarious position on the cliff edge, with a later 18th century mansion further inland. South of Wick stands perhaps the oldest castle in the north of Scotland,
Old Wick
, dating to at least the 12th century.
If you travel south from Old Wick you come to the hamlet of Whaligoe, where the famous 18th century Whaligoe Steps wind their way down an almost sheer cliff to a small harbour. See if you can count the number of steps, for no one seems to agree on exactly how many there are!
This is just a taste of some of the historic highlights if this remore and often forgotten corner of Scotland. Too many people ignore Caithness, or simply pass through it on their way to Orkney. Do stop and spend some time to explore this picturesque and historic corner of Britain!
A Few of our favourite historic sites in Caithness:
CASTLES
Castle of Mey
Castle Sinclair Girnigoe
Castle of Old Wick
Keiss Castle
ANCIENT SITES
Achavanich Standing Stones
Cairn of Get
Grey Cairns of Camster
Hill o' Many Stanes
Nybster Broch
MUSEUMS
Caithness Horizons
(Thurso)
Wick Heritage Centre
Laidhay Croft Museum
Mary Ann's Cottage
OTHER
Whaligoe Steps
Dunscanby Head lighthouse and sea stacks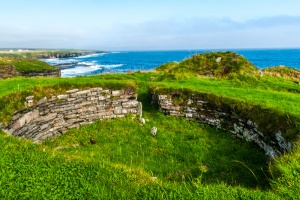 Best of Britain Express Art Prints
Attraction search