Nuffield Place
History, tourist information, and nearby accommodation
HERITAGE RATING:

HERITAGE HIGHLIGHTS: Home of William Morris, Lord Nuffield, maker of the Morris Motor Car
---
Off a quiet lane outside Henley on Thames stands an unpretentious country house set in attractive gardens. This is Nuffield Place, the home of William Morris, Lord Nuffield, founder of the Morris Motor Car and one of the richest men in the world during the early 20th century.
Despite his wealth, Morris chose to live simply and gave away much of his wealth to a variety of philanthropic causes. The house is furnished as Morris and his wife left it, in attractive yet unpretentious 1930s Art Deco style.
One of the delights of Nuffield Place is the variety of household objects, most of which were used by Lord and Lady Nuffield personally. Many of these objects will be instantly recognisable by modern visitors, but a few will mystify anyone born in the second half of the 20th century.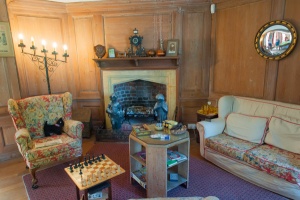 William Morris
Not to be confused with the 'other' William Morris who helped popularise the Arts and Crafts Movement, Lord Nuffield began his career as a bicycle repairman. He soon graduated to designing and selling his own bicycles from a location on Oxford High Street.
From there he branched into renting and repairing motorcycles and motorcars, establishing a shop at Longwall, Oxford in 1902. Morris was an inveterate tinkerer, and he rightly figured he could improve on the design of the cars he repaired.
He began to design and build his own vehicles, the most famous being the 'Bullnose' Morris, so-named for its distinctively bulbous appearance. The success of the Morris motor cars made Morris enormously wealthy, but that wealth never seemed to turn his head.
He maintained a very simple lifestyle, preferring to put his wealth to work to benefit others, particularly through the Nuffield Foundation which he established in 1943. He gave the Foundation 10 million pounds to help promote social welfare and education. He founded Nuffield College at Oxford University and poured money into philanthropic projects.
When Lord Nuffield died in 1963 his house passed to Nuffield College, and eventually to the National Trust. His legacy can perhaps be summed up best by the headline of an article in the Daily Telegraph newspaper on 27 April 2011 announcing the opening of Nuffield Place to the public; 'William Morris: the humble lifestyle of Britain's greatest philanthropist revealed'.
Morris's accomplishments were recognised by a series of honours; in 1918 he was granted an OBE, and in 1929 was created a baronet, before he was raised to the peerage as Baron Nuffield in 1934. The title 'Nuffield' was taken from the village of the same name where he chose to make his home.
Morris chose this particular location for his residence for one very good reason; it was close to a golf course, and he loved his golf. He also loved to tinker and invent, and you can see his wonderfully jumbled personal workbench, ingeniously crammed into a closet in his bedroom, literally only a few steps from his bed.
Visiting Nuffield Place
I knew the rough outline of Lord Nuffield's life before we visited the house, but I came away with a real appreciation of this remarkable man and his life. The house is small, but you really can't hurry through it; it demands to be enjoyed at leisure. The volunteer room guides were extremely friendly and knowledgeable.
We started our visit by listening to a short talk on Morris, his early life, and the growth of his commercial empire. We also learned the fascinating story of a celebrated - and unsuccessful - attempt to kidnap him. An account of the bungled kidnapping could be read in a period newspaper laid out in the sitting room where we began our tour.
After the introductory talk, we were free to wander about the house at our leisure. There are two floors, taking in dining and sitting rooms at the ground level and several bedrooms upstairs.
One of the upstairs rooms is given over to a dress-up area with 1930s costumes to try on, something out 12-year-old daughter loved - though I think she enjoyed seeing her parents in period clothing even more.
Once through the house, we took a brief stroll through the gardens to the rear of the house. These are not terribly extensive, but certainly very pleasant, with a water feature, orchard, and a small woodland area.
We loved Nuffield Place; it would be wrong to call it a stately home, or country house; it is a pleasant house, full of historic interest, and a reminder of one of the most remarkable Britons of the early 20th century.
NEARBY HISTORIC ATTRACTIONS
Heritage Rated from 1- 5 (low to exceptional) on historic interest
Greys Court - 4 miles (Garden)

Stonor Park - 4 miles (Historic House)
Newnham Murren, St Mary's Church - 4.2 miles (Historic Church)
Mongewell, St John's Church - 4.2 miles (Historic Church)
North Stoke, St Mary's Church - 4.4 miles (Historic Church)
Wallingford, St Peter's Church - 4.5 miles (Historic Church)
Wallingford, St Leonard's Church - 4.5 miles (Historic Church)
Wallingford Castle - 4.5 miles (Castle)
Nearest Holiday Cottages to Nuffield Place:
Ninea, Wallingford - 4.5 miles
Wallingford, Oxfordshire
Sleeps:
7
Stay from:
£945.00 - 4292.00
More self catering near Nuffield Place