Statue of King Alfred the Great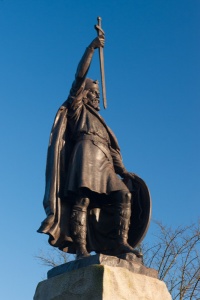 One of the most easily recognisable landmarks in Winchester is the striking statue of King Alfred the Great, which stands at the eastern end of The Broadway, close to the site of the city's medieval East Gate. The statue of a suitably heroic Alfred was designed by Hamo Thornycroft, R.A., and erected in 1899 to mark one thousand years since Alfred's death.
The unveiling of the statue was quite a social event, proceeded by a procession through the packed city streets, and address by the Bishop of Winchester. The event was so important that it was reported in publications as far afield as the New York Times.
The huge statue measures 17 feet from the base to the top of Alfred's arm. Curiously, the sword was made to be detachable, though the rest of the statue is a single, solid bronze casting. The statue is set atop a rectangular block of granite from Cornwall, with another tapered block acting as a base.
Thornycroft's depiction of King Alfred must be taken as a bit of artistic license; the legendary warrior and lawmaker appears as a sort of romanticised Arthurian king with a thick, curling beard. This look is at odds with coins minted during Alfred's reign, which show him beardless. The Alfred Jewel, displayed in the Ashmolean Museum in Oxford, also shows Alfred to be clean-shaven.
On a humourous note, a myth of uncertain origin states that if a female virgin at least 16 years old walks around the statue three times in a clockwise direction, Alfred will lower his sword. Another bit of local humour is provided by a nearby inn on the north side of The Broadway; the inn is named 'Alfie's' and features a symbol of the statue on its inn sign.
More Photos
Related:
King Alfred biography
Best of Britain Express Art Prints