Capability Brown biography
Lancelot "Capability" Brown was born in Kirkharle, Northumberland in 1715 (more about his nickname "Capability" in a moment). Young Lancelot was educated at Cambo School, before serving as a gardener's boy in the service of Sir William Loraine. From there he moved on to Wotton, owned by Sir Richard Grenville.
From Wotton, he joined the gardening staff of Lord Cobham, at Stowe, Buckinghamshire. There he served under William Kent, one of the founders of the new English style of Landscape Gardening. The men became close, and Brown married Kent's daughter.
At Stowe, Brown was responsible for actually implementing Kent's designs, but it seems clear that Lord Cobham also allowed Brown to take on work for his aristocratic friends while he was still employed at Stowe.
Lord Cobham died in 1749, and Brown left Stowe to set up his own gardening practice based in London two years later. To say that Brown was successful in his profession is an understatement of the highest order.
He became immensely sought after by the aristocracy, and it is estimated that he was responsible for some 170 gardens surrounding the finest country houses and estates in Britain. So numerous are his designs, and so widespread was his influence, that it is almost harder to find a prominent country house that did not have a garden designed by Capability Brown.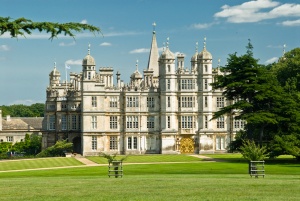 Lancelot Brown soon acquired the peculiar nickname "Capability" from his habit of telling clients that their gardens had "great capabilities". In his talented hands, they certainly did.
Brown has been criticized, with some justification, for destroying the works of previous generations of gardeners to create his landscapes. He worked with a grand vision, and preferred to sweep away the past and create a fresh garden to his own standards.
What were those standards? The English landscape garden under Capability Brown was a place of wide green undulating lawns with sinuous bands and clumps of trees, planted with the utmost care to give the impression of a romantic natural scene.
The trees opened up to give carefully planned glimpses of interest points, often classical temples, bridges, or monuments. Everything was meticulously contrived to give a sense of informality, of natural beauty, though of course, nothing in the garden was "natural" at all.
In later life, Brown was appointed head gardener at Hampton Court Palace in 1761, though he continued his private practice.
Capability Brown died Feb. 6, 1783, in London, leaving behind himself a legacy unparalleled in the history of English gardening.
List of Capability Brown gardens
A partial listing of surviving gardens designed by Capability Brown that are open to the public
Alnwick Castle
Audley End House
Blenheim Palace
Bowood
Broadlands
Burghley House
Burton Constable Hall
Castle Ashby Gardens
Charlecote Park
Chatsworth
Chillington Hall
Clandon Park
Clumber Park
Corsham Court
Euston Hall
Grimsthorpe Castle and Park
Hampton Court
Harewood House
Highclere Castle and Gardens
Holkham Hall
Ickworth House
Longleat
Petworth House
Prior Park Landscape Garden
Scampston Hall
Sheffield Park Garden
Sherborne Castle
Sledmere House
Stowe Landscape Garden
Syon Park
Temple Newsam
Warwick Castle
Weston Park
Wimpole Hall
Wrest Park Gardens
Attraction search