Kensal Green Cemetery, London
History, tourist information, and nearby accommodation
HERITAGE RATING:
HERITAGE HIGHLIGHTS: The oldest of London's garden cemeteries
---
Kensal Green Cemetery (or to give its official name 'The General Cemetery of All Souls, Kensal Green') is the oldest of London's famous 'Magnificent Seven' 19th-century garden cemeteries, built on the suburban fringe of London to handle a crisis in available burial places within the overcrowded city core.
Like the other garden cemeteries, Kensal Green was a commercial venture, funded by investors who created a space where the wealthy middle and upper classes of London could buy family plots.
History
The origins of Kensal Green Cemetery go back to 1821 when the barrister George Frederick Carden visited the Pere-Lachaise cemetery in Paris, the forerunner of all other garden cemeteries. Pere-Lachaise was a striking departure from traditional churchyard burial grounds; it was spacious, serene, and blessed with superb funerary architecture. It was a place for wealthy Parisians to see and be seen as well as a place to bury their family members.
Carden was inspired by his experience at Pere-Lachaise and wanted to create a British equivalent, a place far removed from the squalid, overcrowded city centre, a place landscaped like a country house estate, where wealthy clients could build family mausoleums and stroll along broad avenues linking stylish chapels.
---
In 1831 Carden launched the General Cemetery Company with the support of several wealthy investors. The company name was a sign of its pretensions. At that time the word 'cemetery' was relatively new, and it appealed to an educated audience.
In 1832 Parliament passed a bill permitting the Company to bury the dead. Until that point almost all graveyards were linked to a place of religion - most often a Church of England parish church. This was something new, a non-religious cemetery as a for-profit venture.
One of the cemetery's selling points was security; in an age when bodysnatching was common, the cemetery promised a secure facility safe from graverobbers who sold fresh corpses to medical students for dissection.
In an ironic twist, just a week after Parliament passed a bill permitting the General Cemetery Company to operate, they passed the Anatomy Bill, allowing unclaimed corpses from workhouses and prisons to be used for dissection. This effectively ended the need for bodysnatching, since medical students could now gain a legal supply of bodies.
The General Cemetery Company launched a design competition. Entries were given a brief that included an impressive entrance gateway with flanking lodges, two chapels with catacombs, and a landscaped burial ground. The winning entry was by Henry Edward Kendall, who used the Gothic style for his cemetery buildings.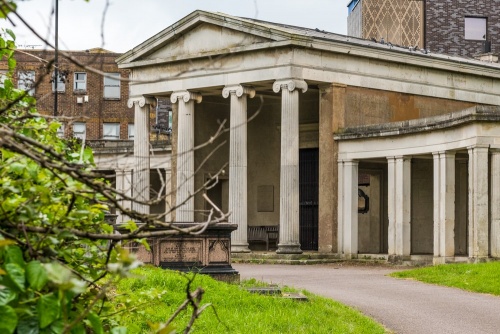 ---
Kendall must have been delighted by winning the competition, but he wasn't so delighted when Sir John Dean Paul, the Company Chairman, decided that he preferred a neoclassical look and persuaded the Company surveyor John Griffith to create a new design in Greek Revival style.
The cemetery was divided into two distinct sections, with 39 acres allotted for Anglican burials and 15 acres set aside for nonconformists. The Anglican area was consecrated while the nonconformists' area was not. Each section had its own neoclassical chapel, with the Anglican chapel using the Doric order and the nonconformist chapel using the Ionic order.
John Griffith also laid out the cemetery but the final landscape design was prepared by Richard Forrest, the former head gardener at Syon Park.
The final design was a mix of formal and informal elements, with a broad central avenue and carefully arranged plantings of deciduous and evergreen trees, shrubs and flowers. The Company wanted to create an idyllic 'Arcadian' landscape, with neoclassical buildings acting as focal points.
It was not so much a cemetery as a memorial garden, a place worthy of receiving the tombs of the rich and famous. Kensal Green's popularity as a fashionable burial ground was cemented when HRH Princess Sophia (1777- 1848) was buried here within a few years of the cemetery opening.
The first burial in Kensal Green Cemetery took place on 31 January 1833. The deceased was Margaret Gregory, the wife of a journalist. It is still an active cemetery today (in fact, there was an interment taking place when we visited).
It is still managed by the private General Cemetery Company, whose offices are by the Main Gate. Originally 55 acres in area, the cemetery now covers 72 acres and stretches between Harrow Road and the Grand Union Canal. It is open daily to visitors.
---
Famous Graves
Kensal Green Cemetery boas one of the finest groups of funerary monuments in the world, including 153 Grade II and Grade II* listed monuments. It is the final resting place of 650 titled nobles and 550 people listed in the prestigious Dictionary of National Biography.
HRH Princess Sophia (1777-1848)
Sophia was the twelfth child of King George III and Charlotte of Mecklenburg-Strelitz. Sophia gained notoriety over rumours that she had an illegitimate son with her father's equerry Thomas Garth. Other rumours suggested that the child (if he existed) was the result of rape by her brother, Ernest Augustus, Duke of Cumberland. Those rumours are likely to have been circulated by the Duke's political enemies.
Princess Sophia was buried at Kensal Green instead of Windsor Castle by her own wishes as she wanted to be near the grave of another brother, Prince Augustus Frederick, Duke of Sussex. Her memorial is to the east of the path directly in front of the central chapel. The Duke of Sussex' tomb is directly opposite, across the path.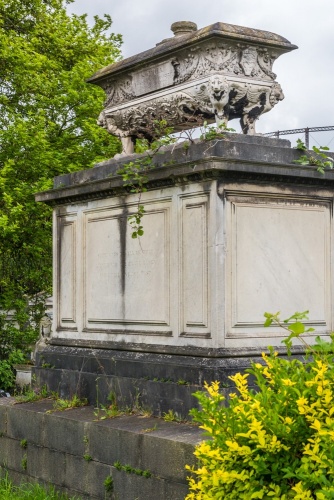 ---
Viscount Strangford
The 7th and 8th Viscounts Strangford and commemorated in a striking Gothic monument. George Smythe, 7th Viscount Strangford (1818-1857) was a Conservative politician and a prominent ally of Benjamin Disraeli and the Young England movement. Disraeli modelled the central character of his novel 'Coningsby' after Smythe.
Viscount Strangways was the subject of a huge scandal in 1846 when he was caught in a summerhouse with Lady Dorothy Walpole, the daughter of the Earl of Orford. Newspaper reports claimed that Smythe got Dorothy pregnant but refused to marry her. She was quickly married off to a distant cousin.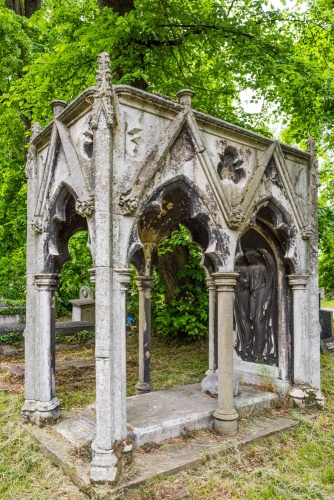 ---
Isambard Kingdom Brunel (1806-1859)
Perhaps the most famous engineer in British history, Brunel was the chief engineer for the Great Western Railway (which explains why his statue stands inside Paddington Rail Station). He designed the Great Western paddle-wheeler (1837) and the Great Britain (1843) - the first major ship to use a screw-propeller.
Then there was the Great Eastern (1858), the first iron double-hulled ship. Brunel also designed the Thames Tunnel and the bridge across the Avon Gorge at Bristol. He shares a monument with his father Marc Brune, also a famous engineer in his day, and other members of his family.
---
General Sir William Casement (1780-1844)
General Casement was a leading figure in the British government of Bengal. He died shortly before he was due to return to Britain. The monument takes the form of a coffin chest draped with General Casement's cloak and topped with his sword and tricorn hat. The coffin lies under a canopy supported by four Indian bearers wearing turbans. A similar monument with an identical inscription was erected in Kolkatta.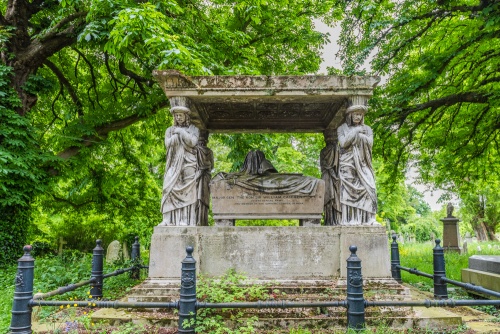 ---
George Cruikshank (1792-1878)
An illustrator and cartoonist best-remembered for his illustrations for Charles Dickens' novels. Cruikshank was dubbed 'the modern Hogarth'. He had a busy - and scandalous - private life as well; he was married twice and after his death, it was discovered that he also had eleven illegitimate children with his mistress.
He fell out with Dickens after claiming that he, Cruikshank, created the main storyline for the novel Oliver Twist, a claim that Dickens strongly denied. Cruikshank was England's most popular satirists, known for his biting political cartoons and social caricatures attacking the royal family and leading politicians.
---
Decimus Burton (1800-1881)
Burton was a successful architect and urban planner and a founder member of the Royal Institute of British Architects (RIBA). He is perhaps best-known for the Wellington Arch at Hyde Park Corner. He helped design the glasshouses in Kew Gardens and Regents Park, and Carlton House Terrace in St James. He laid out the spa town of Royal Tunbridge Wells in Kent and the seaside resorts of St Leonards-on-Sea and Fleetwood.
Burton moved in the highest social circles and was a friend of Princess Victoria (the future Queen Victoria), the Duchess of Kent, the 6th Duke of Devonshire, and fellow architects Sir John Soane and John Nash.
Charles Blondin (1824-1897)
Blondin, born Jean Francois Gravelet, was the most famous tightrope walker and acrobat of all time. The name 'Blondin' became a synonym for tightrope walking. From his first performance at the age of six, Blondin gained instant success for the originality of his performances and his extraordinary skill on the highwire.
His most famous performance came in 1859 when he crossed the Niagara Gorge on the US/Canada border on a tightrope. He repeated the feat several more times, including while blindfolded, piloting a wheelbarrow, and standing on a chair with just one leg balanced on the wire.
---
William Wilkie Collins (1824-1889)
Collins was a popular novelist and playwright. He is best remembered for his novels The Woman in White and The Moonstone. The latter is considered the first British detective novel. Collins was a close friend of fellow writer Charles Dickens and the pair collaborated on several pieces of fiction and stage dramas.
Later in life, he became addicted to opium after taking it to relieve his gout, and the quality of his writing suffered. His personal life was controversial; he did not believe in marriage and split his time between two common-law relationships.
Anthony Trollope (1815-1882)
A popular novelist best-known for his series of novels detailing life in the imaginary county of Barsetshire. His most popular novel was Barchester Towers (1857) but he also wrote an overlapping series of books following the adventures of the Palliser family. One notable fan of his writing was the actor Sir Alec Guinness who took a Trollope novel with him wherever he went.
William Makepeace Thackeray (1811-1863)
A prolific writer and illustrator, Thackeray is best known for his satirical novel Vanity Fair. He turned to writing to support his young family, contributing art criticism and short fiction for Fraser's Magazine. He is credited with popularising the word 'snob' as part of a series of satirical articles for Punch magazine.
Tragedy struck his private life when his wife Isabella lapsed into depression after giving birth to their third child and eventually became completely detached from reality. His writing success saw him lauded in his lifetime as the equal of Charles Dickens.
Charles Babbage (1791-1871)
Babbage was a mathematician, inventor, philosopher, engineer, but his most lasting contribution to the world is as the inventor of the digital computer. All the modern advances in computer technology that we rely on today can be traced to Babbage mechanical computer and his Analytical Engine. Part of the mechanical mechanism developed by Babbage is on display in the Science Museum in London.
---
Getting There
The easiest way to reach the cemetery is by Underground (Bakerloo Line) or British Rail to Kensal Green Station. From the station exit turn left onto College Road, then left again on Harrow Road. Follow Harrow Road to the cemetery's entrance gates, just before Ladbroke Grove. From the underground station to the cemetery gates is about a 15-minute walk.
About Kensal Green Cemetery
Address: Harrow Road, London, Greater London, England, W10 4RA
Attraction Type: Landmark - Cemetery
Location: From Kensal Green underground station turn left onto College road then left again onto Harow Road. Follow Harrow Road east to the Main Gates.
Website: Kensal Green Cemetery
Location map
OS: TQ231825
Photo Credit: David Ross and Britain Express
Nearest station:

Kensal Green - 0.1 miles (straight line) - Zone: 2
NEARBY HISTORIC ATTRACTIONS
Heritage Rated from 1- 5 (low to exceptional) on historic interest
Museum of Brands - 1 miles (Museum)

Ben Uri Gallery and Museum, London: Art, Identity, Migration - 1.8 miles (Museum)

Holland Park - 2.1 miles (Garden)

23-24 Leinster Gardens - 2.1 miles (Historic Building)

Kensington Palace - 2.3 miles (Historic House)

Leighton House Museum - 2.3 miles (Museum)

18 Stafford Terrace (Linley Sambourne House) - 2.3 miles (Historic Building)

Alexander Fleming Laboratory Museum - 2.4 miles (Museum)

Nearest Holiday Cottages to Kensal Green Cemetery:
More self catering near Kensal Green Cemetery