Stillingfleet, St Helen's Church
History, tourist information, and nearby accommodation
HERITAGE RATING:
HERITAGE HIGHLIGHTS: Superb 10th-century door
---
St Helen's Church in the Yorkshire village of Stillingfleet was probably built around 1154 by Robert de Stuteville as a manorial chapel. De Stuteville may have been inspired by the crypt of York Minster which he saw when asked to be a witness to a document there.
Stillingfleet village was mentioned in the Domesday Book of 1086 but no church was recorded. That isn't always a definitive indication of whether there was a church or not, but in this case, it seems likely that there was no church until the middle of the 12th century.
---
The South Doorway
That is the date attributed to the exceptional south doorway, consisting of five distinct moulded orders. The doorway moulding and capitals are richly carved with traditional Norman symbols such as chevrons, beak heads, and foliage patterns.
The outer arch has double rows of foliage, while the second is carved with 36 traditional Norman beak heads. The third and fourth arches are carved with a chevron pattern. The fifth arch is decorated with a huge variety of fantastical figures.
You can see carved heads, including a bearded man wearing a crown, interlaced crosses, a catlike mask, men with prominent moustaches, lions, wyverns, scallops, shields, and a devil's head. The variety and quality of the carving are breathtaking and make this one of the finest pieces of 12th-century sculpture in England.
---
The Stillingfleet Door
The doorway once sheltered something quite exceptional - a door that may predate the church by as much as 2 centuries. That door has now been moved inside the church to preserve it from weathering.
The door is divided into two sections by slender horizontal interlace. There are two hinges, one in each half of the door. Both are in the shape of huge letter C's with the ends of the C shaped like dragons' heads. In the upper left are two figures thought to represent Adam and Eve. Near the figures are a circle of nails that may once have held a Tree of Knowledge, and it appears that Adam is reaching for an apple from the now-vanished tree.
In the upper half of the door is the Viking longship, with a magnificent dragon's head prow and a large steer oar at one end. The ironwork is Scandinavian in style, another point in favour of the door dating to the 10th century.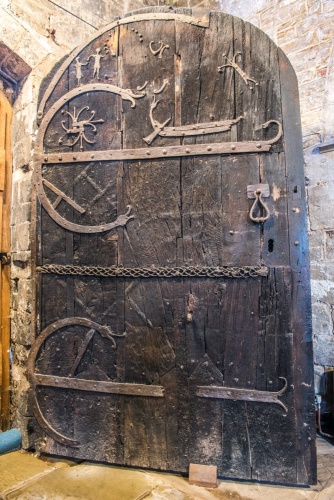 ---
Other decorative ironwork includes a stylised interlocked cross, a horned figure, and another solitary figure.
The keystone of the innermost arch depicts a man wearing a crown surmounted by three crosses. This is thought to represent King Henry II, who reigned from 1154-1189, at the time the church was built.
The doorway capitals are carved with varieties of Green Men.
---
How old is the Stillingfleet door?
That's the question that has been plaguing historians for almost 200 years. When the south doorway was restored by Charles Hodgson Fowler in 1877 he examined the door and its ironwork and declared it to be of the same age as the doorway, that is, dating to around 1150.
There's a problem with that date; it ignores the Viking galley that features prominently amidst the ironwork decoration. This galley might be a memory of the attempted coup by Harald Hardrada, the King of Norway, in September of 1066.
Hardrada formed an alliance with Tostig Godwinson, King Harold of England's estranged brother, and sailed up the Humber before marching on York and victory at the Battle of Fulford, just a few miles north of Stillingfleet. His army was then crushed by King Harold at the Battle of Stamford Bridge a few days later.
A far more likely explanation is that the ironwork hinges and decoration on the south door date to much earlier, probably to the 10th century when York formed part of a Viking kingdom. That would mean that either there was a church here several centuries earlier than was thought, or, more likely, that the door was brought here from elsewhere.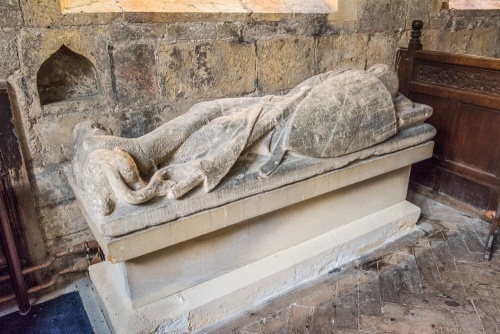 ---
There is much more to this beautiful historic building than the 12th-century doorway and Viking door.
In the south aisle is the Moreby Chapel, where you will find the effigy of a knight, thought to be Sir Robert Moreby (c. 1286 - 1337). Sir Robert was the son of William de Moreby, the lord of the manor of Stillingfleet, and Agnes, his wife. Sir Robert fought under Lord Grey de Rotherfield in Edward II's Scottish wars from 1310-1320.
He later served as the keeper of Brecknock Castle and was knighted in 1322. He then served with Queen Isabella and was granted the Honour of Knaresborough in 1329. He retired to his Stillingfleet estates in 1331, upon which he was granted a lifetime exemption from having to serve on assizes and juries.
The other major memorial of note inside the church is the marble tomb of John Accolm (d.1611), decorated with four kneeling figures facing each other.
Other interior church highlights include several fragments of medieval glass, 17th-century panelling, and several pieces of Norman carving reused in window surrounds. There are several outstanding carved capitals including a dragon biting its own tail.
---
One 13th-century capital in the south aisle depicts a 'Saracen in Submission'; a Muslim figure in loose pantaloons. This is a curious motif, and historically inaccurate.
St Helen's Church is usually open to visitors and was open when we visited. In fact, we hadn't planned on visiting at all, but were on our way to Stillingfleet Lodge Garden, just a few minutes away. We passed the church on our way to the garden and thought, 'Hmm ... that looks interesting, perhaps later ...'. It was more than interesting; it is superb. The combination of the magnificent 12th-century doorway and the ancient Viking door makes Stillingfleet's church an absolute delight to explore.
Getting There
St Helen's Church is on the B1222, on the north bank of the Stillingfleet Beck, about 10 miles south of York. We didn't see any dedicated parking area but we found it very easy to park along the road verge.
Most photos are available for licensing, please contact Britain Express image library.
About Stillingfleet, St Helen's Church
Address: B1222, Stillingfleet, Yorkshire, England, YO19 6SJ
Attraction Type: Historic Church
Location: On the B1222 about 10 miles south of York. Roadside parking.
Website: Stillingfleet, St Helen's Church
Location map
OS: SE589412
Photo Credit: David Ross and Britain Express
NEARBY HISTORIC ATTRACTIONS
Heritage Rated from 1- 5 (low to exceptional) on historic interest
Stillingfleet Lodge Gardens - 0.1 miles (Garden)

Goddards House & Garden - 5.3 miles (Historic House)

York Tyburn - 5.7 miles (Historic Building)

Selby Abbey - 5.7 miles (Historic Church)
Bar Convent - 6.3 miles (Historic Church)

St Mary Bishophill Junior Church - 6.4 miles (Historic Church)
York Cold War Bunker - 6.4 miles (Historic Building)

Cliffords Tower - 6.4 miles (Castle)
Nearest Accommodation to Stillingfleet, St Helen's Church:
Nearest Self Catering Cottages
More self catering near Stillingfleet, St Helen's Church

Nearest Hotels
More Hotels near Stillingfleet, St Helen's Church

Nearest Bed and Breakfasts
More bed and breakfasts near Stillingfleet, St Helen's Church