York Tyburn - York's Historic Place of Execution
History, tourist information, and nearby accommodation
HERITAGE RATING:

HERITAGE HIGHLIGHTS: Dick Turpin's place of execution
---
In the medieval period, York had four sites of public execution. Three of these were administered by the church; York Minster, St Mary's Abbey, and St Leonard's Hospital each had a gallows and each administered justice within their territory according to their own laws.
The fourth site was controlled by the Crown and administered from York Castle. But rather than erect a gallows at the castle, they built it on Knavesmire, a swampy area at the edge of the city boundary, beside the main road to London (now Tadcaster Road and the A1036).
The location meant that the very first thing visitors to York would see as they arrived would be the bodies of criminals hanging from the gallows or crowds of people following carts as they carried convicted criminals to their meeting with the hangman.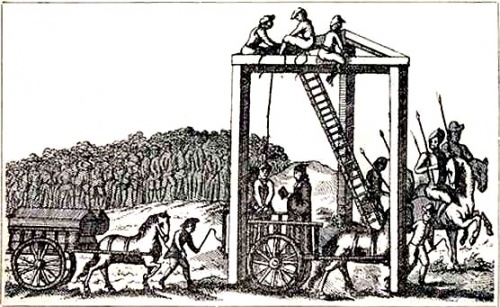 ---
History
The gallows at Knavesmire was dubbed 'Tyburn' after the famous place of execution near Marble Arch in London. The gallows here was a large timber triangle supported on three legs, known as the 'Three-Legged Mare'. For over 400 years Tyburn was a focal point for public executions in York. The first took place in 1379, the last in 1801. In a curious twist, both the first and last executions were those of a soldier found guilty of rape.
Executions were a huge public spectacle. People were encouraged to attend them, in part because the authorities felt that the harsh public execution would act as a deterrent. Criminals were dragged on sledges and later carried in a cart beside their coffin. They were often quartered after death (the body cut into four pieces).
The Three-Legged Mare gallows used the 'short drop' method of execution. This meant that those executed died by slow strangulation.
By 1801 there was a growing feeling that having executions at the city boundary was not a great way to create a good first impression for visitors. The crowds thronging the route to Tyburn also cause a problem for visitors. So, in 1801 executions were moved to a spot near York Castle, but they were still a public event. The gallows at Tyburn stood unused for over a decade until they were finally removed in 1812.
In 1861 public executions were banned, and sentences were carried out behind closed doors at a specially constructed gallows known as 'The Drop', standing beside the Female Prison. You can see the doorway that led to The Drop from the car park adjacent to the Prison.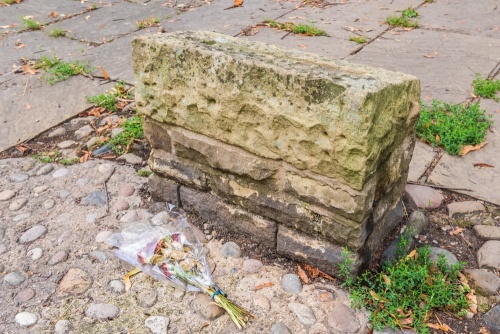 ---
Executions at York Tyburn
The first recorded execution at York Tyburn was Edward Hewlson, aged 20, who was hanged on 31 March 1379 for rape. Hewlson was a private in the Earl of Northumberlandâ??s Light Horse. He was found guilty of raping Louisa Bentley, a servant at York Castle. After his execution, Hewlson's body was hanged on a gibbet in the field on the Sheriff Hutton road where his offence took place.
Though naturally many of those executed at York Tyburn were sentenced for crimes against property or persons, quite a few were put to death for their religious beliefs. Among the latter are two leaders of the Pilgrimage of Grace, the uprising against Henry VIII's religious reforms.
Those executed in connection with the revolt were Lord Hussey and William Wode, the Prior of Bridlington. Interestingly, the punishment for each man was different; Lord Hussey was hanged and quartered, while Prior William was beheaded and quartered.
Equally as many were executed for some form of rebellion. The earliest of these was John Chambers, hanged in 1488 for insurrection. Another was Sir John Neville (d 1541).
One intriguing execution was of two forgers, Edward de Satre and Sarah Houslay, who were sentenced for issuing forged promissory notes in the value of 50 guineas. At least five more forgers were executed at Tyburn during Elizabeth I's reign.
---
Dick Turpin's Execution
But of course, the most famous execution at York Tyburn was the highwayman Dick Turpin (1705-1739). Much of Turpin's legend is fictional, invented long after his death and bearing little resemblance to his life. Though he is best-known today as a highwayman, Turpin was tried and sentenced to death for the crime of stealing three horses with a total value of £7.
On 17 April 1739 Turpin and another horse thief named John Stead were carried in an open cart through York to Knavesmire. Contemporary reports say that Turpin was calm throughout and bowed to the crowds lining the route. He spoke briefly to the hangman, then threw himself off the ladder. He was dead in five minutes. You can find out more about Turpin's life and death in our article on Dick Turpin's Grave.
Tyburn traditionally had close links to York Racecourse, which covers the eastern part of Knavesmire. The popular august race meeting was scheduled to coincide with the York Assizes. Visitors could attend the Assizes, watch executions at Tyburn, and stroll across to the racecourse.
Getting There
You could drive past Tyburn without ever knowing it was there. The site is marked by a paved area and a memorial plinth on Tadcaster Road (the A1036), opposite Pulleyn Drive. There is no on-site parking, but there is often a place to park off Cherry Lane about 10 minutes walk to the south.
There is a useful information panel giving a history of the site, and several park benches. The location is not terribly interesting in itself, but it is a poignant reminder of an important part of York's history.
About York Tyburn
Address: Tadcaster Road, York, Yorkshire, England
Attraction Type: Historic Building - Landmark
Location: On Tadcaster Road (the A1036) opposite Pulleyn Drive. No on-site parking but you can park on nearby Cherry Lane.
Location map
OS: SE590504
Photo Credit: David Ross and Britain Express
NEARBY HISTORIC ATTRACTIONS
Heritage Rated from 1- 5 (low to exceptional) on historic interest
Goddards House & Garden - 0.5 miles (Historic House)

Bar Convent - 0.7 miles (Historic Church)

Henry VII Experience - 0.8 miles (Museum)
York, Holy Trinity Micklegate - 0.8 miles (Historic Church)

St Mary Bishophill Junior Church - 0.9 miles (Historic Church)
Jacob's Well - 0.9 miles (Historic Building)

St Martin-cum-Gregory Church - 0.9 miles (Historic Church)

York Cold War Bunker - 0.9 miles (Historic Building)

Nearest Holiday Cottages to York Tyburn:
Stablefold, York - 0.7 miles
York, Yorkshire
Sleeps:
2
Stay from:
£408.00 - 1472.00

More self catering near York Tyburn