Canterbury attractions, historic buildings, and museums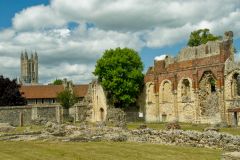 Canterbury is one of the most pleasurable cities to visit in England if you have even a passing interest in history and cultural heritage. Most of the most interesting historic buildings are covered in our attractions guide, but we thought we'd sum it all up for you here.
Historic Buildings
Blackfriars
- 25 High Street. The remains of a medieval Dominican monastery.
Canterbury Castle
- Castle Street. Ruined medieval castle
Canterbury Cathedral
- one of the most stunning accomplishments of medieval architecture in Britain.
Canterbury City Walls
- the medieval walls still stand in many places, on top of the old Roman walls.
West Gate Tower
- 2 St Peter's Street. A wonderful 14th century gatehouse built by Henry Yevele.
St Dunstan Church
- 80 London Road. Historic church where St Thomas More's head is buried.
St Martin Church
- North Holmes Road. The oldest church in Britain still in use.
St Mary Magdalene Church
- Burgate. The tower is all that remains of this medieval church.
St Mildred Church
- Church Lane. The oldest church still standing within the city walls.
Christ Church Gateway
- The Precincts. This imposing early 16th century gateway to the Cathedral was built to honour Arthur, Prince of Wales.
Conduit House
- Kings Park. Remains of the waterworks which supplied the abbey of St Augustine.
Conquest House
- 17 Palace Street. Norman house reputed to be the place where Becket's assassins gathered before their deadly deed.
Dane John Mound
- the mound of the first castle in Canterbury, built by the order of William the Conqueror.
Eastbridge Hospital of St Thomas
- 25 High Street. Lodging for poor pilgrims coming to see the shrine of St Thomas a Becket.
Fyndon Gate
- Lady Wootton's Green, Monastery Street. This grandiose gatehouse served as the gateway to St Augustine's Abbey.
Greyfriars Chapel and Franciscan Garden
- 6a Stour Street. Remains of a Franciscan priory built over a tributary of the River Stour.
House of Agnes
- 71 St Dunstan's Street. Medieval coaching inn featured in a Dickens novel.
King's School
- 25 The Precincts. The oldest school in Britain, housed partly in the old priory buildings of the cathedral.
Old Weavers House
- 3 St Peter's St. Half timbered building overlooking the river, that once housed Flemish weavers.
Roper Gate
- St Dunstan Street. Brick gate to Place House, home of St Thomas More's daughter.
Sir John Boys House
- 28 Palace Street. The 'Crooked House' of Canterbury, a half-timbered house that has slipped sideways alarmingly.
St Augustine's Abbey
- Longport. Remains of the abbey established by St Augustine himself.
St George's Tower
- High Street. Clock tower of the church where Canterbury native Christopher Marlowe was baptised.
Museums
Canterbury Roman Museum
- 11a Butchery Lane. See the remains of a Roman townhouse and mosaic.
Canterbury Royal Museum & Art Gallery
- 18 High Street. Canterbury's main museum and library.
Canterbury Tales
- St. Margaret's Street. The Middle Ages come to life in a modern retelling of Chaucer's Canterbury Tales.
Gardens
Dane John Gardens
- Gardens surround the old castle mound.
Westgate Gardens
- Westgate Grove. Small riverside gardens beside the historic West Gate.
Activities
Canterbury Historic River Tours
- Old Weavers House, 3 St Peter's St. Take a boat trip back in time, seeing the historic sights along the River Stour.
Aside from 'tourist attractions' there are a wealth of historic buildings that can be best appreciated by strolling around the old core of the city on foot. Thankfully, Canterbury is not a large city, and it is very easy to spend a few pleasurable hours just puttering along, enjoying the heritage that you will see at every glance.
There is so much to see and do in Canterbury. Explore these links and you'll soon find yourself full of ideas for places to go!