Royal Pump Room Museum, Harrogate
History, tourist information, and nearby accommodation
HERITAGE RATING:
HERITAGE HIGHLIGHTS: The original sulphur well
---
The Royal Pump Room Museum tells the story of Harrogate's heyday as a fashionable spa town, when over 1,500 glasses of heavily sulphured spa water were served every day to visitors who came to 'take the waters'.
The Royal Pump Room stands over four wells; one is now hidden, one is a sulphur well that feeds into a tap on the outside of the building, one is a chalybeate well, and the fourth is a strong sulphur well. The water from this sulphur well was popular as a remedy for a host of illnesses including gout, rheumatism, skin disease, and digestive complaints.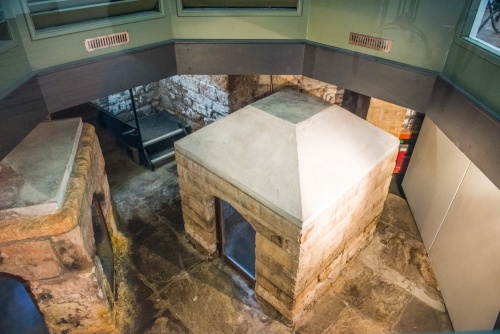 ---
History
When the mineral springs were first discovered they simply emerged from the earth into a large marshy area. Visitors brought their own ladles with long handles to scoop out water for drinking. Increasing numbers of visitors led to concerns for their wellbeing. In 1772 four wellheads were erected to protect the water sources.
In 1804 a stone canopy on slender pillars was erected over the wellheads to protect visitors from the weather. The canopy was designed by Thomas Chippendale, the famous furniture maker and cost £260.
The Royal Pump Room was built in 1842 by Isaac Shutt over the famous sulphur wells. Shutt intended it as a place for wealthy spa visitors to gather and socialise. Chippendale's 1804 canopy was moved to cover Tewit Well in The Stray, a public park about a mile to the east.
---
The elegant new building posed some issues, though. The surrounding roads had to be raised so that the well was in the basement of the Pump Room. Water was pumped from the well to a counter where it was served to customers in glasses. Visitors had to pay to drink inside, but there was a free tap outside as well.
Since there was a free source of well water available, why would people pay to enter the Pump Room?
The answer lies in the Pump Room's status as a fashionable place to see and be seen, a place to socialise and meet the upper echelons of society.
At its height of popularity, the Royal Pump Room welcomed 15,000 paying visitors every summer. Visitors would arrive between 7am and 9am to drink one or more glasses of the foul-smelling spa waters.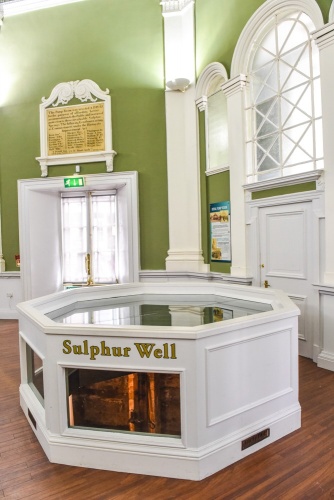 ---
A Royal Visitor
The most famous visitor was Princess Alix of Hesse, who became Tsarina of Russia in November 1894. Princess Alix came to Harrogate in May of that year hoping that taking the waters would help cure her sciatica. She lodged at Cathcart House on Prospect Place, which was run by Mr and Mrs Allen. when she discovered that her landlady had recently given birth to twins, Princess Alix asked to be the children's godmother and that they be named Alix and Nicholas after herself and her husband-to-be, the Russian Czarevich.
Princess Alix became Tsarina Alexandra of Russia, and was murdered along with the rest of her family by Bolsheviks in 1918.
Attendants dispensed the water. They were poorly paid and relied on tips from visitors to supplement their income, much as a modern waiter or waitress might. The most famous attendant was Betty Lupton, who served glasses of spa water for 60 years. Betty Lupton was crowned Queen of the Well on Queen Victoria's coronation day, and when she retired in 1843 at the age of 83 she was given a pension of seven shillings a week. She only received the pension for two weeks before her death.
---
Growing numbers of visitors led to expansion; in 1913 an annexe was added, and this extension now houses the museum exhibition and shop areas.
Visitor numbers dropped after WWII, in part because of the National Health service. With free medical care, fewer people felt the need to take a spa cure for their health. After over 100 years, the Pump Room closed, only to reopen as a museum in 1953. The museum is operated by Harrogate Borough Council and offers a mix of permanent and temporary exhibits telling the story of Harrogate's days as a spa town.
---
What to See
You can look down on the original wellhead that covers the sulphur well. There are several guided tours of the well area each day. Through a clear glass window you can look into the Bottling Room, where sulphurous spa waters were poured into cloured glass bottles.
In a display case is a cutlery set given by Princess Alix of Hesse to her goddaughter Alix Allen. The set was made by the Imperial Russian jewellery makers Grachev and is in its original presentation box. Also on show are Faberge cufflinks given by the Princess to Nicholas Allen.
The museum has a wealth of fascinating medical 'cures' used by visitors to the spa. One unusual 'cure' was a peat bath, a tub made of Burmese teak. The tub was filled with peat and rolled on rails to a treatment room. The peat was soaked in water and heated to 98-104 degrees Fahrenheit while the patient 'relaxed'.
Then there is a Combination Bath, which is a shower with an ordinary overhead showerhead in combination with upright metal pipes that emitted a needle spray. Water temperature would start warm and gradually reduce to freezing cold.
Another exhibit looks at the history of the Royal Baths, which opened in 1897 and stood on the site of the former Montpellier Baths. The Royal Baths were designed to provide a luxurious setting for hydrotherapy treatments.
One treatment involved the Vichy Massage Bath, where the patient lay on an inflatable rubber bed on top of a wooden table. Water streamed onto the patient while an attendant massaged their muscles while the water temperature went from warm to cold.
The museum holds a collection of jewellery given by Mrs Hull Grundy, who almost single-handedly ignited interest in Georgian and Victorian jewellery across Britain and donated pieces to numerous museums. She had a special interest in Arts and Crafts pieces and gave over 1,000 items to the British Museum.
---
Ancient Egypt
One thing you would not expect to see in the Royal Pump Rooms Museum is a collection of ancient Egyptian objects, ranging from goddess figurines to wooden headrests, and a painted wooden coffin of a priest dated to 1000 BC. There are several objects related to Pharoah Seti I, who built the largest tomb in the Valley of the Kings.
Getting There
The Royal Pump Room is extremely well signposted from around central Harrogate and is located at the junction of Crescent Road and Royal Parade, opposite the entrance to Valley Gardens. There is no dedicated parking area but there are several paid parking areas within a short walking distance.
About Royal Pump Room Museum, Harrogate
Address: Crown Place, Harrogate, Yorkshire, England, HG1 2RY
Attraction Type: Museum
Location: At the junction of Crescent Road and Royal Parade, opposite the entrance to Valley Gardens. No on-site parking but several pay and display parking areas within a short walk. Extremely well signposted around central Harrogate.
Website: Royal Pump Room Museum, Harrogate
Location map
OS: SE298553
Photo Credit: David Ross and Britain Express
NEARBY HISTORIC ATTRACTIONS
Heritage Rated from 1- 5 (low to exceptional) on historic interest
Mercer Art Gallery - 0 miles (Museum)

Valley Gardens - 0.1 miles (Garden)

Harrogate, St Peter's Church - 0.2 miles (Historic Church)

Harrogate, St Wilfrid's Church - 0.3 miles (Historic Church)

Tewit Well, Harrogate - 0.8 miles (Historic Building)

RHS Garden Harlow Carr - 1.3 miles (Garden)

Mother Shipton's Cave - 3.1 miles (Countryside)

Knaresborough, St John the Baptist Church - 3.3 miles (Historic Church)
Nearest Holiday Cottages to Royal Pump Room Museum, Harrogate:

No. 21, Harrogate - 0.8 miles
Harrogate, Yorkshire
Sleeps:
6
Stay from:
£494.00 - 2755.00

More self catering near Royal Pump Room Museum, Harrogate