Illustrated Dictionary of British Churches - Monumental Brass Definition
History and Architecture
Monumental Brass
Also known as a memorial brass, or simply 'brass', the term is used to describe a type of memorial, made by creating an incised carving on a latten, or sheet of brass. Such monumental brasses can be minutely small, or larger than life size. This style of memorial first gained popularity in Britain during the 13th century, and remained in use until well into the 16th century.

Earlier monuments were large and bulky, but the advantage of brasses were that the sheet of brass could be set within an supporting stone frame, and laid level with the floor, thus leaving the floor free for walking. The fact that so many brasses were set into the church floor means that the carvings often suffered wear from the continual passage of feet upon the memorial, but even so, brasses provide an invaluable record of period costume and heraldry.

Brasses can be found in all areas of Britain, but are most frequent in Suffolk and Norfolk. Among the best early examples are that of Sir Roger Trumpington at Trumpington, Cambridgeshire, which dates to around 1290. Slightly later is the superb brass to Nicholas, Lord Burnell, at Acton Burnell, Shropshire (d. 1315).

Throughout the medieval period the 'portraits' on monumental brasses were symbolic, rather than actual representations of the deceased. Men and women were shown in a symbolic, posed pattern. For example, knights were often shown in full armour, with their hands held in an attitude of prayer at chest level. In the 16th century brasses began to be crafted as actual portraits. At the same time many medieval brasses were flipped over and reused for new monuments, possibly due to a shortage of brass in Britain. Such reused brasses are called palimpsests.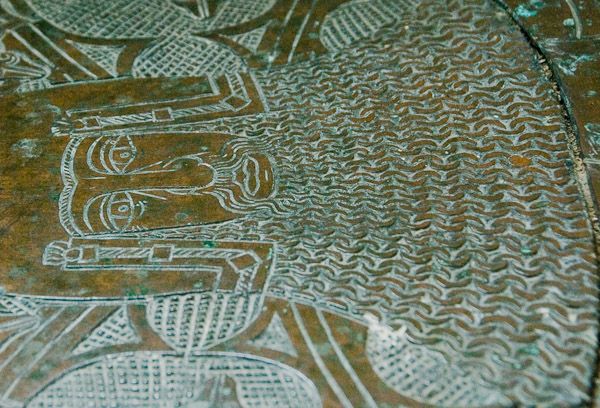 Brass to Nicholas Burnell, Acton Burnell, Shropshire