Illustrated Dictionary of British Churches - Saxon Period Definition
History and Architecture
Saxon Period
Very loosely speaking, the Saxon period covers the time from the collapse of the Roman presence in Britain at the start of the 5th century until the Norman invasion in 1066. The term is sometimes used interchangeably with 'Dark Ages'. The Saxon period in church hiistory and architecture can be narrowed to loosely the 7th century until the Norman invasion.
Characteristics of Saxon church architecture:
Narrow door and window openings
Doors feature rectangular lintels or simple rounded arches
Windows are sometimes framed by a stones forming a triangular lintel, or are simple vertical slits with a rounded top arch
High walls
'Long and short work' stone corners (alternating horizontal and vertical corner stones)
Herringbone stonework (diagonal courses of stones laid in alternating rows)
Pilaster strips - long strips of vertical stone, often found decorating exterior walls
There are surviving examples of Saxon churches from roughly 600-725 and from 900-1050. As you can see, that covers the start and end of the Saxon period. Why the gap in the middle? The period from 725 until 900 was the period of ongoing Danish invasion. Many existing buildings, including churches and monasteries, were burned and destroyed during the period, with the result that we ave very few surving buildings for that era. Most of the surving buildings from earliest period of Saxon work are found in Kent and Northumberland. Among the best are
Escomb
, County Durham (c. 690),
St Peter-on-the-Wall in Bradwell
, Essex (c. 660), and
Brixworth
, Northamptonshire (c.676).
Many of the largest and most important later Saxon churches were rebuilt in Norman style after the Conquest, so our best examples of late Saxon work survive in smaller churches, such as
St Lawrence, Bradford-on-Avon
, and Boarhunt, Hampshire. These late Saxon churches were extremely simple in layout; a simple nave divided from a rectangular chancel by a narrow arch.
For further information see our article on
Saxon architecture
.
Related: Arch Chancel Nave Herringbone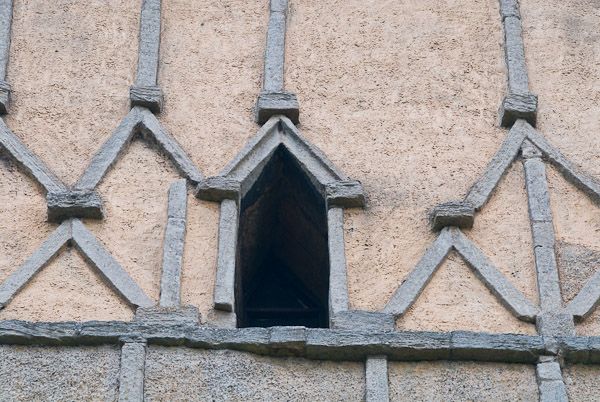 Earls Barton, Northamptonshire