York for collectors
ARCHIVED ARTICLE
by Terry & Doris Michaud
If you are looking for a city that offers it all - steeped in history, magnificent sights, a wide range of museums, a long list of activities, fabulous shopping, dining, and best of all, a grand place for collectors, then the city of York in the north of England is a must.
Two Thousand Years of History
York's turbulent history can be traced back nearly two thousand years. It always amuses me that when we are thinking of old sights and places in the United States, we are impressed with anything that has reached the 100-year mark. In Great Britain that would be considered rather new by their standards!
York has a history that traces to the Romans in A.D. 71. It was the capital of lower Britain and was known as Eboracum. Two centuries later it became an important trading centre for the Vikings, and in the middle ages, it was an important commercial centre. Throughout the centuries it has been a popular place for Kings and their Royal followers.
This is the home of the world-famous York Minster, the largest Medieval Gothic church in England. It is truly a spectacular sight, measuring 534 feet long by 249 feet wide, with the highest tower reaching a height of 197 feet. While this historic structure suffered two disastrous fires in the 19th century a massive restoration job was undertaken between 1967 and 1972. Today it is open to visitors to gain insight into the 800 years of history of the Minster. When planning your visit to York, be sure to allow a minimum of a half-day to spend at this world-famous cathedral and minster.
Shopping in York
York is a walled city, and the streets developed from the early Roman fortress. It is a marvellous feeling to stroll down the cobblestone streets of Stonegate, one of the principal shopping areas, and realize that not only the street but most of the buildings date back as far as the 15th century! It is on this street and others in the area that some of the finest shops for collectors can be found, whether your tastes run to antiques or modern-day collectables.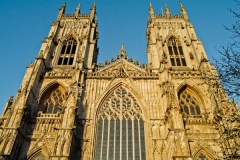 Mulberry Hall in Stonegate has 12 showrooms extending over 3 floors. The building itself is considered one of the finest medieval buildings in the community, and inside you will find porcelain by Wedgewood, Spode, Royal Doulton, Royal Worcester and other leading producers; and a grand selection of crystal by Waterford, Stuart, Lalique and others; and the world-famous Halcyon Days enamels.
York is, without doubt, a collectors' paradise, and there are delightful shops brimming with militaria, ancient pottery and other crafts, and antiques of every description including a shop devoted to antique toys, dolls and teddy bears.
Art Galleries & Museums in York
Many of the city's art galleries and museums also have gift shops. For example, the Impressions Gallery, England's foremost photographic gallery, features a bookshop that is renowned for specialist books. The City Art Gallery also has a splendid shop.
Museums include an Archaeological Resource Center, a Wax Museum, a Museum of Automata, and the National Railway Museum. This is but a sampling of the wonderful Museums that dot the city, and there are other places of interest.
York also boasts an open-air market called Newgate Market, where a wide variety of stalls are set up in the street offering wares of every description. Before setting your dates for a visit, you may want to contact one of their tourist information centres to get a schedule of antique and collectable fairs that are scheduled in the area.
Many of these fairs will give you exposure to antiques and collectables that you would not otherwise discover. This is a good plan to investigate no matter where your visit will take you. There is nothing worse than stopping at an antique shop in a town only to discover that one of their major antique fairs took place the week before!
Haunted York
With a rumoured 140 ghosts within its city walls, York is one of the most densely haunted cities in England. In the dead of night, its ancient buildings and dark passages creak and groan, and one has the feeling you are intruding into the violent past. York's ghosts and their stories are legends, including that of Anne Boleyn, who spent her younger years here. There are a number of organized walking tours of Haunted York, and most of them begin at dusk.
Because York is one of the favourite places for visitors to Great Britain, accommodations are plentiful, from Bed and Breakfast facilities to hotels of International repute. Advance reservations are a must due to the popularity of this city with visitors to England.
HELPFUL HINTS
While it is important to minimize the bits and pieces you carry with you in a purse or pocket, it is important to carry a pen and small notebook. It is helpful to write down directions given and to keep an on-going record of purchases made and monies spent. Allow extra time for the unexpected when mapping out your plans for the day. This is especially important when determining travel time. In the States, we generally allow 60 minutes for 60 miles of travel, but in most of Britain, that time can nearly double, as they simply do not have the road system we often take for granted.
Related:
York City Guide
Britain for Collectors is written by Terry & Doris Michaud, internationally known in the world of teddy bear collectors. They have authored 5 books on collecting and regularly write features for magazines in the U.S. and abroad. In a partnership with Bill & Rosemary Hayes, they conduct annual collector's tours to Great Britain.
Best of Britain Express Art Prints