Hidden Treasures of York
York has plenty of big name - and deservedly popular - attractions. But in a city with a such a long history there are bound to be smaller, lesser known attractions that many visitors miss. Here are some of our favourites.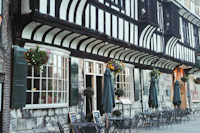 Mansion House
This elegant Georgian building is the official residence of the Lord Mayor of York. Begun in 1725, it was the first purpose-built Lord Mayor's residence in England. Tours take in the Georgian interiors and exhibits of civic regalia and mementoes.
Micklegate Bar Museum
A museum located inside the main medieval gateway into the cirty of York. Special exhibits on the Battle of Towton and the history of the Bar.
Richard III Museum at Monk Bar
Don't say a bad word about Richard III here! Often portrayed as the archetypal evil uncle, Richard III has been vilified by historians and blamed for the murder of his nephews, the so-called 'Princes in the Tower'. Did he do it? Decide for yourself at the Richard III Museum, where you can hear the evidence in the 'Trial of Richard III exhibition and cast a vote to decide the king's fate.
Margaret Clitherow's House
A small plaque outside a modest house crammed into the tiny medieval street called The Shambles marks the former home of St Margaret Clitherow, who was executed by the authorities for her steadfast refusal to renounce her Catholic faith. Now a shrine and a popular destination for pilgrims, the house is easy to overlook as busy shoppers bustle along The Shambles.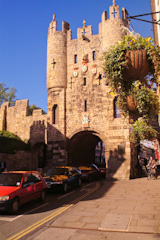 St William's College
Located appropriately enough on College Street, in the shadow of York Minster, is this attractive 15th century timber-framed buuilding, established as a college of priests. Now under the care of the Minster, it serves as a function area and exhibition hall, but visitors can tour the restored medieval chambers for a nominal fee.
Norman House
The Norman House is the oldest house in York of which any substantial remains survive. Originallly a two storey Norman building built of freestone, only foundations and two walls remain of this early medieval building located just behind Stonegate. Set into the wall is a very nicely preserved first floor window. The house was probably begun around 1180 and served at one time as a Prebendal house of Osbaldwick, a village near York, and a later house on the site was used by clergy serving York Minster until the 19th century.
Bar Convent
England's oldest convent, founded in 1686 and still in operation. The Bar Convent was originally intended as a girls school. It is set in a listed 18th century set of buildings and - in addition to its religious role - houses a museum, library, archives, and gift shop. One of the highlights is a lovely neo-classical 'hidden' Chapel, at the back of the complex. The Convent is open daily except Sundays and Bank Holidays.
Dig Hungate
Part of the same organisation that runs the popular Jorvk Viking Centre, Dig offers visitors - especially children - the opportunity to be an archaeologist and get a feel for what a real 'dig' is like. Dig has recreated four excavation pits that mimic the real archaeological excavations at York's most fascinating sites representing major periods in York's history. Dig up Roman, Viking, Medieval, and Victorian York in pits that have been 'planted' with artefacts just like ones that archaeologists dug up at the 1st century Roman fortress of Eboracum, Viking Coppergate, the medieval Priory of St Andrew at Fishergate, and a Victorian terrace at Hungate.
George Hudson's House
32 Goodramgate, York, YO1 7LG
George Hudson can claim the unofficial title of York's Railway King. A farmer's son, Hudson began as a draper, married well, and rose to become Mayor of York, a post he occupied in 1833 when he convinced railroad pioneer George Stephenson to build his new railway line from Newcastle to Settle through York. By 1846 he controlled a quarter of all railroads in England, but he was forced to flee from creditors when his habit of skimming off company profits came to light. His former draper's shop at 32 Goodramgate is now a National Trust shop, but a plaque on the wall marks one of York's most influential citizens; the man who, almost single-handedly, established York heritage as a railroad centre.
More: York Attractions
Best of Britain Express Art Prints
Attraction search