Historic Attractions in York
Major Attractions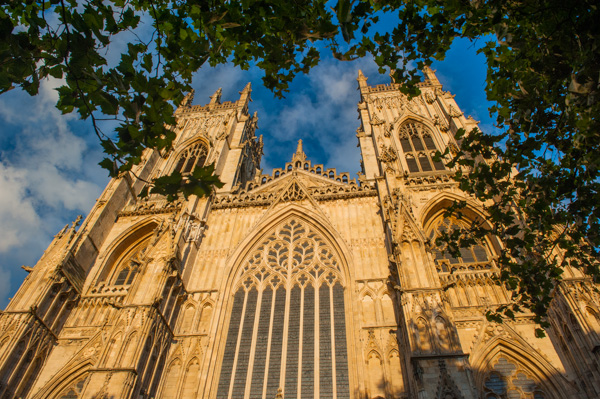 York Minster
Here's a quick fact for you - York Minster is the widest Gothic cathedral in northern Europe. Now you can amaze your friends with your historical knowledge! Well, maybe you'd prefer to simply visit this astonishing historic church and enjoy the superb architecture.
---
Barley Hall
Barley Hall is a 'living museum' that gives visitors experience for themselves what life was like in a 15th-century town house. Visitors are encouraged to touch exhibits, explore, and experience life in an authentic medieval; house. We loved visiting Barley House - and its a great way to give children a hands-on experience of medieval history.
---
Clifford's Tower
On a high conical mound looking over the river stands Clifford's Tower, the remnants of historic York Castle, begun by William the Conqueror to subdue the unruly north. Find out about the history of the castle and its role in one of medieval York's darkest episodes, when hundreds of Jews were massacred here during riots in 1190.
---
Guildhall
The medieval hall of York's powerful trade guilds, The York Guildhall was built in the 15th century to serve as the powerful merchant guilds of York. The present building is not the original The guildhall was partially destroyed by Second World War bombing and was rebuilt in its original style. The Guildhall windows have stained glass that depicts the history of the city
---
York City Wall
You can still walk the wall begun by the Romans. York has more original city walls than anywhere else in England. Most of the remaining sections are medieval but some are Roman. The medieval city of York was entered by huge defensive gateways, and four of these gates of the city remain intact - Bootham Bar, Monk Bar, Walmgate Bar and Micklegate Bar. In a peculiar twist, the name 'bar' means a gate, and the suffix 'gate' that you will see appended to York's oldest byways actually means a street!
---
National Railway Museum
Not just the largest museum dedicated to trains in Britain, but the largest railway museum in the world, including locomotives as old as 1829. Three large exhibition halls showcase locomotives, steam engines, active turntables, and railway paraphernalia. See how royalty travelled in 'Royal Trains exhibition', and learn how to drive a steam locomotive. See ongoing restoration on historic engines and carriages.
---
Roman Bath Museum
A caldarium, or Roman steam bath lies underground, discovered beneath a modern pub. There is a small collection of finds displayed, plus replica armour.
---
The Yorkshire Museum
Archaeology, history, and natural history of the county of Yorkshire. Yorkshire's past comes to life with a superb collection of historical artefacts including the famous Middleham Jewel, and a gilt Saxon bowl.
---
York Art Gallery
Standing opposite Bootham Bar is this wonderful public art gallery built in 1879 and boasting the world's largest collection of works by York artist William Etty. See Old Master paintings, ceramics, decorative arts, pottery, drawings, and sculptures from the 14th-century to the present day.
---
Mansion House
The official residence of the Lord Mayor of York, built in 1725, making the oldest purpose-built Lord Mayor's residence in England. Explore the elegant Georgian interiors and see exhibits of historic civic regalia.
Featured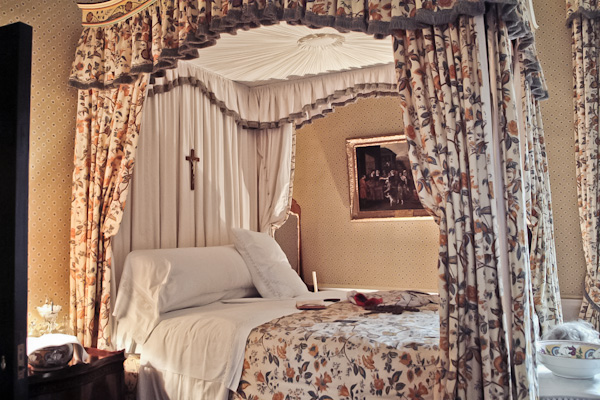 Fairfax House
An elegantly restored Georgian townhouse, Fairfax House is was built in the 1740s, and acquired in 1759 by Viscount Fairfax for his daughter Anne. Now owned by the York Civic Trust, Fairfax House is blessed with superb stucco ceilings and is furnished with marvellous 18th-century furniture that helps give a real idea of how a well-to-do family in York lived over 250 years ago.
---
Churches
York Minster gets all the attention, but my goodness York has so many other fascinating historic churches, most of them only a short stroll from the Minster itself. Here are a few of our favourite historic churches to visit in York.
---
Merchant Adventurers Hall
Not to be confused with the Guildhall, the half-timbered Merchant Adventurers Hall is where the merchants of medieval York had their headquarters. It is one of the best surviving examples of a medieval guildhall still standing anywhere in Britain. The Hall was built in 1357 and the great hall remains essentially unaltered
---
Jorvik Viking Centre
York's Viking past reconstructed and explained. The Jorvik Viking Centre is one of York's most popular attractions - and one of its newest (and oldest)! Experience the vivid sights, smells, sounds, and taste of daily life in 10th century York as a 'dark ride' takes you through tableaux of York's colourful past. But the Jorvik Centre is more than waxwork tableau - for here the York Archaeological Trust has found perfectly preserved remains of Viking York (Jorvik) buried in centuries of mud
The Shambles
A narrow, rambling medieval street a stone's throw from York Minster. The Shambles is arguably the best-preserved medieval street in Europe. Many of the buildings retain their medieval shop window tables for displaying goods. A house on The Shambles is the home of Margaret Clitheroe, Catholic martyr during the English Reformation.
---
Treasurers House
The medieval home of the treasurer of York Minster, now a museum. Treasurer's House was built in 1419 and was the official residence of the treasurer until 1547. Within the house, you will find a collection of medieval furnishings, plus 17th and 18th century furniture - and an unusual ghost story!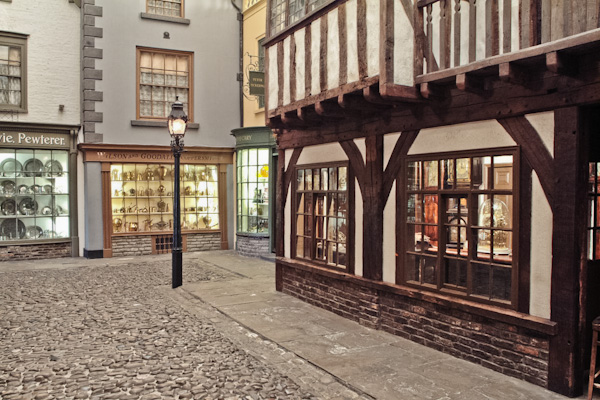 York Castle Museum
A superb museum with realistic historical street scenes from the past, York Castle Museum is housed in historic 18th-century prison buildings. A series of realistic recreations show what daily life was like in England over the past 400 years. There are life-sized 'streets', shops, prisons, inns, a police station, and family homes to explore. Fascinating stuff!
HIDDEN TREASURES OF YORK
Places that most visitors to York overlook ... Hidden Treasures >>
Two medieval city gates that now act as museums, a Georgian convent with a hidden chapel, a hands-on archaeological dig in an historic church, the oldest stone house in York, a medieval college, and a shrine to a Catholic martyr - these are just a few of the secret treasures that lie undiscovered by most visitors to York - until now!
---
A good way to see York's major attractions is to take one of the city's Walking Tours.
Best of Britain Express Art Prints