Boscastle Museum of Witchcraft and Magic
History, tourist information, and nearby accommodation
HERITAGE RATING:

The Museum of Witchcraft and Magic
---
In a beautiful whitewashed cottage beside Boscastle's historic harbour is one of Britain's most popular independent small museums, dedicated to the history of witchcraft and magic. Though the museum focusses on Britain, it includes information on magical beliefs and practices around the world and across many cultures. From small beginnings, the museum now boasts the world's largest collection of witchcraft related artefacts.
Most of the exhibits focus on historical folk magic and healers, sometimes known as white witches or cunning folk. One display mimics the interior of a traditional cunning woman's cottage, with a 19th-century woman seated at her kitchen table, surrounded by commonly used herbs and tools for divination.
There are exhibits on witch trials throughout British history, and on the Pagan religion of Wicca. Then there are displays on more esoteric subjects like alchemy, ceremonial magic, and even Freemasonry. One small display highlights Satanism, making a clear distinction between it and modern Pagan witchcraft.
Some of the artefacts on display were owned by famous witches. There are talismans made by Gerald Gardner, founder of Wicca, ritual swords used by the Wiccan Alex Sanders, and a chalice owned by Aleister Crowley, the famous (or infamous) occultist. Many modern practitioners of witchcraft in its various forms have bequeathed their tools to the museum. More objects are regularly purchased by a charitable group known as the Friends of the Museum of Witchcraft.
The wise woman's cottage exhibit
---
Everywhere you look there are fascinating objects, from WWI charms born into battle by soldiers, to a prosperity charm made by placing three bumblebees in a bottle. See a traditional straw costume worn by the Shetland Islands 'skekler', and first edition copies of Tudor books on witchcraft.
One item that caught my eye was a house protection charm made by a Devon witch, in the shape of a hand with a red heart on the palm. There are Goddess statues, crystal balls, crystals, and ouija boards, even a brightly painted broomstick used by a sensitive from Manaton named Olga Hunt, who had a habit of leaping around Haytor Rocks with her broomstick at the full moon, alarming courting couples and campers.
One of the funniest 'charms' is a Hitler pin cushion, made to stick pins into a doll in the shape of the German leader. The idea for 'hexing Hitler' was promoted by Readers Digest Magazine, who even provided a handy verse to be sung during ritual pin-sticking:
Istan, come and help us,
we are driving nails and needles
We are driving pins and needles
into Adolf Hitler's heart.
We are driving nails and needles we
driving pins and needles,
Cats will claw his heart in darkness,
dogs will bite it in the night.
The museum is organised into themed areas. On the ground floor are the wise woman's cottage, divination, fortune telling, sea witchcraft, Aleister Crowley, spells and charms, the Golden Dawn, modern witchcraft, Gardener and Saunders, Christian Magic, herbs and healing, persecution of witches, and an exhibit exploring 'what is a witch?'
Upstairs the space is a little more open, with fewer, larger exhibits covering protection, cursing, mandrakes, Goddess worship, the Horned God, and a delightful exhibit on piskies, faeries, the Hare Lady, and the Green Man.
Over time the museum has become something of a pilgrimage site for modern witches and occult practitioners. There is a large document archive and a museum library for more in-depth research.
Crystal balls and divination tools
---
History
The history of the museum is almost as interesting as the museum itself! The museum is the brainchild of Cecil Williamson, a former film producer and native of Paignton, Devon. Williamson was a friend of Gerald Gardner and of Aleister Crowly. Williamson became fascinated with witchcraft and began collecting items related to witchcraft and the occult.
He tried to open a museum of witchcraft in Stratford-upon-Avon but local opposition forced him to reconsider his plans. In 1949 he opened the Folklore Center of Superstition and Witchcraft in Castletown, Isle of Man, with Gardner acting as a 'resident witch'.
The pair eventually fell out, and Williamson sold the museum to Gardner and returned to England, where he opened the Museum of Witchcraft in Windsor. Local opposition forced him to close the museum after just a year. In 1954 he reopened it in Bourton-on-the-Water, Gloucestershire. An arson attack in 1960 forced another move and Williamson finally found the home he was looking for in Boscastle.
Initially, the museum was focussed on folk magic and what Williamson called the 'wayside witch'. In 1996 (at precisely midnight on Halloween) the museum was sold to Graham King and Liz Crow. King, a practising Pagan, got rid of the more sensationalist displays. In 2013 the museum was merged with Simon Costin's Museum of British Folklore.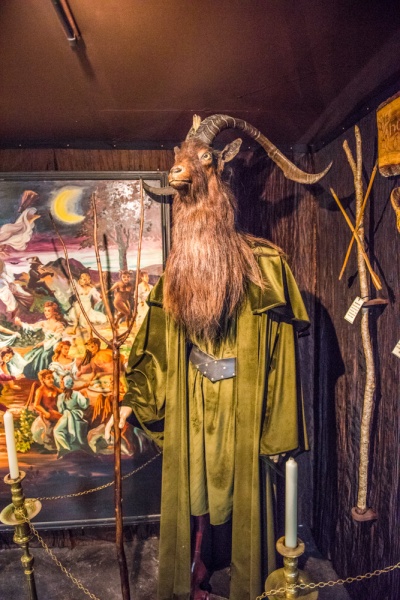 The Horned God exhibit
---
Visiting
The museum does a fantastic job of peeling away the layers of misconception and misinformation surrounding the practice of witchcraft and getting to the underlying history. For example, one display deals with common misconceptions surrounding the persecution of witches in Britain. One commonly held belief is that witches were tortured. Though this did occur, in Britain it usually took the form of sleep deprivation.
Another misconception is that witches were burned at the stake in Britain, but the reality is that they were almost always hanged. Another commonly held belief is that witches were accused and tormented by men in authority, particularly by church authorities. In Britain, the reality is that witchcraft was a felony offence, like theft, and was not dealt with by the Church, and a woman was just as likely to be accused by another woman as by a man.
It is no wonder that the museum is extremely popular as a destination for school groups. It is a real eye-opener and helps give historical context to the often sensationalised portrayal of witchcraft and magic in films and television.
I was enormously impressed by the museum; it is a place to browse slowly and learn, and it helps if you start with an open mind!
About Museum of Witchcraft and Magic
Address: The Harbour, Boscastle, Cornwall, England, PL35 0HD
Attraction Type: Museum
Location: By the harbour in Boscastle, beside the National Trust Visitor Centre. Parking in the main village car park on the B3263.
Website: Museum of Witchcraft and Magic
Location map
OS: SX098913
Photo Credit: David Ross and Britain Express
NEARBY HISTORIC ATTRACTIONS
Heritage Rated from 1- 5 (low to exceptional) on historic interest
Forrabury Church & Cross - 0.3 miles (Historic Church)

Willapark and Forrabury Stitches - 0.4 miles (Countryside)

Pentargon Waterfall - 0.8 miles (Countryside)

Boscastle, Minster Church - 0.9 miles (Historic Church)
Trevalga, St Petroc's Church - 1.3 miles (Historic Church)

Trethevy, St Piran's Chapel and Holy Well - 1.9 miles (Historic Church)

St Juliot Church - 1.9 miles (Historic Church)

St Nectan's Glen Waterfall & Hermitage - 2 miles (Prehistoric Site)
Nearest Holiday Cottages to Museum of Witchcraft and Magic:

More self catering near Museum of Witchcraft and Magic