Medieval York
When William the Conqueror overcame King Harold and his Anglo-Saxon forces at the
Battle of Hastings
, he found himself nominally king of England. But he still had to consolidate his control over his new realm.
William marched north, putiing out small fires of rebellion, but no resistance awaited him at York; indeed he was given the keys to the city on his arrival. The Conqueror made York his base of operations in the north. He expropriated property and divided half amongst his Norman followers and kept half for himself.
William strengthened the defenses of the city and built two motte and bailey castles, one on each side of the River Ouse. All that remains of the castle to the north is
Clifford's Tower
, the castle to the south on Baille Hill (note the similarity of the name "Baille" to "bailey"), has disappeared.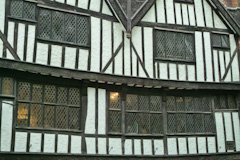 The inhabitants of old Northumbria did not abandon York to its fate. There were several uprisings against the Norman invaders. Aided by King Sweyn of Denmark, the north rose in revolt, defeated the Norman garrison and sacked York.
William retaliated with an unprecedented savagery. He retook York, and for the next two years laid waste to the country, burning crops, and destroying villages and farms.
The
Domesday Book
, compiled almost twenty years after William's "Harrying of the North", records that the population of Yorkshire fell from 8,000 to 2,000. More tellingly, it described the region between York and Durham as wasteland.
The city of York emerged from this devastation as a phoenix rising from the ashes. The city walls were rebuilt and strengthened, and the old woden Viking buildings were reconstructed in stone. Four new fortified gates, or "bars", were built to regulate traffic through the walls. The Foss was diverted to feed the moats of both Norman castles.
York blossomed under the Normans, and quickly regained its economic importance in the north. This prosperity in trade and commerce is reflected in the imposing Merchant Adventurers' Hall and the Guildhall.
The magnificent Minster was rebuilt in Gothic style over the years 1220-1482, and the Archbishop of York was second only in religious power and influence to the Archbishop of Cantebury. A full forty other churches were built in the city during the medieval period, leaving York with a rich heritage of architecture well worth exploring.
At the end of the medieval period York was a centre of power for the Lancastrian cause. As the fortunes of the Wars of the Roses ebbed and flowed, the top of Micklegate Bar was decorated with the heads of leaders killed by first one side then the other. Edward IV never forgave the city for its support of his enemies, and he imposed a harsh rule on York after his eventual triumph.
However, as the medieval period drew to a close,the focus of economic activity shifted away from York. The burgeoning textile industry drew money to the big sheep-rearing areas, particularly the Cotswolds and East Anglia.
Back:
Viking York
Next:
Civil War York
Best of Britain Express Art Prints
Attraction search