Oxford Museums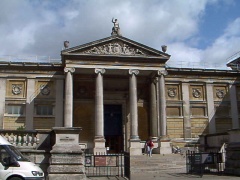 The foremost museum in Oxford is the internationally known Ashmolean Museum, but Oxford has many more wonderful museums to explore and enjoy. Here are a few of our favourites.
Bate Collection of Musical Instruments
In the basement of the Faculty of Music building on St. Aldates. A hugely enjoyable jumble of historic musical instruments including early keyboards, percussion, woodwind, and brass.
Museum of the History of Science
Broad Street. Scientific instruments and devices through the ages, including clocks, cameras, and medical equipment.
Museum of Modern Art
Pembroke Street. Changing exhibits of international 20th-century art.
Museum of Oxford
St Aldates. Covers 2000 years of Oxford history, archaeology, and architecture, including extensive exhibits on the University.
Pitt Rivers Museum
Parks Rd. Prehistory, ethnology, and the arts of all periods and cultures. This is one of Oxford's most popular museums.
Oxford University Museum of Natural History
Parks Rd. Sharing the same building with Pitt Rivers (see above), this collection covers natural history, including gemstones, dinosaurs, and other fossils.
More
Oxford Attractions
Best of Britain Express Art Prints