The Oxford Martyrs
---
Set into the pavement in front of Balliol College on Broad Street, Oxford, is a cross made of different coloured cobblestones. The Martyrs Cross marks the traditional place where three Protestant bishops, Nicholas Ridley, Hugh Latimer, and Thomas Cranmer, were burned at the stake under Queen Mary for refusing to renounce their Protestant faith.
The Oxford Martyrs
The Tudor period was an era of religious turmoil prompted by Henry VIII's break from the Catholic Church. Henry's son, Edward I, continued his father's Protestant policies, but when Edward died in 1553, his half-sister Mary came to the throne.
Queen Mary was a staunch Catholic and during her short and bloody reign, large numbers of high-profile Protestants were put to death for refusing to renounce their beliefs.
Three of the most prominent Protestant leaders were Hugh Latimer, Bishop of Worcester, Nicholas Ridley, Archbishop of London, and Thomas Cranmer, Archbishop of Canterbury.
---
Bishop Hugh Latimer
Hugh Latimer was born sometime around 1487 to a farming family in Thurcaston, Leicestershire. The exact date is unknown and has been estimated at any time between 1480 and 1494.
He was educated at Clare College, University of Cambridge, and ordained as a priest in 1515. He served as a university chaplain and preacher, and he became one of a dozen priests licensed by Cambridge University to preach anywhere in England. He continued his studies until 1524 when he received a Bachelor of Divinity degree.
Latimer was initially vehemently opposed to Protestantism, but after hearing the confessions of Thomas Bilney, he accepted the reforming philosophy and began to preach in favour of an English translation of the Bible. For this, he was called to explain himself before Archbishop Wolsey.
He quickly became influenced by the radical writings of Martin Luther and was called before Archbishop Wolsey to defend himself from accusations of Protestantism. He satisfied Wolsey, but his freedom of movement was curtailed.
When Wolsey died and was replaced by Thomas Cranmer as Archbishop of Canterbury, Latimer was unleashed. Latimer continued to preach in favour of religious reform, and in 1535 he was named Bishop of Worcester. He openly opposed the Catholic doctrines of purgatory and the mass, but when he criticised the Six Articles of 1539 he was removed as Bishop of Worcester and thrown in prison.
He was released, and served for a time as the personal chaplain to Katherine Brandon, Duchess of Suffolk, but found himself back in the Tower of London by 1546.
When Edward VI took the throne that year, Latimer was freed from the Tower of London and resumed his ministry. When Mary took the throne, however, it was only a matter of time before Latimer's Protestant preachings caught up with him.
---
Bishop Nicholas Ridley
Born in 1500 to a wealthy family in Tynedale, Northumberland, Ridley was raised at Unthank Hall, near Haltwhistle, and was educated at Pembroke College, Cambridge. On graduation, he was ordained as a priest and went to the Sorbonne in Paris for further education before taking up the post of senior proctor at Cambridge University.
In that post he was responsible for the University's resolution that the Pope had no more authority in England than any other foreign bishop. In 1537 he became one of Archbishop Cranmer's chaplains and from there, aided by Cranmer's patronage, rose steadily through the ranks of the church, becoming Bishop of Rochester in 1547.
He was also one of Cranmer's closest advisors and worked with him on the 1549 Book of Common Prayer. In a peculiar twist, Ridley was forced by Cranmer to appoint the reformer John Knox to the post of vicar of All Hallows, Bread Street in London.
When Edward VI died, Ridley supported the claims to the throne of Lady Jane Grey, and his signature appeared on the letters patent offering the throne to Grey. On 9 July, Ridley affirmed publicly that Mary and her half-sister Elizabeth were illegitimate.
When Grey was overthrown and Mary took the throne, it was only a matter of time before she turned her anger on Ridley and other Protestant leaders.
---
Archbishop Thomas Cranmer
Thomas Cranmer was born 2 July 1489 in Aslockton, Northamptonshire, the second son of a modest gentry family. Since, as the second son, he would not inherit the family estate, Thomas embarked on a career in the church. At the age of just 14, he was sent to Jesus College, Cambridge.
There he stayed for 11 years, eventually gaining a Master of Arts degree and becoming a Fellow in 1515. He married a woman we know only as Joan, which was technically allowed, as he was not yet a priest, but resulted in the loss of his fellowship at Jesus College.
His wife died during childbirth and Jesus College once more accepted Cranmer as a Fellow. He was ordained as a priest in 1520 and a Doctor of Divinity in 1526. He was selected by Cardinal Wolsey as an ambassador to the Holy Roman Emperor in Spain.
From 1527 he was one of several scholars called upon by Cardinal Wolsey to argue for the annulment of Henry VIII's marriage with Catherine of Aragon. Cranmer suggested calling upon university theologians throughout Europe to support the king's bid for an annulment. It was during this process that Cranmer first became exposed to the humanist philosophies of religious reform that were then sweeping Europe.
In 1532 he was again an ambassador to the Holy Roman Emperor, and it was during his time on the continent that he met and married his second wife, Margarete (maiden name unknown). Contemporary records are not clear, but it seems that until clerical celibacy was established in England in 1539, Cranmer lived openly with his wife.
Cranmer was named Archbishop of Canterbury in late 1532, under the patronage of the Boleyn family. He responded by organising the legal process by which Henry's marriage to Catherine was declared null, and Cranmer personally crowned Anne Boleyn as queen on 1 June 1533. He was later named as a godparent of Anne's daughter, the future Elizabeth I.
Cranmer the Reformer
As Archbishop of Canterbury, Cranmer gradually moved the church towards reform, against the wishes of many of his bishops. When Anne Boleyn was accused of adultery by Henry, Cranmer was one of the few to support her cause, and he heard her confession at the Tower of London three days before her execution.
Conservative clergy denounced Cranmer, but the king continued his support, and Cranmer gradually introduced more reforming policies. He was one of the executors of Henry's will and helped ensure that Edward Seymour was named as Lord Protector during Edward VI's minority.
In 1549 Cranmer introduced the Book of Common Prayer, the controversial document that laid out a reforming vision for the new English church. He reformed canon law and published the Forty-Two Articles, a revised statement of Anglican doctrine.
Cranmer must have known that when Mary took the throne in 1553 he would be in danger, but, unlike many religious reformers, he chose to stay in England. On 14 September he was sent to the Tower of London to await trial for treason. The trial took place on 13 November and he was found guilty and sentenced to death.
---
The Bishops on Trial
On 8 March 1554, the Privy Council ordered Ridley, Latimer, and Cranmer to be taken to the Bocardo prison in Oxford to await trial for heresy.
The bishops were kept in the prison for 17 months before their trials began. The city of Oxford bore the cost of keeping the bishops. The cost of supplying the faggots used to burn Archbishop Cranmer were charged to his expense account, which the city tried, unsuccessfully, to claim back from the Archbishop of Canterbury.
Cranmer was tried first, while Ridley and Latimer were tried together. In the case of Ridley and Latimer, the verdicts were very quick; they were sentenced to be burned at the stake.
The trials were held at the Church of St Mary the Virgin in Oxford, where you can still see a notch made in one of the nave columns where it was cut away to create a wooden platform.
All three were found guilty because they refused to accept transubstantiation, the process by which the wine and bread offered during communion becomes the blood and body of Christ.
---
Execution
On 16 October 1555, Bishops Latimer and Ridley were burned at the stake while Cranmer was forced to watch from the tower of Bocardo prison, which stood beside St Michael-at-the-Northgate Church on Cornmarket.
The two men stood back to back at the stake, and the last words uttered by Bishop Latimer have been recorded as, 'Be of good comfort, Master Ridley, and play the man. We shall this day light such a candle, by God's grace, in England, as I trust shall never be put out.'
Various stories have emerged about Ridley's death. One suggests that small pockets of gunpowder were hidden about his body in the hope that they would explode and end his suffering. They failed to ignite.
Another story says that Ridley's brother-in-law added more tinder to the fire in the hopes that it would burn more quickly and thus ease his death, but the tinder actually slowed down the pyre's flames and prolonged Ridley's death.
---
Cranmer was not executed with the others because he was given leave to appeal his sentence. In January 1556 he caved in to pressure and submitted to the Roman Catholic Church, affirming papal supremacy and accepting transubstantiation. It was the first of four recantations he was to offer.
Mary, however, was determined to punish Cranmer, who she saw as the architect of her father's break from Rome. On 26 February Cranmer again renounced Protestantism, and repeated the gesture on 9 March and again on 18 March. Despite this repeated gesture, it must have been obvious to Cranmer that the end was near.
Under canon law, he should have been absolved after recanting his Protestant views, but Mary was determined to make an example of him and insisted on his execution.
On 21 March, Cranmer was brought to St Mary's Church where he was told he could make a final recantation. He prepared a speech affirming his Catholic faith and submitted it in advance. However, when at the pulpit, he cast aside his prepared speech and vehemently affirmed his Protestant faith, denied his renunciation, and called the Pope, 'Christ's enemy and Antichrist with all his false doctrines'.
He was led from the church to his place of execution on Broad Street, the same place he had watched Bishops Latimer and Ridley die from his prison tower. As the flames rose, he extended his right hand, which he had used to sign his recantation of Protestantism, so that it might be burned first.
The flames from the pyre scorched a set of doors, which are now hung between the quads of Balliol College.
In the aftermath of Cranmer's death, the authorities published all six of his recantations, with no mention of his final act of defiance, however, the true events were soon public knowledge.
Where were they executed?
The truth is, we don't know exactly where the Martyrs were burned. We do know that the site was visible from the Bocardo prison, so it seems likely that it was somewhere near the cross outside Balliol College.
It is hard to imagine it today, but in the Tudor period, this area was waste ground bordered by a broad ditch outside Oxford's medieval city walls. We do not know where on this waste ground the Martyrs were executed, but it must have been relatively close to this spot.
---
Martyrs Cross
The cross is not signposted but is very easy to spot. It is set into the tarmac in the centre of Broad Street immediately outside Balliol College and a few steps from the bicycle rack that takes up the centre of Broad Street at its western end.
I've seen it written elsewhere that the cross is metal, but it certainly looks to me like different coloured stone cobbles!
Be careful! Though the cross is easy to find, be aware that a lot of cyclists use Broad Street, so keep your eye out for bicycles as you step into the centre of the road.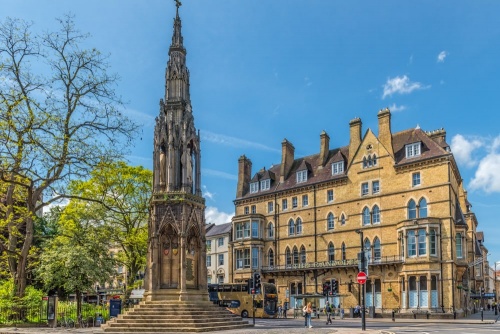 ---
The Martyrs'Memorial
In the early Victorian period, there was a concerted effort by many churchmen to return the Anglican Church to a more Catholic form of worship. Many of the leaders in this process had links to Oxford University, so it was dubbed The Oxford Movement.
The Movement alarmed more traditional Anglicans.
A memorial to the Oxford Martyrs was their way of making a statement, affirming traditional Anglican worship in the face of the Oxford Movement reformers.
When the Martyrs Memorial was mooted, it was hoped to build it on the execution site on Broad Street, but buying the site proved too difficult, so it was erected a very short distance away in St Giles instead.
The memorial was designed by Sir George Gilbert Scott and modelled after the 13th-century Eleanor Cross in Walthamstow (now vanished). It is easily accessible; it stands on a traffic island immediately north of St Mary Magdalen Church at the southern end of St Giles.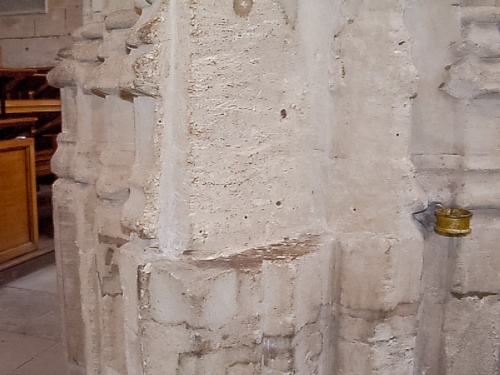 ---
The University Church of St Mary the Virgin
The bishops were tried at the University Church of St Mary the Virgin (sometimes known as The University Church or simply, St Mary the Virgin) and found guilty of heresy in trials that were merely a formality. Archbishop Cranmer was allowed to speak from the pulpit on the day of his execution. If you look closely, you can see the notch carved into one of the nave pillars.
This notch helped support a wooden platform erected for the bishops' trials. It is well worth climbing the church tower for wonderful views over Radcliffe Square below.
---
St Michael at the Northgate Church
Nothing now remains of the Bocardo prison, where the three bishops were held before trial. We do know that the prison stood over the medieval north gate of Oxford. A passage led from the prison to the tower of the neighbouring church of St Michael-at-the-Northgate.
In the tower is a cell door, rescued from the prison when it was demolished. It is thought to be the door to the bishops' cell, through which they passed on their way to the stake.
The church is well worth visiting; it is the oldest church in Oxford, with a tower begun around 1040. The east window contains a small section of 13th-century stained glass, and there is a 14th-century font, brought here from St Martin's church. William Shakespeare is thought to have attended a baptism service here when he was named a godfather of an Oxford friend.
Best of Britain Express Art Prints